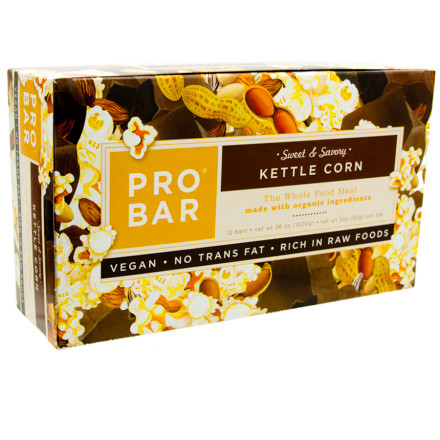 Detail Images
Biking in the morning, climbing in the afternoon, and then straight to the theater to catch a movie with your buddies. The ProBar Kettle Corn Sweet and Savory Bar is with you all the way. While your friends either stuff overpriced popcorn in their mouths or slide down onto the floor and drool in a depleted-energy fashion, you'll be happily nibbling away at this 100%-vegan bar. Whole foods (about 70% raw) replenish your energy for hours.
Share your thoughts
What do you think of the
ProBar
Kettle Corn Sweet and Savory Bar - 12 Pack
? Share a...
Wow, what a great trail treat! These things really taste great, and pack some long term energy in them. The fat and calorie content are not for the faint of heart, but that's because they are a meal replacement bar. When your on the go, and need to get some serious fuel into your body, and gels and shot blocks just are not going to cut it, throw one of these in the pack. I've tried a variety of flavors, and haven't found a bad one in the bunch!

Ok, sure they are pricey, let's talk about that: did you look at the ingredients list? Where else can you get an OG, Vegan, Raw food mean for this price. Cheaper than a trip to the farmers market, and better tasting than your weird friend's "heady" recipes, brahhhhhh.

Sure you could get something not as good for you for cheaper, but you could also eat dog food like mad max, and I don't see you doing that yet either....

Bottom Line: YUM!
At about 400 calories or so, this bar does the job filling you up. Being in college hitting the cafeteria isn't always an option and this is my go to alternative. I wouldn't call it meal replacement, but if you need something to get good quality stuff in your stomach that isn't fast food or salty chips etc, you can't go wrong with this. Taste isn't very kettle corn like, but it is still a great taste.
I absolutely love these bars. If you are like me, you just can't have all of the same bars on a backpacking trip. No matter how much you like Clif bars (or whatever), you will be sick of them soon if that's all you brought. I love having these ProBars for my rotation.

They are moist, dense, nutty, fruity, tasty, filling, and 100% vegan. Around 400 calories, they make a nice meal replacement (or supplement). I have enjoyed all the flavors I've had so far, with the "Old School PB&J" being my favorite, but this one is good.

They also work well to throw in your desk drawer at work for those busy days when you can't get away for lunch. I prefer to buy them as singles to make sure I like the flavor, but once you know, the box purchase is a good value. Do it. Get the Probar. Do it. :-)
I am a big fan of ProBar. I stuck with the 'Art's original blend' for almost a year, I like my bars plain. Well slowly I started trying 'Superfood Slam', 'koka moka', etc. All of them ridiculously good tasting. But when I saw Kettle Korn Sweet and Savory Bar - I thought, uh, I'll try it, but I probably won't like it. I like it. It's in the rotation. Try it.