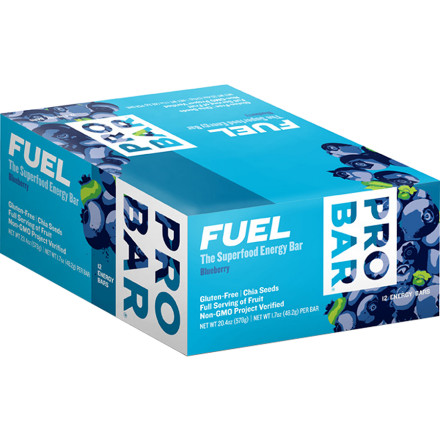 Colors
The ProBar Fuel Bar 12-Pack uses chunky, hearty, and healthy ingredients to satisfy your hunger and bring some joy to your tastebuds. Throw one (or a few) of these nut-rich bars in your pack and stay energized, fulfilled, and powered up.
Oats, dates, cashews, and fruit give you a hearty texture and an addictive taste
Chi seeds load you up with omega-3 fatty acids, fiber, and antioxidants
Gluten-free recipe is easy on your body
Vegan ingredients prevent any possible food-based moral dilemmas
Organic elements mean your body is exposed to less strange chemicals and the planet has a little less to deal with
These tasty bars do contain tree nuts and are processed on equipment that comes in contact with peanuts
Tasty & go down easy
Familiarity:

I've used it several times
I'm all for slamming gels while biking or skiing, but after an hour and a half or so my stomach starts to feel really empty. I haven't been a huge fan of other bars while working hard because they're so hard to get down, and feel like so much at the time. The Fuel bar has none of those problems: it's fairly soft, but slightly chewy with just enough texture so it's easy to eat while your heart's thumping but not disgusting, it's not too much (2-3 bites), and tastes delicious (I have the cran-raspberry).



Only con is that the price/oz is probably higher than other products, but on the other hand, I know I'll never be tossing any away because I avoided eating them long enough that they expired.
Tiny, but Tasty
Familiarity:

I've used it several times
Lot of caloric bang for your buck in a very small bar. Blueberry is my favorite flavor. Be sure to drink a lot of water with these, and I wouldn't eat more than two during a hard effort. Tons of fiber, and those chia seeds really absorb liquid fast. If you take one with water, your body will break it down quicker and keep you going for the long haul.
Tasty
Familiarity:

I've used it several times
Very light easy to much on . They go really good with Milk (fat free)

:) Only small draw back is that the bars do have some decent fiber in them so don't go crazy .
Easy Eatin'
Familiarity:

I've put it through the wringer
These bars are absolutely delicious, and are easy to eat while your heart is in your throat. Not huge on calories for endurance events, but they will provide a tasty treat and a nice quick boost.
Give me fuel!!!
Familiarity:

I've used it several times
Love these while on the go! these keep me jumping, dipping, and jiving! Blueberry is the way to go with these (I have only tried that goodness). i can assume they will all blow my mind. They pack everything you need to keep chugging along during your day! Keep on keeping on with these in your pack!
Blueberry Goodness
Familiarity:

I've put it through the wringer
Delicious and less heavy than some of the other Pro Bars - also a smaller size. I was worried it might be too sweet, but it was the perfect balance. Great for the trail or on the go anytime...the box goes fast.