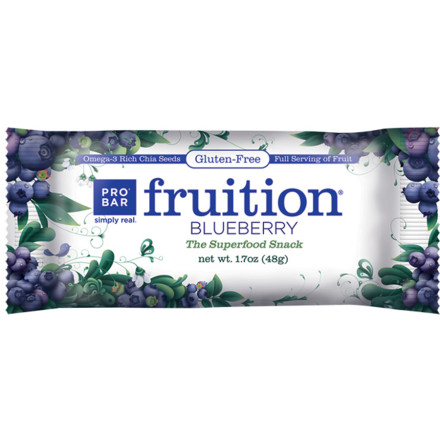 Detail Images

Community Images
Stomp hungry cravings on-the-go and fuel your body an organic and vegan-friendly Probar Fruition bar. Probar packed this super-food bar with unprocessed dates, oats, and cashews to create a robust snack that feeds your body with a wealth of nutrients and two full servings of fruit. Antioxidant and omega-rich chia seeds round out the healthy mix and keep you feeling full of energy from dawn until dusk.
I bought this thinking that I would love them but I was not crazy about the flavor I bought. (Chocolate and Orange) I think I will give a different flavor a try because I did feel the energy!
I bought some of the Pro Bar Meal bars a while back,and I LOVE them, they're the best bars I've ever tasted, especially the peanut butter chocolate chip. I eat them for breakfast and stay pretty full until lunch time. So when Fruition bars came up on SAC, I jumped on them. I got the chocolate orange flavor, and it's not good. It's too soggy and sticky, not enough chocolate, it doesn't taste good like the meal bars, and it's small. It reminds me of a Lara Bar, which I don't find good at all. If you like Lara Bars, you will most likely like these. I don't, and I don't think these were worth my money.
Just picked up a few boxes, because they are on sale, and these are a must-have for hiking/camping/biking. I'm a fan of ProBar's Meal Bar, but sometimes they are just a little too much. These have about half of the calories, so they make a perfect snack to keep you going without weighing you down. Like other ProBar products, they are very tasty. They pack plenty of flavor (not weird, artificial flavors), and the fruit keeps it moist so you don't feel like you need to chug a huge bottle of water after consumption.
These are about as good as they come for a meal in a bar. I wish they had a variety pack. Quality ingredients as well.
These are great to have around the house as a snack but also awesome for day hikes and backpacking. They have fewer calories than the regular meal replacement bars and taste delicious. Blueberry and Strawberry are my favorite so far, but I'm sure the rest are just as good!
So much garbage to eat out there these days. Finally found som good food that tastes good. These are my new favorite snack for ski touring or before the gym. They are a little on the small side, but very tasty.
They taste good and are mildly filling.
These are a good treat for the trail.
awesomely good with real blueberries in it.
I picked up one of these bars just a few days ago at my local REI. I have been a huge Clif Bar fan for the past few years, and these might be my second favorite. I picked up the lemon flavor, and while I didn't really expect it to be brown, it was still quite tasty. If I ever saw these go on sale I wouldn't hesitate picking up a case.
Most sports bars have little taste or just plain taste bad. I have had the Peach it tasted like a real peach.
I normally take along a couple of Clif Bars but these are a great change of pace. The blueberry flavor is very good and has the taste of something fruity. These don't seem to get as hard from the cold weather as some bars do.

I plan on ordering the Cranberry next.
Got a sample at Tour of Utah this past summer and fell in love. It is great both on the bike or when I am backpacking. Great taste, they do not get hard as a rock when it is cold and who doesn't want blueberry!
Probar fruition bars are the perfect bars for me while I am running. They are soft and chewy with great flavor and texture, easy for my stomach to digset and provide great energy. A nice change from the ordinary energy bars.

I'm hooked on the blueberry...!!!
They are moist, dense, nutty, fruity, tasty, filling, and 100% vegan!
I absolutely love these bars. If you are like me, you just can't have all of the same bars on a backpacking trip. No matter how much you like Clif bars (or whatever), you will be sick of them soon if that's all you brought. I love having these ProBars for my rotation.

They are moist, dense, nutty, fruity, tasty, filling, and 100% vegan. Around 160 calories, they make a nice meal supplement (they are not as substantial as their bigger brother Probars). I have enjoyed all the flavors I've had so far, with the Cran-Raspberry and the Blueberry being my favorites. They have a very "fresh fruit" taste.

They also work well to throw in your desk drawer at work for those busy days when you can't get away for lunch. I prefer to buy them as singles to make sure I like the flavor, but once you know, the box purchase is a good value. Do it. Get the Probar. Do it. :-)
This is the #1 best tasting "energy" bar out there. I really think this might be candy. I didn't try one until last week when I was Downhilling at Deer Valley. Someone gave me one and it really was delicious. I actually thought it was so good that I felt bad not offering any to my friends. Upon tasting it they all agreed that it has the best flavor of any bar.
Fruition bars are a great, healthy snack for whenever you need a little boost. Whether I'm heading out on a bike ride or just trying to get through the afternoon at my desk, Fruition bars deliver a good tasting boost of energy. So far, the Cherry flavor is my favorite, although I do like all the flavors - one of the best parts is, no two bites are the same - they are enjoyable and won't have you looking for a drink to wash them down. Everyone I know who's tried them has been really surprised with how good they taste and the energy they provide.
Chia Seed Power with PROBAR Fruition
fruition™ is a fruit-based superfood snack bar designed to be satisfying on-the-go without the extra fat and calories. Fruition is the marriage of oats, chia seeds, and cashews in 6 delicious flavors. In this video, PROBAR Founder Art Eggertsen talks about the nutritional benefits of the powerhouse Chia Seed.