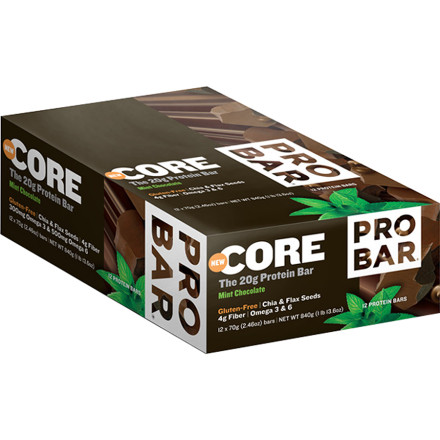 Community Images
The ProBar Core Protein Bar 12-Pack sends a healthy helping of protein in your system to assuage hunger and load your body up with the nutrients it needs. Whether you need a hardy replenishment after training sessions or a something to keep you on your feet eight miles into a twelve-mile hike, this little packet of goodness will give your body what it needs and your taste buds what they want.
Around twenty grams of protein per bar fills your body with the building blocks it needs to keep you strong
Chia and flax seeds in every bar load you up with omega-3 fatty acids, fiber, and antioxidants
Vegan and gluten-free recipe is easy on your body
These tasty bars do contain peanuts and tree nuts
Share your thoughts
What do you think of the
ProBar
Core Protein Bar - 12-Pack
? Share a...
Satisfying for Sensitive Tummies!
Familiarity:

I've put it through the wringer
I have a very sensitive tummy. It seems like everything makes me feel crampy or bloated. I've tried every protein bar under the sun and they all make me feel icky, especially if I eat more than one or two a day.

These all-star Pro Bar Cores, however, do not cause me any discomfort, which makes me such a happy girl!! On multiple occasions I have ostensibly lived on these for a week, with zero issue. Also, they give me the boost I need, so they are definitely satisfying.

Plus, they taste delish! The only draw back is the chocolate coating can melt, if you leave it in the sun. Typically, this isn't a problem, if your camping or taking them on a hike.

Questions? Hit me up!

Emily Jenson
Expert Gearhead
ejenson@backcountry.com
801.746.7587

Haven't had a cliff bar since
Familiarity:

I've put it through the wringer
As a wilderness ranger I have found there is a constant need for lightweight yet calorie dense foods to fill the bottomless pit that is one's stomach. Unfortunately the majority of lightweight yet calorie dense foods come in bar form, and have the same bland, monotonous taste that leaves you wanting more. Probar breaks the mold by offering 290 calories and 20g of protein in a surprisingly delicious bar. The ingredients list is made up of actual foods, and not synthesized compounds that give you flashbacks of chemistry class.

Try it, you will like it. And if you need something more substantial, check out the meal bar which offers 400 calories and tastes delicious to boot.

10/10 this is a backpackers delight.
I dig em. (Same as the Base bar?)
Familiarity:

I've put it through the wringer
I wrote a review for the Base bar. I'm pretty sure the Base is now called the Core, or vice versa. Either way, I really like these. They make a great on-the-go breakfast or recovery bar, and they are pretty tasty. As with pretty much any protein bar, you'll probably want a beverage to wash them down. (Because they are rich, not because they taste bad or anything.)
Fueled by ProBar Protein Bar skiing
The chocolate mint bars are awesome. Get this bar. Fuel wrapped in chocolate. What is better than that?

Probar changed the name from CORE to BASE.
http://theprobar.com/probar-core-new-name-new-flavors/
Okay, not great.
Familiarity:

I've used it several times
Ordinary, I thought. Nothing special, just a bar coated in chocolate. I wanted to try these after having enjoyed several types of the ProBar's Meal Bars. Highly recommend those instead, they are superb in every way.

http://www.backcountry.com/probar-meal-bar-12-pack
They are a great balance of carb/fat/protein and they taste delicious. Perfect healthy snack around town, or for on the mountain.
I used to only be able to eat the Cliff Builders protein bars, because every other one tasted terrible and felt funny in my tummy. Not anymore! These taste amazing, and give me the extra boost. I would absolutely recommend them, yum!
I have not been a fan of protein bars but the taste of the PROBAR CORE bars is great. Can't go wrong with chocolate cookie dough as a flavor!