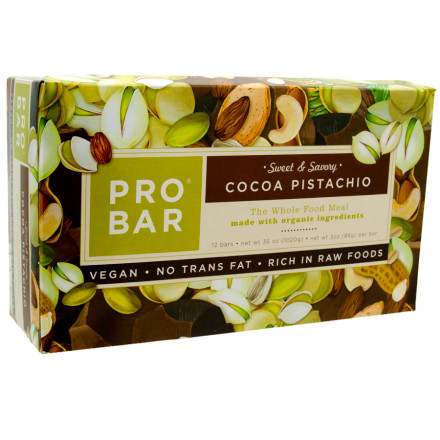 Detail Images
You still get the 100% vegan, 70% raw foods make-up in the ProBar Cocoa Pistachio Bar, but now that healthy mix includes peanuts, roasted pistachios, and unsweetened dark chocolate. Yup, it's sweet. And savory. All that whole-food nutrition (undestroyed by processing) boosts your energy levels and keeps them up, as opposed to other energy bars that give you a boost and then drop you on your butt an hour later.
Share your thoughts
What do you think of the
ProBar
Cocoa Pistachio Sweet and Savory Bar - 12 Pack
? Share a...
Spendy, but worth it. I like all the ProBar flavors. They can almost act as a meal replacement. They are easily my most frequent purchase from Backcountry.
Pro Bars are like 400 calories per bar. When I'm going for a 3-4 hour ride, it's my trick for preventing the bonk. Even if i eat one all at once, it doesn't sit in my gut. It digests easily. The packaging is reasonably easy to open, At 400 calories, though, you probably don't want to take this on a 1-2 hour ride. Too much.
yummy and filling. can use it as a meal replacement when climbing all day long. real bits and pieces of dry fruits.
Wow, what a great trail treat! These things really taste great, and pack some long term energy in them. The fat and calorie content are not for the faint of heart, but that's because they are a meal replacement bar. When your on the go, and need to get some serious fuel into your body, and gels and shot blocks just are not going to cut it, throw one of these in the pack. I've tried a variety of flavors, and haven't found a bad one in the bunch!

Ok, sure they are pricey, let's talk about that: did you look at the ingredients list? Where else can you get an OG, Vegan, Raw food mean for this price. Cheaper than a trip to the farmers market, and better tasting than your weird friend's "heady" recipes, brahhhhhh.

Sure you could get something not as good for you for cheaper, but you could also eat dog food like mad max, and I don't see you doing that yet either....

Bottom Line: YUM!
Favorite Meal Replacement
These are too heavy to work as a on the go race type food, but for long days backpacking or hiking these are great. They have 400 calories so they're made to keep you fueled up. The cocoa pistachio flavor is my favorite of the Pro-bars, but the pretzel-something flavor is really good too if you want a salty snack. When I want to travel light, I'll just pack a couple of these for an overnight backpack trip and call it good.
These are my favorite of the ProBars since they are not to sweet and the chocolate is not overpowering. I do not feel like I am eating candy but rather a substantial meal. I usually have 1 or 2 in my pack or jacket pocket no matter what I am doing since they are a great and tasty fuel source for all my endeavors.
moist, dense, nutty, fruity, tasty, filling, and 100% vegan
I absolutely love these bars. If you are like me, you just can't have all of the same bars on a backpacking trip. No matter how much you like Clif bars (or whatever), you will be sick of them soon if that's all you brought. I love having these ProBars for my rotation.

They are moist, dense, nutty, fruity, tasty, filling, and 100% vegan. Around 400 calories, they make a nice meal replacement (or supplement). I have enjoyed all the flavors I've had so far, with the "Old School PB&J" being my favorite, but this one is good.

They also work well to throw in your desk drawer at work for those busy days when you can't get away for lunch. I prefer to buy them as singles to make sure I like the flavor, but once you know, the box purchase is a good value. Do it. Get the Probar. Do it. :-)
I really like Probars . This flavor was just okay. The cherry/chocolate pretzel is better. The description of the cocoa pistachio flavor sounded better than the bars actually taste. The bars are very crumbly too-maybe that's why I am not enjoying the flavor more. I have eaten 4 of them and they all crumbled and fell apart. I have eaten other flavors of Pro bars that did crumble when you eat them.
yum. This bar seems more moist and less brick-like than some other ProBars I've tried. I was a little nervous to order these because I hadn't tried this flavour, but I figured that the combo of pistachios and chocolate couldn't really go wrong. And I was right - it's really tasty.
You know when you go to the bulk foods area of your local grocer - and you see all the healthy/yummy assortments of nuts? And then you casually pass the dark chocolate section of the grocery store? But you stop, cause you can't buy that many nuts, and you will eat ALL the chocolate - well this is where the ProBar Cocoa Pistachio bar comes in. Very good meal replacement for active types, really good energy source for strenuous activities, and a very good recovery bar.