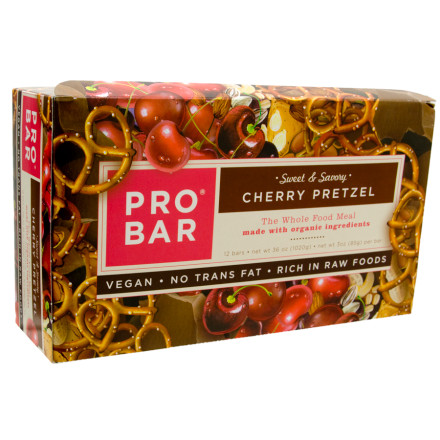 Detail Images
Pretzels, whole Bing cherries, and smooth, dark chocolate? Oh yeah. Besides the Cherry Pretzel Bar's drool-worthy taste, ProBar made this bar with fifteen whole foods that are about 70% raw. This, plus the blend of low-glycemic sweetners, quickly boosts your blood sugar and maintains your energy level (unlike processed-food bars that take your energy for a rollercoaster ride). Stash these 100%-vegan bars in your pack for backpacking trips, kayak and climbing adventures, and ski-touring days.
Wow, what a great trail treat! These things really taste great, and pack some long term energy in them. The fat and calorie content are not for the faint of heart, but that's because they are a meal replacement bar. When your on the go, and need to get some serious fuel into your body, and gels and shot blocks just are not going to cut it, throw one of these in the pack. I've tried a variety of flavors, and haven't found a bad one in the bunch!

Ok, sure they are pricey, let's talk about that: did you look at the ingredients list? Where else can you get an OG, Vegan, Raw food mean for this price. Cheaper than a trip to the farmers market, and better tasting than your weird friend's "heady" recipes, brahhhhhh.

Sure you could get something not as good for you for cheaper, but you could also eat dog food like mad max, and I don't see you doing that yet either....

Bottom Line: YUM!
They are moist, dense, nutty, fruity, tasty, filling, and 100% vegan!
I absolutely love these bars. If you are like me, you just can't have all of the same bars on a backpacking trip. No matter how much you like Clif bars (or whatever), you will be sick of them soon if that's all you brought. I love having these ProBars for my rotation.

They are moist, dense, nutty, fruity, tasty, filling, and 100% vegan. Around 400 calories, they make a nice meal replacement (or supplement). I have enjoyed all the flavors I've had so far, with the "Old School PB&J" being my favorite, but this one is good.

They also work well to throw in your desk drawer at work for those busy days when you can't get away for lunch. I prefer to buy them as singles to make sure I like the flavor, but once you know, the box purchase is a good value. Do it. Get the Probar. Do it. :-)
PROBAR Sweet and Savory bars are a twist on the delicious, organic meal replacement we're known for. With flavors like Cocoa Pistachio, Maple Pecan, and Cherry Pretzel you're sure to find rich, gourmet flavors that appease salty sweet cravings and introduce you to flavors unlike any other bar.
Hands down the best bar on the market. It's hard to get sick of dark chocolate, sweet dried cherries and savory pretzels.
This has been my favorite flavor so far of all the Probar flavors I have tried. Delicious, crunchy, cherry, chocolate....amazing.
I wish I could give these bars a better rating but they all share some flavor that just doesn't do it for me. I think this is just one of those like it or don't products and they are quite expensive as well. If it was the only thing to eat in camp I suppose I could choke it down but I think I'll take a pass on pro bars. There are better raw options out there.
I really like the ProBars because they are made from real food, and you can see it in there all mashed together. While I wouldn't call them performance food, they're a healthy snack that packs easily, stores, and tastes great. Who doesn't like chocolate and pretzels? This is a nice combo, and the dried cherry adds to the bar nicely. I think this is my favorite flavor out of the ProBars.
Compared to other energy bars, these things are expensive, but compared to a $14 burger and fries at any resort's cafeteria, this thing is a bargain. These bars are packed with everything you need to optimize performance when you are out on the mountain. High in Carbs and Fats, they are an excellent source of on the go energy, and really do the trick when out in the backcountry. Best of all, they are filling in your stomach but don't take up a lot of space in your pack or packet. They taste really good too. For someone who doesn't want to eat and/or pack a full lunch while skiing or touring, this is the way to go. PB&J sandwiches may have finally met their match.
I love that ProBars are made from real food, and that you can actually see that. Like other ProBar bars, these are packed with all sorts of healthy nuts and seeds, and the pretzels, dried cherries, and chocolate make these ones oh so tasty.
ProBar Cherry Pretzel Sweet and Savory Bar - 12 Pack
I love ProBars new Sweet and Savory line. They have all been delicious, but this Cherry Pretzel is my favorite. There is enough chocolate to keep it sweet and the cherry/pretzel adds a nice salty/tart taste.
another great bar from probar, i love all their bars but these are especially tasty ;)