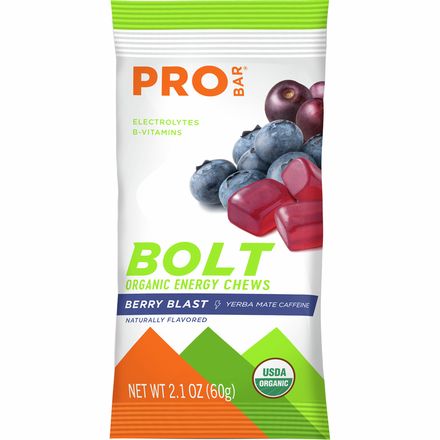 The ProBar BOLT Chews 12-Pack is a tasty way to boost your energy when you're on the go. The BOLT Chews are made with organic ingredients and are packed with electrolytes, antioxidants, complex carbs, and B vitamins, making them a healthy and convenient way to replenish your body. The Bolt Chews are vegan and gluten-free. Each pack contains ten chews.
Organic ingredients
Packed with electrolytes, antioxidants, complex carbs, and B vitamins
Vegan and gluten-free
Each individual packet contains ten energy chews
Share your thoughts
What do you think of the
ProBar
BOLT Chews - 12-Pack
? Share a...
So good!
Familiarity:

I've put it through the wringer
These are like candy, but with a lot more benefits. They're super easy to take along on active pursuits, and are easy enough to open and eat on the fly. Just be careful, or you'll wind up eating the whole box in a single sitting!
THE best.
Familiarity:

I've put it through the wringer
I have a very sensitive system. I can tell if something is artificial or overly sweet, right away. These are perfect. They are the least sweet chews I've ever had, but still very delicious...

I really like the caffeinated ones for running. They don't make my heart pound, even if I eat the whole pack, yet I still feel energized. I assume it's because they use Yerba Mate.

Questions on anything backcountry, hit me up!

Emily Jenson
Expert Gearhead
ejenson@backcountry.com
801.746.7587
Good taste, not too gummy.
Familiarity:

I've put it through the wringer
I like some chews but most are simply too awkward to eat while riding. I like these though. Easy to open packaging and the texture isn't too gummy for your mouth.
Tasty and easy to digest, these things are the jam for missions where you need a quick hit of energy. I'll usually have a pack open in my pocket and eat a couple every 15 minutes or so on longer hikes/tours, which seems to keep my energy pretty consistent. For anything over a couple of hours, I like to pair the chews with meal bars, which helps out when you get a bit deeper into your day. Similar to the meal bars, I've never had any problems with the chews freezing up when the mercury drops, which is nice when you're tired, colds and need a quick energy fix.
Strawberry no. Orange yes.
Familiarity:

I've put it through the wringer
I bought a box of Strawberry and found them much too firm to eat on the run. They feel like you'd lose a tooth if you bit all the way into one and tried to chew it.

Orange, on the other hand, was much softer and could be eaten during a long trail run and with no danger to your dentures. Both flavors tasted good, IMO.

The Strawberry chews weren't close to their expiration date or anything, so I can't explain the difference in firmness. I have bought Orange ones from various places at various times and they have always been soft enough to eat anywhere, any time.
Fueled by BOLTS in the Jackson WY BC
Great for refueling on your way up
Familiarity:

I've put it through the wringer
I always have these in my pack when I'm mountain biking. I love the texture, and they are easier to stomach than most gels and bars. I also love the Clif Shot Blocks, but the Bolt Chews are smaller, and it's easier to grab small bites than one large block. Pick up a case and stay fueled!
Fuel for my evening runs!
Familiarity:

I've used it several times
Most week days I run after work, and I find myself in that weird place of always being so hungry but not wanting to eat anything heavy right before a run. You know what I mean? The pro bar chews are perfect for me in that aspect. I eat them when I get home so my belly feels good, and they give me energy for my run! I have tried the Clif Shots as well, and I like both. The pro bar chews are a little less dense, and easier to chew. On long runs, I'll eat half the serving before and the other half in the middle of my run! That gives me a nice little energy boost. I've only tried the Berry Blast flavor, but I like it a lot!
Skiing the Sliver Couloir w the BOLTs
Grand Teton National Park, WY fueled by the BOLT chews on March 14, 2014
These are excellent
Familiarity:

I've used it several times
Most of these energy chews suck, these don't. Just remember they aren't candy.
Great chews
Familiarity:

I've put it through the wringer
These have recently beat out Honey Stingers as my favorite chew thingies. Great flavors, good texture, not too heavy in your stomach. These are heavier/ denser than Honey Stingers, but they don't feel heavy in your stomach (although I have a pretty tame stomach). Raspberry and Berry Blast (blueberry?) have caffeine in them (Strawberry and Orange do not), but I haven't found the caffeine content to be over the top. I'm really sensitive to caffeine and rarely have it (turns me into a hummingbird...), but I don't really notice it when I have the caffeinated flavors. Certainly not caffeinated like a cup of coffee. All in all a great set of chews. Hardest part is not eating them all at the office...
I'm not much of a fan of non-food food like gels and chews and whatnot, but when I saw that ProBar was making chews, I had to try them because I love ProBars so much. They're awesome. Not hard on my fairly sensitive stomach, easy to chew, the flavor doesn't stick around too long, and they don't get stuck in your teeth!
I'm usually not a huge fan of chews. There are a few of the Cliff Shotblocks I can handle, but they're definitely not at the top of my list for the most delicious things to chomp on. I've only had the Berry Blast in these, but I actually really liked them. They gave me enough boost to feel great, but without any other gnarly side-effect feelings. I drink a lot of Mate by itself, and love the caffeine from it- perfect to keep going, but it never makes you feel icky later on. Overall, would definitely recommend these!
Excellent Natural choice for a chew
I have been using these for a while but and am a huge fan. The Berry Blast and and Raspberry both have caffeine from Yerba Mate included which seems to be just enough to get me going without being over the top. If you are not into caffeine in your chews, go with orange or strawberry