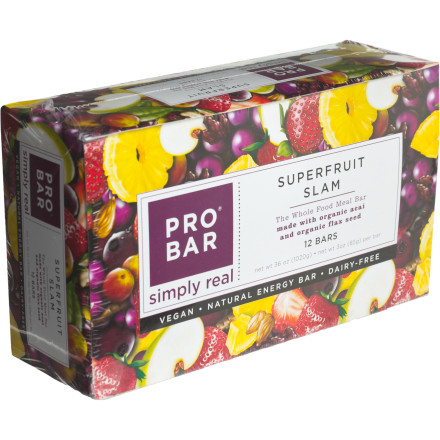 Detail Images
Alpine trails can take a lot of energy out of you. Refill and revitalize with Art's Original Superfruit Slam Bar 12-Pack. Grab a few of these delicious bars and spread the love around with your mountain biking or hiking crew. Packed with nutrition and vegan-friendly, these snacks will help keep you going when a full meal isn't an option.
Superfruit Slam is an apt description for these. They have all the hunger-ending qualities of other ProBars, but they were too sweet for me. It had a syrupy-sweet flavor that made my mouth dry. They're good, but I prefer the other varieties more.
These are another great addition to the ProBar lineup. Great texture with a slight crunch.

Note: These are not candy bars. They have 380 calories, and if you eat them after meals you will have to buy larger pants.