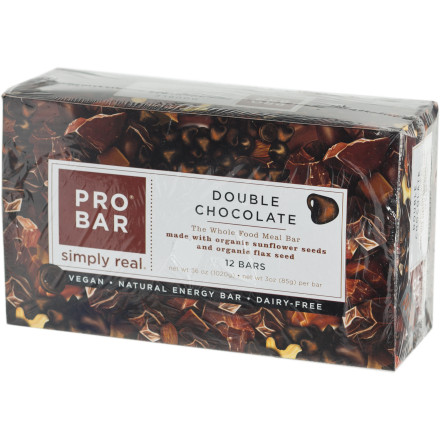 Ever have trouble reconciling your love of chocolate with the healthy mountain lifestyle? Worry no more. Reach for Art's Original Double Chocolate Bar 12-Pack and indulge yourself. Rationalization is easy when the delicious treat powering your adventure is nutritious, vegetarian, and vegan-friendly.
What do you think about this product?
Have questions about this product?
Yummy. If nothing else, this satisfies my sweet tooth. I always have a ProBar handy when I'm out camping, skiing or participating in any outdoor activity for the most part. Good amount of protein to sugar/carb ratio so there's prolonged energy without the "crash" of pure sugar. I always have a handful of these ready to pass out when I'm leading or just with other people (stops whining in its tracks, no more sore feet, tiredness, boredom etc...)



A little more expensive than others (I'm also a big fan of Pemmican Bars) but the tastiest there is. Try all of their flavors and varieties!
Really tasty, great to throw in your pack for a sweet treat. They are firm enough to not get squished but soft enough that they do not have the texture of crunchy granola bars and more of a soft cookie consistency.