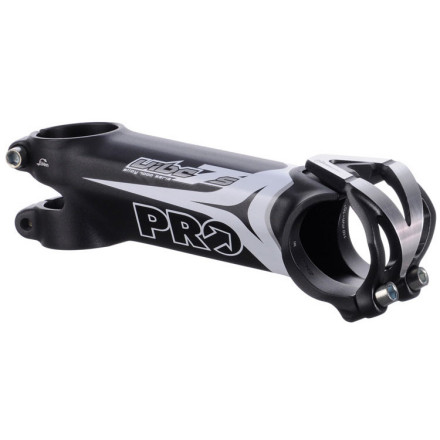 In terms of fostering confidence with steering components, it's impossible to beat the combination of an aluminum handlebar and an aluminum stem. In terms of its use in stems, aluminum is a good choice. You can get lightness that rivals (and sometimes exceeds) more expensive carbon fiber stems, yet you'll also have the reliability of a material you've grown to trust. This is why PRO's Vibe 7S OS Stem is such an easy choice.
It's been redesigned with what PRO terms a Puzzle Clamp. So rather than using a traditional 4-bolt faceplate that could be prone to flexing, PRO's new design wraps up and over the top portion of the stem. The "V" shaped protrusion acts like a bollard that accepts the corresponding strap on the faceplate. Under tension, the two parts fit together perfectly, only tightening the joint further and becoming absolutely motionless. It's still fashioned from 7075-T6 aluminum. It has the same triangular shape with a thicker wall across the top and thinner-walled V sides.
As with the Vibe Carbon, the Vibe 7S should not be flipped. It is designed as a –10 degree angle stem and it should always remain thus.
The PRO Vibe 7S OS Road Stem comes in Black or White and is designed for 31.8mm handlebars. The steerer tube clamp is designed for 1-1/8" steerers. The stem comes in 80-130mm lengths, in 10mm increments.