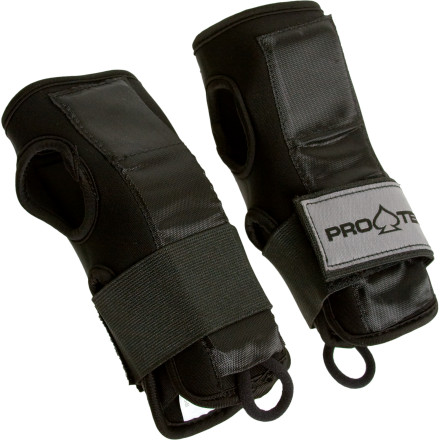 Description
Stop breaking stuff.
Broken wrists suck—plain and simple. Put an end to the suck with the added support of Pro-tec IPS Wrist Pads. This piece of snowboard safety gear fits under most gloves, and still allows you to move your hands freely for strapping in or unzipping your jacket. The IPS Wrist guard's splints are removable, so you can vary the amount of support depending on your needs.
Share your thoughts
What do you think of the
Pro-tec
IPS Wrist Pads
? Share a...
Works so great that I had to buy 2 more pairs for family members. Very durable, I've thrown it in the wash 5+ times and they come out exactly as they came in. These do get smelly after some use, so a hot water/vinegar soak is recommended.
These work exactly as they were intended! No broken wrist yet!
broken wrist or broken arm?
they take the pressure off of you wrist as planned, but put the pressure on your arm.. do not get these...........trust me
Felt like the right size but the strap would not tighten up much at all (lame). So I question it's ability to protect. Found another brand (Demon) whose strap is more adjustable and much more secure so I'm going with that one.
Tried 'em on and immediately felt the support and restricted movement so you can't bend you wrist past a certain angle. Now all I need is some snow. I a lot of Protec gear, they make a good product.
Great affordable protection
I started using these wrist pads this season and they've protected my wrists more often than not. Like another reviewer mentioned, the straps could be a bit tighter. Also, I would've liked these in a smaller form factor so they could fit under my gloves without giving me bear paws; I was a bit bummed that I couldn't wear my grenades over these, but hey, you can't have it all. If you plan on adding more tricks in your bag w/o adding more hurt, ride with some wrist protection like these.
solid guards definitely gets the job down and a must-have for back-fisting skiers in lift lines
nice and comfy as long as you get the perfect size.
i personally can fit in a size Small with the sizing chart. i ended up getting a Medium because still felt snug, secure, and comfortable. the small fit but had a pressure points and was not comfy.
if you are using the sizing chart to figure out your size i recommend adding a .5" to your actual wrist circumference and get that size that matches up.
These I would recommened for sureee! there pretty soild, comfortable and they keep your wrist nice and toasty. I havnt riden with them yet, just waiting for some snow!

The one down fall about it, is that its kind of hard to get your gloves over them.

Other then that they are pretty sweet.
these aren't quite perfect yet. when i was a kid we bomb empty pools (there was drought in ca at the time - but isn't there almost always?) and i took a different version of these along for the ride. actually, i wish i had worn them more. that version had straps that were much, much less elastic and they offered more protection. these fit me well, but i always feel like i need the strap tighter and less mobile that this elastic version will go. the flexibility does offer more options for hand plants, but i like the security of a tighter strap. still, i bought them since nothing will end a sess' faster than a broken wrist anywhere on the mountain, park, pipe or street. these help when learning new or big tricks. recommended for safety alone.