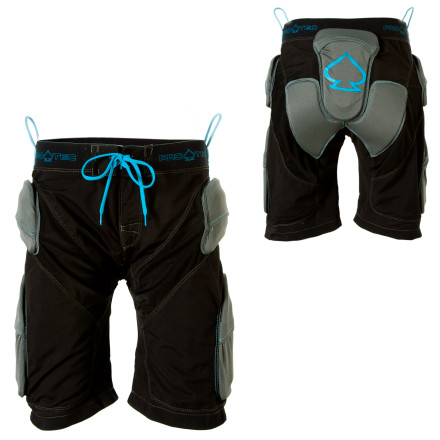 Detail Images
Shred long enough and you're going to hit the ground unexpectedly hard. Protect the vital bits below your waist with the Pro-Tec Women's Hip Protector. Built into this boardshort-style protective gear is women's specific padding that curves around the outside of the hips and covers the tailbone. Breathable and moisture wicking fabric helps pull stifling sweat away from your skin while it lets excess heat escape so you stay comfortable. Underneath your shorts or snow pants, these lightweight and flexible shorts give you the added confidence to push your limits without fear of painful injury.
I got these because I had bruised my tailbone the season before. The size small was so big that the tailbone protection would shift all over the place. The short it self is really baggy and hard to fit under layers. These things combined together forced me to frequently adjust while on the mountain...If you don't want to look like you're picking a wedgie all the time, go with something more form fitting.
These make falling so much easier.
I am a skier, turned snowboarder and am having trouble getting the mechanics down without falling on my face, butt, back, side..you get the idea.
These are great! My snowpants have always been big, so it fits great under them. Others can't even tell I have them on. They add an inch or so of protection all around the most vulnerable parts of the anatomy that can be negatively effected when learning the sport. I highly reccommend these to any woman who is just beginning.
Specified size is not correct
Beware the size specified on the size chart is not correct. I ordered women large which supposed to be waist 29+ but the actual size of the women large size has a waist of 32/33+. The tail bone protection is good but it would be better if the pad here can be slightly longer to cover a bit lower at the bottom. I am not sure if I have this issue due to the size of the pant is now too big for me. Also the two pads on both sides of the tail bone should be thicker (denser and harder) so it would give better protection in the area. All the other paddings (tailbone, hips and leg sides) are pretty thick and strong but leaving the two sides of the tail bone a small, very thin and "weak" pad which does not help to protect at all. I am thinking of returning this pant because of the poor fitting. But I am checking to see if I can find something better than this one first.
Unanswered Question
Are the pads on the hips removable?
Are the pads on the hips removable?
Unanswered Question
Is the tailbone pad solid, or is it just...
Is the tailbone pad solid, or is it just fluffy padding like the RED shorts. Fluffy padding does nothing.