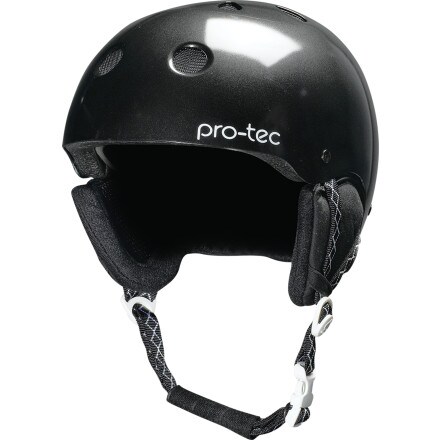 Description
A no-nonsense helmet for hard-charging boarding.
Bells and whistles belong on parade floats and your banana-seat bike, not on your helmet. The no-nonsense Pro-tec Women's Classic Snow Helmet takes brain safety seriously. The hard outer shell won't melt in the snow, and the low-profile foam liner soaks up the hurt when you crash and burn. After you've dialed in the perfect fit, ride, skate, and bike like a shining she-beast.
Designed for your aggressive riding style, the injection-molded ABS hardshell takes the everyday encounters with small branches in stride. Sure, the sexy satin finish might look a little rough after a few trips in your trunk, but your melon won't mind the missing sheen. EPS foam lines the helmet, ready to absorb impact forces when you yard-sale on the bullet-proof ice your resort likens to snow. The EPS liner isn't multi-impact, but it meets all the required ASTM, CE, CPSC standards (meaning if you take a massive hit with this helmet, you might want to retire it because the foam liner will absorb impact, compress, and stay compressed after a big hit). Just shy of a dozen, 11 screened vents let your hot air escape and a little fresh air cool your hot head.
Interior pads let you tweak the fit, and they come out for a quick wash when your helmet starts to smell like your boots. Plush-lined ear pads whisper sweet nothings, but can be removed when it hits 60F at the base. The back goggle strap keeps your peeper-protectors in place. Need musical motivation to move beyond the terrain park? The ear pads are audio compatible, but if you're rocking your Fanilow playlist, you'll miss the warning screams as a gaggle of baby boarders make their way towards you.

High-density, injection-molded ABS hardshell
EPS impact liner
11 screened vents
Removable and washable interior fit pads
Goggle compatible
Audio compatible
Certified for snow, skate and bike use