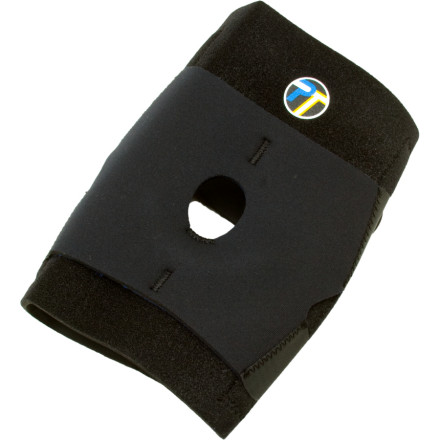 Detail Images
When a full-fledged hinged brace is overkill, the Pro-Tec Athletics X-Factor Knee Brace offers additional support and stability without obliterating your range of motion. Two levels of neoprene allow customizable compression, and a patellar buttress stabilizes your kneecap and improves tracking during joint flexion. The open-back construction offers minimal bunching and superior comfort.
What do you think about this product?
Have questions about this product?
Chafe Town
Familiarity:

I've used it several times
About six weeks ago while skiing I found a small rockband hiding under fresh snow. I caught an edge on the hidden rocks, and my body twisted one direction, while my knee twisted the other. The doctor called it a low-grade sprain, and told me to rest for a few weeks. Like any good weekend warrior I took my doctor's advice to heart, and promptly spent the next six weeks relaxing and drinking beer. Well, now my pants aren't fitting quite right, and the ol' love handles are making a comeback, so that means it's time to start running. A short trial jog around the park made it clear that while I'm ready to run start running, my knee needs a little extra support. So, I picked up this brace.



First off, it's pretty big--the regular size fits the circumference of my leg pretty well, but it's longer than I expected, making me look like I'm about to line up in the D-Line, rather than a guy about to go for a run--it's providing way more coverage than I actually need. Secondly, the open-back construction doesn't do a darn thing to eliminate bunching, and the tabs in the back actually interfere with my stride. Thirdly, the open-back creates two places behind my knee where the brace rubs against my bare skin, resulting in some pretty uncomfortable chafing after a short 3-4 mile run. Finally, since it's neoprene, it's hotter-than-heck, and it traps sweat between the brace and my skin, which will certainly result in more more chafing, or at the very least a worse-than-normal post-run funk.



In short: I wouldn't buy this again.




This brace is nothing fancy by any stretch of the imagination, but it fulfills its role as a lightweight, recreational, knee holder-in-placer. For under $30 it's definitely worth the money if you're not looking for a hinge (http://www.backcountry.com/pro-tec-athletics-pro-tec-hinged-knee-brace).
Runs a little small on me but I enjoy this brace. Low maintenance and does the job.