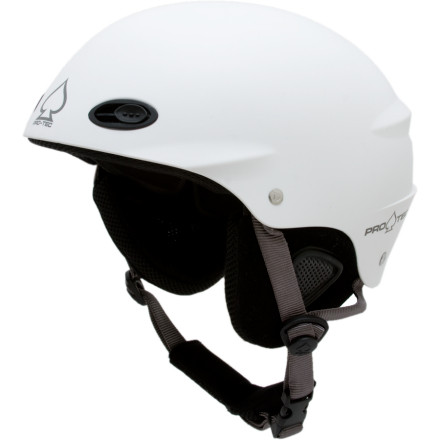 Detail Images
Trust the Protec Ace Freecarve helmet to keep your dome protected and warm when charging the steep and deep. One of the first, and most imitated snowboard helmets, the Ace features low-key style and adjustable ventilation. On a powder day, close off the Ace's four passive vents, or leave them open for a spring rail or pipe session. Protec gave the Ace Freecarve Helmet a high density, injection-molded ABS shell for durability and an EPS liner to absorb the impact of bigger hits. A goggle shelf and clip assures you won't leave your goggles a hundred feet uphill when you eat it and ragdoll.
Nice looking helmet but very uncomfortable for those that have larger heads. Can't adjust and has realy poor pading. good for a cheap helmet but have a cap of some sort.
Pro-Tec Ace Freecarve Helmet
I bought as a gift for my young teen son. He loves it. It looks great and he tells me that it works great and is comfortable. He gets compliments on it from his friends. My input to Pro-tec is that that their helmet sizes are a bit off. I measured his head many times and bought a helmet that matched those measurements the first purchase. Way too small. The second time I bought Adult medium for a 22 cm circumference to be safe and it worked out. My other comment is for Dogfunk whose telephone sales rep told me that shipping time for delivery was 3-4 days via 'Standard' shipping when it was 5-6 days. I gave my state and zipcode.
Write your question here...does this helmet...
Write your question here...does this helmet have earphones.
if not does it have a slot for headphones
It doesn't have headphones integrated to the helmet. You used to be able to buy some through Pro Tec that replaced the standard ear flaps with ones with headphones in them, but I think they discontinued them. I have a set and they don't fit the helmet very well. Now I just use low-profile ear buds under the standard flaps and I have no problems.
I ordered this helmet in XL, which is the largest available, and it was still too small. And the ear pads only covered half my ears. The only reason I'm giving this 2 stars is because Protec's sizes are not accurate. I'm sure if my head was smaller, this would be a great helmet. So, I then tried the Smith Maze helmet in Large, which fits my head perfectly. It seems Protec helmets run a bit small, so if you have a larger head, stay away! The Smith Maze is a much better option! Also, Giro helmets are an excellent option as well.
I got the white one in medium aka. Women's large. Fits great. Absolutely cute. Kinda looks like I should be on a moped.
I've been shopping around for helmets for a while now and each time, was disappointed in the fit. When I got this helmet in the mail, I was crossing my fingers. Finally, I found a match! This helmet has a low profile that fits my head perfectly. I didn't get the chance to try it out on the mountain yet for the functionality, so this is a pure aesthetic review. But, if you're looking for a nice looking helmet that won't make you look like a mushroom head, than this is it.
This is a very good helmet that is also comfortable to wear. Ear flaps are removable but the material is very soft and doesn't chaffe your ears while your wearing the helmet.
Not a bad helmet for the price. I got a large and am glad I did, it fits just right. The vents are pretty nice too, and it helps when you smack your head from going a little to crazy off a jump.
this is just a basic helmet, not very comfortable but not umcomfortable, venting is not very effective, and it is HEAVY. however, it is a working helmet, i took a lot of spills with it and theres no cracks or anything. my advice is to not skimp on something like a helmet, spend a some extra money on a smith holt or a RED helmet because they are much more comfortable and twice as light.
My first helmet and worked great.
I just got back from Aspen Snowmass, CO. I bought the helmet for the trip. I've snowboarded for ten years and this is my first helmet. I had no problems with it. It fit perfectly and worked as I had hoped. I used the sizing chart and measured my head to determine the size. I highly advise doing this. I would definitely purchase another Pro-tec helmet in the future.
The Helmet arrived in the mail and I immediately tried it on. It wasn't very comfortable, and when I got a look at myself in the mirror I knew why. These are the left over helmets from Spaceballs.
Where can I get replacement ear pads for...
Where can I get replacement ear pads for this helmet?
Best Answer
The only place I've seen is one in the UK. Its 40 bucks with shipping! Might as well get a new helmet!

http://www.chainreactioncycles.com/Models.aspx?ModelID=43118&PartnerID=635
I love the helmet! It fits perfectly and is very stylish! I had many compliments on the way it looked and definitely protects your head!
Great helmet, it fits my head perfectly and I don't get tired from wearing them, they keep me warm too.

Had a big wipeout and this helmet prolly prevented a very serious injury. Will definitely purchase these ones again.

Althought I do wish there were more vents on this helmet.
Unanswered Question
The Pro-Tec website says this helmet can...
The Pro-Tec website says this helmet can be upgraded with Audio Force Ear Pads. I can't find those for sale anywhere. I really like this helmet, but audio is a must for me. Where/how can I get the earpad upgrade?