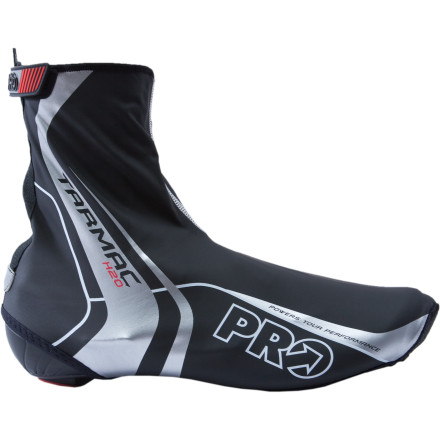 Spinning with wet feet can turn into a miserable affair. Protect your tired, hard-working dogs when you protect your shoes with the Pro Tarmac H20 Shoe Cover. This waterproof cover has a flexible fit, reinforced design, and light insulation for warmth when the weather turns chilly. Pounding out miles without them would be foolish, particularly if the weather is foul.
Waterproof PU external coating and sheds rain and seam-sealing locks out additional precipitation to keep your feet dry
Bamboo Charcoal Fleece interior fends off the cold while also helping to keep the temperature regulated
Anti-bacterial treatment on the interior fibers help to repel odors so your feet won't stink so bad
Optimal Panel Construction easily slides over your shoes so you can make quick transitions or adjustments as needed
Kevlar-reinforced toe area increases durability and life of these covers without leaving you with a nasty weight penalty
Nice set of shoe covers! This is my first pair of covers and I'm not disappointed. They keep my feet warm and dry and they look pretty cool too. I wear 46 size shoes, but got the 47-49 size covers. They fit good, but I think if I had gotten the right size (I thought my shoes were 47... oops) then they would be really snug. I'm actually glad I got the bigger size. They take some effort to pull over your shoes and I think the bigger size makes it a bit easier. The down side is that they are a bit loose around the ankle, but barely. The Velcro strap and zipper are good, no problems there. As for warmth, I've worn these down to about 35 degrees and my feet stay warm.
Is this a good cover for summer commute...
Is this a good cover for summer commute to work or are there better choices available?
These would work well for summer commuting.
Added these to my cold weather riding gear and now my feet stay nice and warm. Good product at a good price.
Does the job at a great price
Nice shoe cover and I like the reflective material. Very nice.
Nicely constructed. Good fit. Reflective aspects. Stretchy material. It will fit right in to the bootie rota. Good one. Made in Taiwan.
Unanswered Question
would this shoe cover be the right stuff...
would this shoe cover be the right stuff for the riding in the high weed, up to the knee high, to prevent the weed getting into shoes and socks?

If not, is there any product to recommend. Thanks for your help.

Patrick Hsu
These are my first shoe covers. I wanted something that was light weight and would absorb moisture and dirt. These are the ticket. At under $30 for a water-proof cover, you can't beat it. The inside is a tad insulated, so I use them for our mild North GA winter. I've worn these down to 35 F with the Zxellium Ultimate shoes and have had no issues. I would guess with some good socks, these would be good to about 30 F or so... perfect for our area. I've worn these with my new shoes and so far my shoes still look brand new. That's definitely an added benefit. I may get a white pair for summer riding.