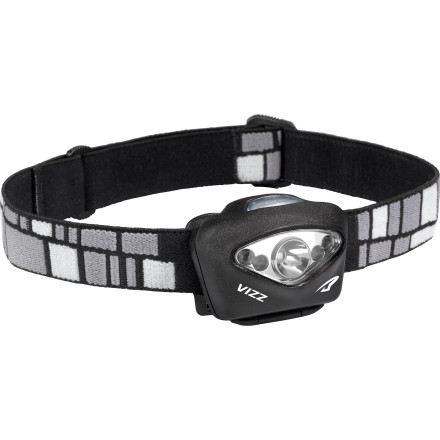 Colors
Description
Compact and powerful.
For a versatile and powerful light source that takes up minimal space, look no further than the Princeton Tec Vizz Headlamp. The lamp's powerful Maxbright LED will cast a narrow beam 90 meters into the darkness and has a burn time up to 110 hours while the two Ultrabright LED can put out a wide beam that simulates normal daylight conditions. Plus, the Vizz is waterproof so a rain shower won't leave you bumping around in the dark.
One Maxbright LED and two White Ultrabright LED provide up to 150 lumens
Maxbright mode provides a 90 meter beam
Ultrabright high and low modes provide 39 and 28 meter beams respectively
Multiple Beam pattern provides narrow beams for distance and wide beams to simulate normal daylight conditions
Runs on 3 AAA batteries(included) compatible with lithium batteries
4 modes include Maxbright High 110 hour burn time, Ultrabright High 120 hour burn time, Ultrabright Low 200 hour burn time, and Ultrabright Red 150 hour burn time
Push button on housing allows you to select modes and turn the lamp on or off
Adjustable elastic headband provides a snug fit
Waterproof integrity down to 1 meter for 30 minutes
Crash Course in Making Lights
PTEC designs, engineers, manufactures and assembles our own products at our facilities in the great state of New Jersey, USA. The technology and products have evolved since we started in 1975. This is what the process looks like today.

After we made this video, it became that much more apparent that it takes a ton of energy, knowledge and skill to do what we do. What we do requires a fast pace and rapid mind. Hold on tight while this video takes you inside the brain of PTEC HQ.
Decent headlamp!
Familiarity:

I've put it through the wringer
This light is bright. Almost too bright for tedious duties around the camp site. I love the quality and durability. My only complaint is with the batteries. It drains juice quickly and when it is low, a red flashing light comes on and it is tricky to get that to stop blinking.
Less Features than Black DIamond's Storm
Gender:

Male

Familiarity:

I've used it several times
The Vizz is a great headlamp for the backpacker, paddler, and climber alike. It has a powerful beam on the first setting that can produce a spotlight 90 meters away on full battery. The battery allows it to stay at full distance for a time period and then kicks in to the reserve which makes the distance slowly decrease as the battery does. It also has adjustable proximity lights and dual red lights (non-adjustable). The Vizz is fully waterproof.



The only true difference between Princeton Tec's Vizz and Black Diamond's Storm is that the Storm has adjustable lighting on all three settings (the beam, proximity, and red lights). With the Vizz, you have to go full power on the red lights and full power on the beam constantly which may not be appropriate in certain settings as well as for maintaining battery life. The proximity setting is adjustable just like on the Storm, but the Vizz's is a much more concentrated proximity, unlike the Storm's which is smooth up to the highest setting and without any particular spotlight-- which is great in social settings or inside. These two headlamps are virtually identical other than that; both fully waterproof, though for $10 less in price and apparently Princeton Tec also incorporates a different technology for battery life which allows the light to stay at maximum brightness for a longer period of time before it begins to decrease, whereas the Storm's brightness begins gradually decreasing with battery life the moment you turn it on.



I used the BD Storm headlamp for a long time and am very familiar with it; it is a good headlamp. In switching to the Vizz, my main reasoning was to see what I could get in a headlamp for slightly less money, not to mention a LIFETIME warranty, unlike Black Diamond. It seems to be a good choice, though more field testing will need to be done.



Overall, a great headlamp for the price: waterproof, proximity lighting, spotlight beam, and red lights; decent battery life.
The Vizz is feature-loaded with three distinct beam profiles easily accessed via a simple press, hold, or double press of the button.



One Maxbright LED (double press) creates a powerful 150 lumen spot beam for long-throw illumination, a pair of white Ultrabright LEDs (hold) deliver a dimmable flood beam, and two red Ultrabright LEDs (press) handle close-range lighting while preserving night adjusted vision.



As with all of PTEC Professional Series headlamps, the Vizz is waterproof (IPX7), equipped with regulated circuitry, and lithium battery compatible.
Great headlamp, horrible battery life
Familiarity:

I've put it through the wringer
I have had the Quad for a couple years and and enjoyed it for running on trails. I did notice the batteries died quickly even when I wasn't using the light a lot (I even resorted to taking out the batteries). I upgraded to the Vizz thinking the high end light should be more near the market norm of better battery consumption since I want to do a 100 mile trail race but was disappointed to find the low battery warning comes on after only a couple runs (not using the light for more than 90 minutes). I love the light, brightness, and settings; I just need something that lasts longer with the battery
Great headlamp, reasonable price
Familiarity:

I've put it through the wringer
I think this is an excellent alternative to Black Diamonds equivalent headlamps, in my opinion you get more bang for your buck here



It has great intensity, love the adjustable output setting and red lamp as well for the evening, hinge seems to work well, battery life is great, strap and battery door are easy to operate



If your looking for a quality headlamp and don't want to drop cash on spendier alternatives, I encourage you to try this out
Super Bright Compact Light
Familiarity:

I've used it once or twice and have initial impressions
I just got this headlamp last week and took it out this weekend. I loved how super bright the high beam is for such a small headlamp. Plus it is water proof which is a huge plus for while I am canyoneering. Having the red LED is a plus at night so that bugs do not dive bomb my head and I love the dim able white LEDs for around camp was nice for reading and cooking. Overall a nice durable, waterproof and bright headlamp
Hinge bracket is way too weak
Gender:

Male

Familiarity:

I've used it once or twice and have initial impressions
I am not sure if this is a fault with my particular unit, or a design flaw with all Vizz Headlamps, however I am not happy with the hinge that adjusts the inclination of the lamp on the head bracket. The hinge is very loose, and flops down so the light is pointing at my feet under even a light jog (it does not flop down with a gentle walk). There does not appear to be a way to adjust the hinge to make it tighter to avoid this issue, and I have resorted to trying to jam bits of paper in it to keep it up. I am not sure if all of these lights are like this or if this particular one is faulty, however I don't see how they all wouldn't have this issue if the hinge cant be tightened.



The lamp is also not as bright as I expected given the lumen rating. The main bulb (max bright) cannot be operated simultaneously with the 'ultrabright' LED's, meaning you have to use one or the other. While this is fine 90% of the time, there are times I need a bright centre, with the additional wider spread.