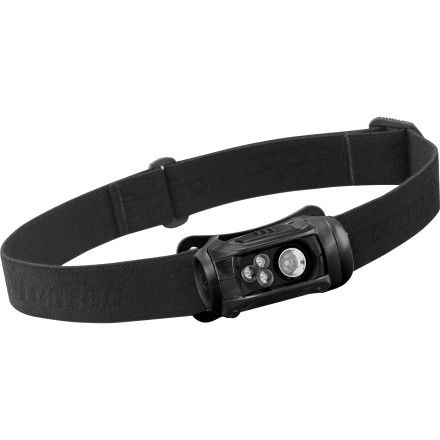 The Princeton Tec Remix Pro Headlamp brings military-grade lighting to the backcountry. This lightweight, high-powered headlamp delivers up to 70 lumens of illumination from three Ultrabright LEDs and one Maxbright LED, which can be configured in four different modes so you have right amount of light to get the job done. A single CR123 lithium battery provides reliable power in cold, harsh weather.
Lightweight plastic housing resists moisture as you climb, skin, or ski in an approaching storm
At lowest light mode, the Remix Pro stays illuminated for up to 40 hours for use during emergency bivy scenarios
Large power button is easy to use with gloves, and the lamp always begins in low light mode for discreet military or hunting operations
Tiltable housing features an easy-access door to speed up the battery changing process
Simple, adjustable elastic headband fits all head shapes and some helmets
Share your thoughts
What do you think of the
Princeton Tec
Remix Pro Headlamp
? Share a...
Spot On!
Familiarity:

I've put it through the wringer
I have used this light for over a year now with no complaints at all. I prefer the CR123 batteries because they are easier to change out because it is just one and I replace them less. It is also a plus overseas in the military because you can never find AAA. The red led function also is nice because it comes on before your extremely bright white light comes on. I like the button as well because it is stiff and there is minimal risk of an accidental turn on that will drain your batteries. It isn't so light you forget it is on your head but it does not give you a headache like some of my old petzl lamps do. I have worn this in night time down pours and its water resistance is excellent.
What is the best colour ultrabright LED's...
What is the best colour ultrabright LED's to choose when purchasing one? It will be used for hiking and camping.
Thanks Phil. Sorry i meant the diodes and i was incorrect i am looking at the 100 lumen model. I just wasnt sure if i should of picked red or white for this option, but you answered my question. Thanks for the quick reply, what a great site.
Best Answer
Hey David,

I'm not quite clear what you mean. Are you asking about the colors of the headlamp's housing, or the color of the diodes themselves?

Diodes: Some people love the addition of the night-vision red. They're not bad for close-up task lighting, some trail walking, and if you need to keep the ability to see in the dark, outside your lamp's spread. Definitely not a requirement in my book though.

Housing color: Some people prefer a low-key look...black, gray, green...all fashion statements aside, others prefer brighter colors for their higher visibility that's not so likely to be missed when you need to find them or leave camp.

Hope that answered your question.
No problem, David.

More light when you need it is always better. I want to be able to thread a needle, AND, see what's 100 meters ahead of me.
I thought i wouldn't like or even remember that my headlamp has a low-(red) light function until I had to share a tent with two people. My tentmate with the night vision red would never wake me up when if he had to use the bathroom, however the other person's headlamp would because he didn't use it. I only found out the next morning when my FRIEND with the red light was up numerous times because he was having "stomach" problems. I started using it more frequently after that trip and it has been very useful for these situations and maintaining your night vision.
Ha, Alexander. You're also far more generous than I am. There's a special place in tent-mate Hell for people like me.
lightweight, takes lithium batteries (which in turn are lighter, and work better in the cold), and several modes. Does everything well from a very bright light to a reading light in the tent. I've been using cr123's in mine that are specially made for high output devices like flashlights. They seem to last a while.
Unanswered Question
I have a new application for your tech. ...
I have a new application for your tech. The ideal headlamp would be rechargeable. I would like a baseline quote for 1 million, 2 million, and 3 million units/order. I am currently in the process of testing prototypes that I have modified from another supplier.
REMIX in the Princeton Tec lab
Crash Course in Making Lights
PTEC designs, engineers, manufactures and assembles our own products at our facilities in the great state of New Jersey, USA. The technology and products have evolved since we started in 1975. This is what the process looks like today.
After we made this video, it became that much more apparent that it takes a ton of energy, knowledge and skill to do what we do. What we do requires a fast pace and rapid mind. Hold on tight while this video takes you inside the brain of PTEC HQ.

Red LEDs are great in camp and in the tent. Prefer the CR123 battery on the Remix Pro models for lower weight and longevity. Switch settings start with low power and go up. I prefer this.
I have the 3AAA Remix as well. I just bought this one because I wanted to try it and I have a stash of CR123s at home. And it's all black. It's a little lighter than my 3AAA but other than that, I'd go with the 3AAA version instead. Batteries are cheaper and performance is better.

The always comes on in the low mode was a little annoying.

I do like the Remix platform though. I've used it a lot over the years, from hiking at night, to running, to fixing stuff in the car or just to see where I'm going.
Will it take rcr 123 battery rechargeable...
Will it take rcr 123 battery rechargeable li battery
The Remix Pro is able to take a rechargeable CR123 battery (just confirmed with Princeton Tec). The reason is the Remix Pro uses voltage regulated circuitry which essentially regulates the amount of electricity into the LEDs. Because of this regulation, and one issue with lithium rechargeable batteries, the circuitry won't allow for a burst of energy which can have the potential of burning out LEDs. You should be fine using rechargeables...