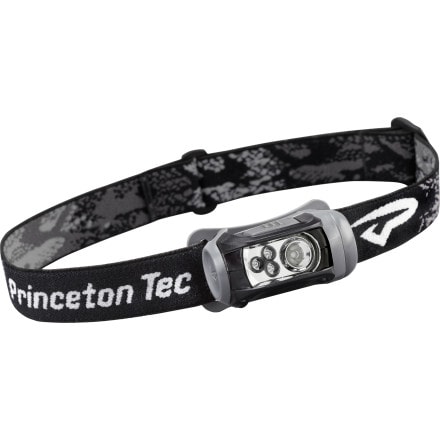 Colors
Description
For every nocturnal need.
With two different types of LED bulb and four intensity modes, the Princeton Tec Remix Headlamp offers the versatility to effectively light the way on any nighttime excursion. The Maxbright LED can send a concentrated beam over 70 meters into the darkness when you just need to know whether that's Bigfoot or a squirrel rustling around in those yonder bushes. The other mode, an Ultrabright LED, emits a wide-angled beam that's perfect for setting up a tent or cookin' some squirrel. The Remix's single arm bracket securely holds the headlamp at any desired angle, even when you're sprinting away from Big Foot down a rough trail.
Three LED bulbs
One Maxbright LED bulb
Adjustable angle
70 meter range
Four modes of intensity
Share your thoughts
What do you think of the
Princeton Tec
Remix Headlamp - 100 lumens
? Share a...
Unanswered Question
I got one of these for Christmas, it looks exactly he same but I'm not sure if it is the same version. Mine has red, blue and white light but I can't figure out how to work it. I've read what little material there is about operating it but still can't get any of the lights to go to the high mode. One press = small red, press again and I get blue, press again and it turns off. If I hold it when off I get the small white light, another quick press turns it off. If either the red or blue is on and I hold it then the big light comes on but another press just turns it off. Any ideas?
Posted on
Great headlamp!
This light works great for camping and finding things in my car after dark. Fits comfortably on my head, light and bright!
I'd like to know if I can get two of these for the price of $25.99...the price your sister site (steepandcheap) was just offering them for? I placed two in my cart, and when I went to make the purchase, it said they were already sold out. I'm furious, and feel railroaded into another purchase (which of course now, I will not make on BC or S&C).
Responded on
Hey Null,
I am sorry that the item sold out before you cold snag it. If you contact us we can check into getting an order set up for you. Just shoot us an email or contact us via live chat or phone at 1-800-409-4502.
Best Answer
Responded on
Stop crying you big baby. Happens to me all the time, you aren't entitled to a smoking deal! Take your outrage somewhere else!
@Dan Be. Quick question: The Princeton Tec website claims 125 Lumens for this model. Is there an update I'm not aware of or does one of the two webpages have a typo? Thanks for all your awesomeness!