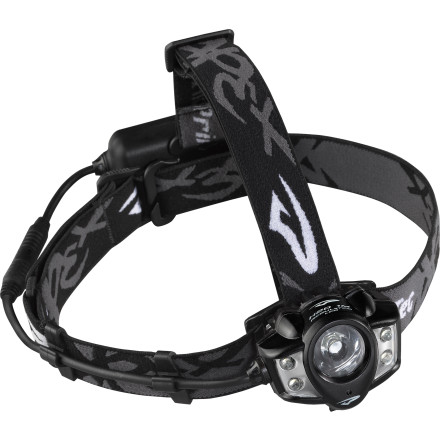 Colors
Description
Light up and lead the way.
For spelunking, nocturnal ascents, poorly-lit hiking, and twilight backcountry trips, strap on the burliest and brightest constellation of LEDs in Princeton Tec's outdoor line, the Apex Rechargeable Headlamp. Heck, you could cook ants or help land a plane with these 200 lumens of power. Extending up to 116 meters, the four Ultrabright LEDs and a Maxbright LED can pierce even the thickest darkness for hours on end. Using fully-charged batteries, the Apex will burn for about 200 hours on the lowest setting and 90 on the highest. When the light gives out, don't waste your money on new batteries, just recharge them and continue on your way.

Four Ultrabright LEDs
Maxbright LED
200 lumens
Rechargeable pack
116 meter range
90 to 200 hour usage
does this have a wide beam setting?
Hey David,



Yes, this headlamp has both wide and narrow focused beams. the wide focused beam setting simulates normal daylight conditions and allow you to take advantage of your peripheral vision.
How do I know when the battery is fully...
How do I know when the battery is fully charged? Is there an indicator light?
Best Answer
There is an indicator light on the front of the light housing, towards the bottom directly above the "P" and below the primary LED. That blinks over a small color spectrum (Green, Orange, or Red, depending on how low they are) to alert you to the amount of power left in the battery pack.