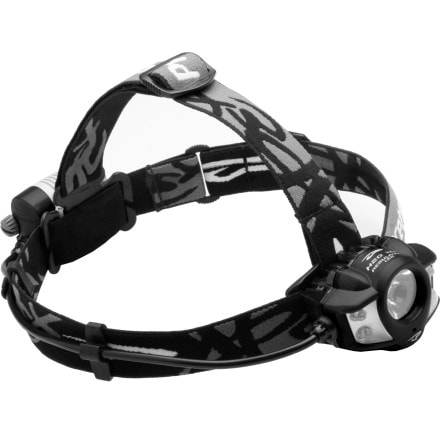 Description
Bright, versatile, and highly durable.
Princeton Tec engineers designed the Apex Pro Headlamp to suit the needs of serious adventurers and professional athletes by providing the same power as the original Apex while cutting over three ounces of weight. The Maxbright LED can send a concentrated beam over 100 meters into the darkness while the Ultrabright LED settings produce a much wider beam that simulates daylight conditions, allowing you to utilize your peripheral vision. The durable casing is also waterproof, so wet conditions won't leave you stranded in the dark.

One Maxbright LED and four Ultrabright LED provide up to 200 lumens
Maxbright High and Low modes provide 116 and 67 meter beams, respectively
Ultrabright High and Low modes provide 43 and 26 meter beams respectively
Multiple Beam pattern provides narrow beams for distance and wide beams to simulate normal daylight conditions
Runs on 2 CR123 Lithium batteries(included)
5 modes include Maxbright High and Low, and Ultrabright High, Low, and Flashing
Maxbright High mode has a maximum burn time of 1.5 hours when regulated and 15 hours unregulated
Ultrabright Low mode has a maximum burn time of 12 hours regulated and 35 hours unregulated
Adjustable elastic headband provides a snug fit
Waterproof integrity down to 1 meter for 30 minutes
Share your thoughts
What do you think of the
Princeton Tec Apex Pro Headlamp
? Share a...
bahhh
Member since
Posted on
Familiarity: I've put it through the wringer
the battery good led beacon is f-ing annoying. who needs a battery good indicator anyway. i'll keep the ungainly large thing for skiing at night,but it's frustrating to find i need a seperate headlamp to hunt with, the indicator light is not stealthy.
also the battery burn profile is not very impressive, considering the cost of 3 volt batteries.

Ah...finally light for the darkness
Member since
Posted on
Familiarity: I've put it through the wringer
I've been using this for a while now, replaced my Coleman single LED 75 lumen. I bought this for both work and play. I needed to be able to crawl around in ceilings and see what I'm doing. I also needed to be able to view my surroundings when I'm out in the cold Canadian winters in late afternoons (sun goes down around 3pm most days).

WARNING - BATTERY LIFE SUCKS!!! AND COSTS OF 3V BATTERIES DOESN"T ENDEAR EITHER!!!!

On brightest setting light dies fast, but offers a powerful beam to view details at distance. Found best setting is 4way high for energy consumption and personal light requirements.

I recommend this product to anyone who needs to see where they're going. It's definitely overkill for crawling around in ceilings but has been a lifesaver in the backcountry.

UPDATE - I've since returned this item as both the cost of 3V batteries and short burn time we're bleeding my wallet dry. I've since gone with the Princeton Tec Apex Headlamp.
A solid upgrade from smaller headlamps
Member since
Posted on
Chose the Apex Pro over the Apex because the Pro has a smaller battery case which saves some weight on your noggin. Two LED batteries (grab a 12-pack on Amazon or somewhere for cheap, because you'll need them) will last between 8-10 hours if you have it on continuously, depending on how bright you set it. Can you spend an hour at high-beam? No, but if you conserve using the very capable lower settings you should have no issue. Short of strapping a huge headlamp to your head complete with a big rechargable battery pack, the Pro should get the job done for you. Also, no issues with cold, had it out in -20 temps for 8+ hours in the Adirondack's this winter.