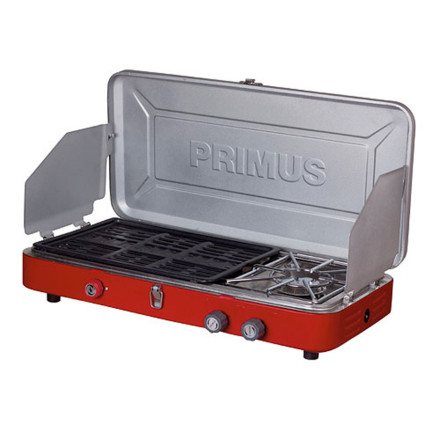 Community Images
Description
Easily cook up a family feast or a meal large enough to feed your climbing crew.
A big helping of quality vittles goes a long way in getting your body ready for more hiking tomorrow, so let the Primus Profile Duo Campground Stove be your ticket to real meals after a rewarding day off the grid. Fueled by propane, this fold-up stove has a single powerful burner and a grill (with drip tray) to cook pasta and some sizzling meats or veggies.
Burner can boil water in as little as three minutes in optimal camp conditions
Independent controls for grill and burner let you simmer sauces like you would at home
A piezoelectric igniter lets you start the stove without matches or singeing your thumb with a lighter
Burner features 12,000 BTUs of power and the grill features 9,700 BTUs for cooking your feast
Fold-up metal sides and lid serve as a windscreen to keep the heat close and the desert dust out of your dinner, as well as to cover the stove when you pack up camp
Includes fuel hose and regulator compatible with most propane canisters, but stove also converts to use a large propane tank with an adapter (propane tank sold separately)
Let's Go Glamping
Familiarity:

I've put it through the wringer
The Profile Duo is a great stove - I cook everything from hotdogs to bacon and eggs on this thing (for the bacon and eggs I just take the grill grate off and lay my skillet over the burner, so I can make coffee on the stove side).

It heats fast and relatively even. My only issue is that the grill side rarely lights with the sparker - I usually have to stick a lighter in there. That being said, the stove side lights with one click of the sparker every time.
Does BC.com sell a bulk adapter that works...
Does BC.com sell a bulk adapter that works with this stove?
Best Answer
Indeed we do Andrew, http://www.backcountry.com/camp-chef-bulk-tank-hose-adapter?ti=U2VhcmNoIFJlc3VsdHM6cHJvcGFuZToxOjU6cHJvcGFuZQ
Arthur - sorry to say, but that Camp Chef bulk adapter does not fit the Primus stove.
Hi Andrew. I'm sure you figured this out because it's a pretty old thread but that adapter mentioned above actually works fine. It doesn't attach directly to the stove but attaches to the hose where the small propane canister would normally go. It works with everything that accepts those canisters.
Grill side adds versatility beyond grilling...
Solid stove. Like most camp stoves, the stove-top burner is pretty hot (slightly controllable at the low-end with a steady hand). The grill side burns at a lower rate since it covers more area (it is about twice the size of the stove top) - makes a great place to simmer foods. Hence, a great combo package for the gourmet - heats up fast on the stove-top and slower simmering on the grill side to allow the flavor meld together!
This was an awesome grill until the knob broke off. I would recommend it to others as I think this was a defect.
Is the grill side readily cleanable? I...
Is the grill side readily cleanable? I like to cook greasy things on my grill (bacon, burgers etc) and am curious how easy it is to clean up.
it has a non stick coating, but we all know those never work as well as advertised, but it should still be easier than cleaning plain aluminum. since you are using this guy, i assume you have ample room to pack things when you camp or otherwise use this stove...go to bed bath and beyond (or similar kitchen supply store) and get a splatter screen that will fit over whatever size pan you use. i have the ones in the link below. i use them in the kitchen (not camping) and they work great...and there is no reason they wouldn't work out of doors.

http://www.bedbathandbeyond.com/product.asp?SKU=13588902
I'm not sure I would cook bacon on it, but I used it to grill some fresh ham steaks while in a base camp situation and it cleaned up pretty well. The area under the grill top is one piece, concave and there's a drain hole to a removable grease trap. There area under the grill is also stainless steel and roomy enough to easily to wipe out with some paper towels or a sponge. The top lid is almost textured, so it doesn't wipe down super easily, but not awful. It probably took about 10 minutes to give it a solid cleaning after it cooled down. And I was in bear country, so I definitely made an attempt to clean as much as I could.
Is the grill side readily cleanable? I...
Is the grill side readily cleanable? I like to cook greasy things on my grill (bacon, burgers etc) and am curious how easy it is to clean up.
It is a non stick coating, so cleaning wont be that bad. The issue would be cooking something like bacon, that is very fatty, as you know. You do not want to have the drip tray overfilling and an unwanted fire starting
Great little stove for camping. Have only used it a few times but the quality seems very soild and it heats up very quick even on low heat. Highly recommend this stove!