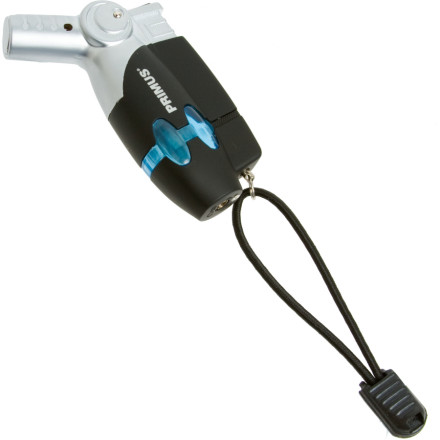 Detail Images
Primus created the Power Ignitor Lighter for those times when you need fire quickly. So whether you're looking to start you liquid-fuel stove in foul weather or just trying to get your soggy doobie to blaze, the Power Lighter will help you get your burn on. This year's model includes a narrower flame, reduced weight, and an operating temperature of 1300 degrees C (2372 F).
After only 7 months of use the lighter won't ignite. When I depress the igniter button it stops before the click to ignite. Any solution or should i switch to a different brand? I run a jungle survival school and torch light is a necessity in heavy rains.
Unanswered Question
got two primus power lighter (the newer...
got two primus power lighter (the newer model) one works good the other doesn't stay lite, adjusted the size of flame up and down but won't stay lite
Works pretty well, most of the time
The flame can be a little difficult to adjust, but when its right, this is a neat gadget. Wouldn't depend on it for survival. Can take a couple clicks to get it to light.
this lighter is hard to adjust to a level where it lights consistently. it takes 2 or 3 strikes to get it to light no matter what i do. i wouldn't exactly depend on it in a survival situation, but it works just the same
took one star off for power, and the first couple weeks i had the first one, when i packed it in my pocket for testing 'packability', the chamber emptied of ALL fuel! NOT KEWL if you depending on it to light a fire in the cold damp of night miles from ANYWHERE!!!
Unanswered Question
Is this the new model or old one? On the...
Is this the new model or old one? On the Primus site they show a different form factor.
http://www.primuscamping.com/product.php?id=118
HOW BIG A FLAME WILL IT PRODUCE?
HOW BIG A FLAME WILL IT PRODUCE?
Best Answer
On it's highest setting, the Primus Power Ignitor produces a flame 1 to 1.5 centimeters in length. Besides being refillable from a butane source, it can also be refilled from a Lindal Valve canister by using a Primus Filling Adapter (Fuel Tool):

http://www.expeditionexchange.com/primus/primus004%20006.jpg

Also updated information is available @ 307-857-4700. Pretty hot little item!!!