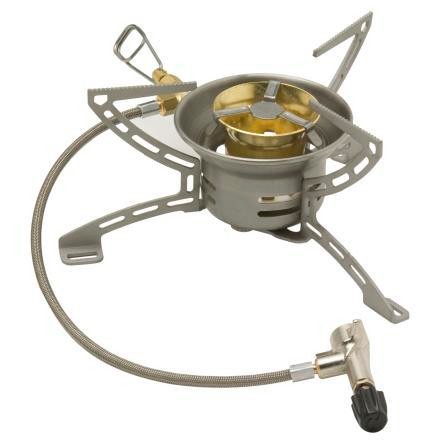 Community Images
Whether you're cooking pancakes at 17000ft in winter or making coffee on the beach in July, the Primus Omni-fuell Stove gets the job done. With its easy-to-use Ergo Pump, this durable stove is designed to handle extreme conditions, altitudes, and temperatures. On the road, you'll appreciate the Omni-fuel Stove's ability to fire up with nearly any type of fuel—LP gas, gasoline, diesel, kerosene, and even aviation fuel. Primus made this stove for world traveling backpackers and climbers who know they'll eventually find themselves in strange lands, in high places, and in very cold backcountry kitchens. FUEL BOTTLE SOLD SEPARATELY
Unanswered Question
What is the difference between the Primus Multifuel and Primus Omnifuel stoves?
Primus OmniFuel with a QuietStove.com Model 207
Primus OmniFuel with a QuietStove.com Model 207
A terrific stove that simmers well and has a sturdy pump!
The Primus omni fuel is a fantastic liquid fuel stove. It can handle snow melting and give a great simmer control. White Gas, Kerosene, and Canister Gag - no problem. The only drawback is the noise. But if you get a QuietStove.com Model 207 for this thing its a tough package to beat!
What's the difference (if any) between the...
What's the difference (if any) between the pump pictured above and the ergo pump?
Hi Stephen,

That is an Ergo Pump. In a true multi-fuel stove, this is absolutely my favorite- years of reliable and solid operation without a single problem. You will NOT be disappointed.

BTW- the pump fits the easier to obtain MSR fuel bottles perfectly.
Okay, can you somehow hook this stove up...
Okay, can you somehow hook this stove up to a 20 lb propane tank? And what would that entail? (We do both car camping and third world travel...don't want to have to buy 2 stoves)
Not really. There would have to be some sort of pressure regulator which would step down the pressure from the tank to the stove but I don't believe we have any sort of coupler that would do that. Certainly not recommended by Primus.
That is a really awful idea unless you were hoping for some type of mythbuster like explosion. Camp stoves should only be used with fuels they are designed to operate on safely.
Durable, dependable -- great for longer trips and larger groups
I've been leading outdoor trips for about 18 years and used many different stoves in the field. The Primus omnifuel is my first choice for trips with groups for several reasons. Let me give you a few of the pro's & the few con's I have found.

Pro's:
- This stove is dependable and just keeps working meal after meal, trip after trip, year after year.
- The metallurgy & design are well thought out and take the rugged use that often happens in a group setting, or with people new to outdoor cooking
- The base is stable and durable.
- It uses multiple fuels - the same stove can be attached to a liquid fuel canister or isobutane canister, for example. I believe it also uses kerosene & auto fuel, but haven't tried it. The only change needed for different fuel is to change the jet, which takes a minute or so (when the stove is cool).
- Heat is very well regulated -- you can simmer, boil, or anything in between.
- Fuel bottle / pump are well thought out. When using liquid fuel you can simply flip the canister 40 seconds before you are done using the heat and the pressure will push the remaining fuel in the lines through the jet and it will naturally extinguish itself when the fuel in the lines is gone. This can be helpful to reduce the build up of soot.
- If something does go wrong, it is easily repaired in the field.

Con's:
- It is relatively expensive & heavy. This would not be my recommendation for a weekend warrior who uses a stove a couple of weekends a year, or is a solo backpacker.
- The priming pad withers too quickly. It is a good idea to have an extra with you. If it gets wet, or your pasta boils over and gets in the stove housing then the priming pad will probably take a beating. (This is easy to replace and not a big deal, but should have been designed better.
- Isobutane does not work well in very cold temperatures with this stove (or with any other that I am aware of)
- I had one batch of jets that cracked too easily. This seems to have been an isolated incident. After corresponding with Primus they sent us a whole bunch of new jets and we didn't have any more problems. That one trip was interesting, however, as most of our jets and their backup's were cracked and we ended up with just a couple of stoves for the group.

For those who like quality, travel in larger groups, don't mind a few extra ounces, or are leading group trips on a regular basis, it is worth the extra $ to invest in quality stoves like these. Much more durable and reliable than even something like the MSR dragonfly.
Dependable and low maintenance
I have been using this stove since 2004. I ran it for more than 100 days before I cleaned it. After I spilled stew all over it i just ran it through the dishwasher. At that point I replaced all the o-rings and lubed them up. I use it all year around. With 40 seconds of preheating it will light up in any conditions. I have used it in -35 centigrades and it's 3000 W of blue flame kept us nice and warm in the tent. It could be lighter, but it's durable. It could be quieter but it melts snow like nobodys business. It's expedition grade, low maintenance, fuel efficient and completely dependable. I would buy it again.
Is there any kind of fuel can you carry...
Is there any kind of fuel can you carry on an airplane for the Primus OmniFuel stove?
Most countries and airlines do not allow any type of combustible materials on planes - and all fuel for this stove would fall under that category. Exceptions to this would be some private planes, maybe chartered flights, bush flights dropping you off in the middle of the woods/mountains, etc. However, if you were to take this to another country - you could either buy the standard lindal valve canisters there OR you could take your own fuel bottle with you, and fill it up with pretty much anything that burns in your destination. If you choose option B - make sure your fuel bottle AND stove are as clean as possible. Any fuel residue left over might cause TSA or a like security agency to pull the bottle and maybe even the stove. Hope that helps.
Rob, I've travelled quite a bit with cookers but there is no airline that I am aware of that allows any kind of fuel. Since 9/11 they've even disallowed matches and cigarette lighters. So it is compulsory you purchase fuel once arrived at the destination country. However, this is not always straight-forward depending on the country: either fuels are branded differently (e.g. ColemanFuel is named Shelllite in Australia) or your destination speaks a different language (US 'white gas' can be replaced by 'solvente industrial' in Argentina).
When travelling in aeroplanes we have the OnmiFuel fuel container (but only the container) in our carry-on luggage (yes!). We empty it beforehand of course and rinse it with water and baking powder with take the fuely smell off it. If you pack it into your check-in luggage then they might see the bottle in the X-ray and pull your luggage apart just to be sure that the container is empty — or they might even page you or hold back your luggage.
I Use this stove during my kayak camping trips around Georgia and Florida. I love it. I've used plenty of stoves in my 20 years in the infantry and SF, this one is the best. I've used it with white gas and primus LP but nothing else. Nozzle changes are simple, unit is easy to clean, easy to ignite, has a stable base and cooking platform, comes with a base platform and wind screen. Storage bag is a bit cramped though, always concerned that the fuel line will get kinked one night. A designed route around the folded stove with perhaps an integrated clip would be a nice feature to alleviate the possibility of fuel line kinks during storage.
Primus OmniFuel Usage Video
Answers ALL the questions on How to Use / What Fuel / Gas is supported!
Can this stove be used with any gas...
Can this stove be used with any gas canisters, or only canisters made by Primus?
Best Answer
The canister function of this stove uses only Lindal valve (screw-on) type, compressed gas, fuel canisters made by @ least nine manufacturers including Brunton, Coleman, Jetboil, Kovea, Markill, MSR, Optimus, Primus, Snow Peak, etc. These canisters can be found in the US, Canada, Australia, New Zealand, western Europe, Japan, & Korea.
I've found that Primus canisters are hard to come by. As Jeff states, anything with a Lindal valve will be compatible. However, my experience has been that the most readily available, and the best fuel performance, seems to come from the MSR IsoPro canisters.
What is the difference between the Primus...
What is the difference between the Primus OmniFuel Stove and the Primus Himalaya Multi-Fuel?
Best Answer
There are five differences between the two stoves:
1. The Multi-Fuel has a larger top burner plate making it slightly louder,
2. The Omni-Fuel has dual fuel controls for more precise simmering & temperature control,
3. The Omni-Fuel has a built-in heat reflector & windscreen,
4. The Multi-Fuel is less expensive,
5. The Multi-Fuel is slightly lighter in weight.
This is my first stove. Used for an overnight backpacking trip cooked around 4 times. The stove is reliable and the pump is also very ergonomic.
While not a real lightweight, it is an excellent stove for hard expedition/third world use. No issues on changing out burner nozzles, good fit and the tool fit was very good, contrary to problems that earlier versions may have experienced. With butane, it is much more versatile than Jetboil, and with any liquid fuel I have tried (diesel, kerosene, white gas) it is superior to any of the MSRs being made (mostly) out of real metal instead of plastic, if not quite the equal of the old 00 with kerosene in terms of pure panache. Not the simplest or lightest stove out there for casual use, but if you are going to live with it for an extended period of time and use it hard, there are few current stoves that are better. It's truly "omni-fuel", doesn't depend on cheap plastic parts where it counts, and its a Primus. They basically invented stoves!
Bought this after spending a long time checking the options (namely MSR equivalents). Turns out it was a very good choice; In the year or so I have been using the stove I have had nothing but praise for it.
Travelling through South East Asia where fuel choice was limited I was able to use unleaded petrol, fairly heavy lamp oil, kerosene and diesel. The burner is hot, quick to prime, I have never had any flare-up troubles and can be run low enough to cook porridge which is notorious for burning to the bottom of the pan.
If you're looking for a versatile easy to use stove then this is it.
This is one of the newer generations from a Swedish company who has been making stoves for over 125 years. It is quieter than other plate burners & also incorporates a cleaner, shorter pre-heating stage which creates less carbon build-up in the kerosene & white gas mode. This is due in part to it's smaller burner plate. The OmniFuel produces 10K BTU's & is great for expedition use as well as backpacking, car camping, etc. It is heavier than the Primus MultiFuel which is it's only drawback, but does work with Lindal valve canisters making it more fuel friendly. The three substantial legs & pot supports & given the fact it sits lower to the ground, makes this stove even more stable. I have used this stove on numerous occasions & it has never, ever failed making it highly dependable.

If you're considering a stove with multi-fuel capabilities, this is an excellent choice.
I really like this stove. I've only used it with butane/propane so far but it has been great. At a recent campout there were several jokes that it sounds like a jet engine because it is so loud, but it is so effective that it didn't last long. It heats really well and seems to be fairly efficient. The base is wide and stable. It's easy to light. Weight is alright, maybe a bit on the heavy side but not a big deal.
I've had this stove for a couple years,...
I've had this stove for a couple years, but on a recent trip had a fuel spill and burned up the connection between the hose and the stove connection point. I didn't think it would be a big deal to get a new hose, it looks like an easy part to replace, but I have not been able to find one and Primus has not returned any of my emails or phone calls. Any suggestions, or do i have to buy a new stove just to replace that one part?
Best Answer
Sorry to hear about your stove. A & H Enterprises sells a full line of Primus replacement parts along with Optimus & others. Give then a call & explain your situation. I'm sure they will be able to help.

http://www.packstoves.com/cart/
Is this stove compatible with compressed...
Is this stove compatible with compressed gas canisters, as well as the fuel bottle?Is it a better choice to purchase the predecessor (MFS)?I am try ing to decide which one is a better all-around stove.Thank you- Phil, your friend
Best Answer
Yes, this stove runs on nearly any fuel imaginable, including isobutane. As for which is a better choice, they will both boil water, just decide which one has the extra features you want (i.e., ability to run on virtually any fuel, built-in cleaning needle for fuel line, etc.)