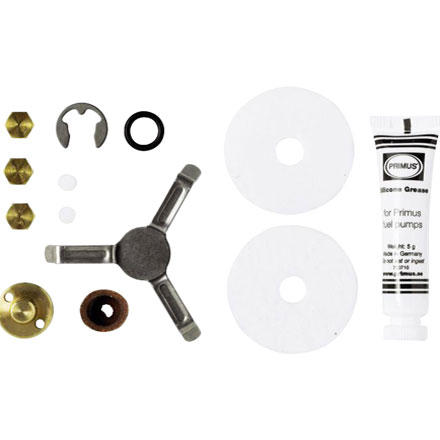 Primus supplies the OmniFuel Maintenance Kit to keep your OmniFuel or MultiFuel stove running strong from trip to trip. This kit comes with replacement jets, a spare O-ring, spare tripod support, retaining clips, silicone pump grease, and more. Tools and instructions included.
What do you think about this product?
Have questions about this product?
Has all the parts you need to keep your OmniFuel going for many years to come. Comes with everything pictured and is all inside a red, plastic storage case.
I have a PRIMUS 2-burner campground stove...
I have a PRIMUS 2-burner campground stove from Sierra Trading Post (#3550W). I need info about fuel. Is this stove universal fuel, e.g, Colman white gas? Help please. Where can I get canister fuel with correct PRIMUS-threaded brass fittings?
Best Answer
Hi John,

This stove is not a multi-fuel. It burns only butane/isobutane. Specifically, it needs a fuel canister with a Lindal Valve (standard EN 417), which is what the Primus Powergas canisters use. Good news and bad news- it will work with any Lindal compatible canister made by a variety of manufacturers, such as MSR, Snow Peak, Primus, etc. that are readily available at quality outdoor gear stores. Unfortunately, the big 450g Primus canisters are hard to come by, except online, although you won't have any problems finding the standard 220g size . I don't know if they still carry it, but REI used to stock them. As for online purchases of compressed gas- be prepared to pay through the nose. Canister fuel is considered a haz-mat item and can only be shipped by ground. They also hit you with high shipping charges and/or haz-mat fees, making buying anything but bulk prohibitively expensive.

So basically, just remember Lindal valve and you'll have no problems. Also try timing how long it takes to empty a test canister at home so you can get some idea of what your fuel needs in the field are going to be ahead of time.