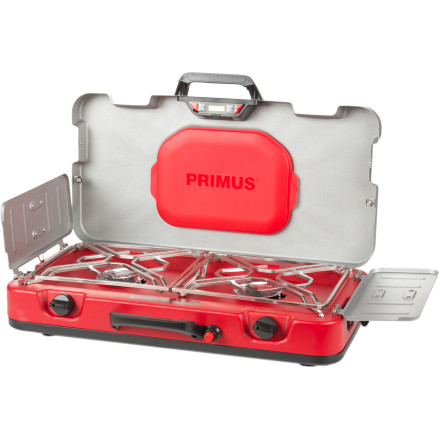 Primus designed the Firehole 300 Propane Camp Stove w/ Prep Kit as the alternative to cookie-cutter double-burners by adding smart, convenient features that make the Firehole easier to setup, start, use, break down, and transport.
On-board light and cook timer for convenient cooking after dark
Integrated utensil kit for convenient storage and organization
Integrated flexible fuel line for safe, convenient transportation
Battery-powered piezo igniter
Integrated windscreens can also be used as prep areas
Split handle for easy carrying
Adjustable foot allows you to level the stove on uneven surfaces
What do you think about this product?
Have questions about this product?
After purchasing and returning 3 cheaper models (other brands), we were pretty excited to get the Primus 300. For the price, we frankly expected better quality. The side latches are not rugged enough to last. The unit does not close securely because it doesn't quite "seat" correctly at the handles. There are two spare parts that aren't identified on the box or on the instructions, and don't seem to fit anywhere: A red plastic piece that seems to be some kind of latch, and a sheet metal triangular piece that says "Primus" on it but doesn't seem to fit anywhere. Also, the grate pieces are not cut and welded uniformly, so some of the ends stick out. On the plus side, the unit's other materials seem solid. It looks like it will be easier to clean than some of the other models we have seen. The long hose is a plus. Looking forward to trying it out.
Lot of conveniences, poor craftsmanship
This campground burner by Primus has lots of nifty features, unfortunately it was designed and poorly crafted. Cheap knobs, flimsy side panels and thin sheet metal. Poor locking mechanisms and overall just a bad investment.