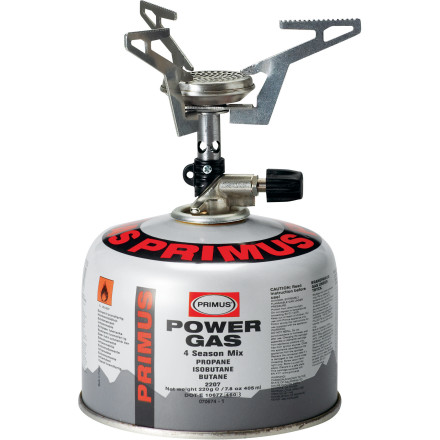 The Primus ExpressStove without Piezo Ignition is a simple and reliable cooking system designed for backpackers who abide by a less-is-more philosophy. Known for its ability to handle large pots despite its small size, the ExpressStove can boil water in just over 3 minutes and has an ultralight packing weight of 2.9 ounces.
Primus 8.1oz Power Gas canister (sold separately) provides up to 85 minutes of burn time
A compact size of just 3.4 x 1.6 x 3.3 inches and a low weight of 2.9 ounces make the Express an ideal backpacking stove
Reliably boils water in just over 3 minutes
Folding design provides compact storage
Simple knob allows for easy heat adjustment
Requires manual ignition
Stable supports have the ability to handle large pots
Includes nylon storage bag
What do you think about this product?
Have questions about this product?
Can't understand why this isn't popular!
Familiarity:

I've used it several times
I've used this stove several times while backpacking. Like all canister stoves, it's hard to get good performance out of it in the winter, but this thing is brilliant for 3 season use. I don't know why the description says "boils water in just over 3 minutes." Um, how MUCH water? Well let me tell you something. I tested the express stove in conjunction with my my Primus EtaPower 1.7L pot (has a heat exchange on the bottom, which helps). I was blown away by the results, so I tested several times to make sure.



This stove boiled 1L of water in 2 min. and 15 seconds! A rolling boil. A hurry-up-and-put-your-noodles-in kind of boil. I could be wrong, but I'm pretty sure no other canister stove can touch that. The full flame is insane. Mosty blue, tall and powerful. Like a mini jet engine. And the simmer is truly incredible. You can adjust the flame on the Express from about 6 inches tall to about 1/4 inch tall. Amazing.



As far as weight, at 2.9 oz it closely rivals the 2.6 oz of the MSR pocket rocket and is much lighter than many others. I can't think of a single fault of this stove, and I CAN think of many things it does better than it's competitors. Why it's not more popular is beyond me...BUY IT!