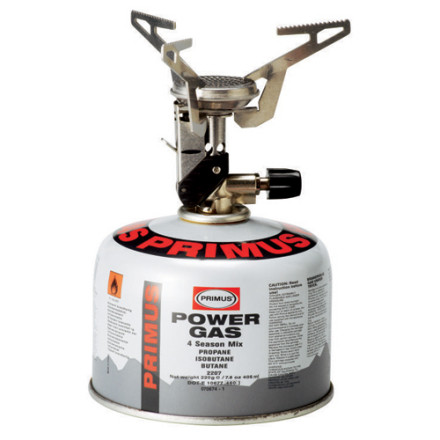 Community Images
Description
When you're moving at an express speed, cook up with this stove.
When it's weight that count, pack the Primus Express Stove for lightweight cooking without the heavy bells and whistles. This canister stove weighs in at a mere 2.9 ounces, making it ideal for ultralight enthusiasts or those looking for a simple stove for simple cooking. A wide base lets the Express handle large pots, and its small size takes up very little space in your pack.
GREAT Stove!!!
Familiarity:

I've used it several times
Compact, light weight, easy to light, fast heat, reliable!
Very Small
Familiarity:

I've put it through the wringer
Like the size and it works great! If it is really windy It can be a little bit difficult to get it going.
Hello there, somebody can tell me if this...
Hello there, somebody can tell me if this stove could use any other butane fuel tank that has the same type of conection? ex: Coleman or other or is it possible to make an adapter cause I only have seen coleman.
Thank you!
Any Isobutane propane mix cannister that looks like the one above, you should be able to. I have a Brunton version like the above one, and hardly ever use the same fuel
I really love this little stove for what it is - a torch for pots. I use it regularly with my Snow Peak 1400 and 900, but the output is way too narrow for a skillet or a pan. It shines with with water-based meals, but be careful when things dry up or they can burn quickly. I love the ignition and greatly prefer having them on my stoves. I've had no problems with this one and I think I've had this stove for quite some time.

Also, I just weighed my stove and it came in at 3.34 oz. It is an older model I suppose.

Also, be aware that no canister stove is going to work well in freezing temperatures, it's not the stove's fault, it the nature of canister fuels. In colder temperature, I sleep with my fuel. In Yosemite, it's become a habit. But, in the snow, I use a white gas stove.
I see the Express stove's weight is 82g....
I see the Express stove's weight is 82g. Obviously, there's going to be a weight difference between the manual and piezoelectric versions of the stove. What is the weight of the piezo version? What is the weigh of the manual version?
Jim,
From the primus website, W/piezo is 96g WO/piezo 82g.
http://www.primuscamping.com/product.php?id=72
I hope this helps.
Does this stove come with a fuel caniste...
Does this stove come with a fuel canister?
Just like all the other canister stoves sold by bc.com, fuel is always a separate option.
This was a great stove. I used it for 3 years in all seasons. It doesn't do well in the cold as the canisters can't stay at a high enough pressure, but it's great above freezing. It boiled water quickly and simmered very well. It also seemed very efficient on fuel consumption.

The only problem is that after 3 years it died. There's no flame output and it's seems to be gunked up or something. I've tried contacting Primus several times, but haven't gotten any response from customer service.

Overall, it was great while it lasted...