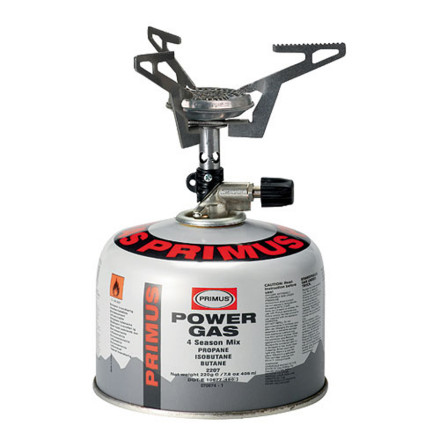 Community Images
The ability to boil water in four minutes quickens the arrival any backpacking meal, and the Primus Express Stove Ti with its Piezo Ignition achieves this feat with a package that fits into the palm of your hand. Time, weight, and overall convenience matter on the trail, and this canister stove delivers a strong performance with the help of its one-touch piezo ignition system and a small canister of PowerGas (PowerGas sold separately).
Small lightweight design (weighs just 86 grams) means it won't weigh your pack down
Fold-out titanium pot supports cut down weight and provide strength when cooking for you and a partner
Microburner resists wind and provides boil times under four minutes
Integrated dial lets you control the size of the flame and fuel used
Works well, boils a liter of water in about 3 mins. Packs down to almost nothing, nice little carrying case. Auto ignition rarely works though.
Super light, lights easily, creates great heat output. Boils water quickly. I use it with my titanium pot, and it is small enough to fit inside my small backpacking pot. My go to canister stove.
Small, light, and really really hot.
My first backpacking stove in a long time, I found it on sale at Cabela's ($30! A steal!). I was impressed. More efficient on fuel than the employee suggested. I used it hammock camping for 6 days, breakfast and dinner, sometimes lunch, and didn't even use half the canister. Piezo is easy and reliable. Boils water super fast, even in my titanium pot.

Packs down so small it fits in my Ti pot's included coffee cup, or stashed in my hammock kit bag.
Packs down super small, super light, and boils FAST! This thing simmers like a dream, and on top of that piezo ignition for me is super reliable! I've never had a problem with this stove in the time I've been using it!