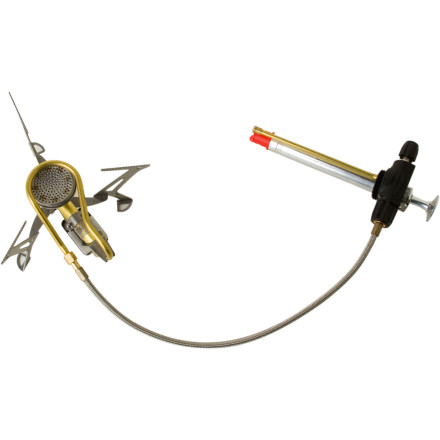 Detail Images
Even though the Primus Express Lander Liquid Fuel Stove itself looks like something NASA engineers would try to land on Mars' surface, its lightweight construction and intelligent design make it a perfect landing zone for your backcountry cook pot.
Top-mounted fuel line warms the fuel before it reaches the flame for improved performance
Designed to function in damp weather and in temps as low as 0 degrees Fahrenheit, this stove works well during summer, shoulder-season, and mild winter treks
Ultralight design won't weigh down your pack
Compact size folds up to fit in your palm
Stable base and serrated top mount help prevent spills
Pairs with a refillable fuel canister so you're not throwing away non-recyclable canisters (canister and fuel not included)
With which types of fuel is the Express...
With which types of fuel is the Express Lander intended to work? I've seen different specs on different websites.


Best Answer
White Gas would be your best option. I think Coleman usually sells it in small tin drums. This gas burns the hottest and cleanest so it doesnt gunk up the stove. Most stoves like this can us Petrol/Gasoline, Kerosene/Parrafin, or Diesel but, they tend to clog the stove and have much longer burning times and are not usually recommended. On Primus's site this specific stove is not listed but, every other one of their liquid stoves says it can use the liquids listed above.
http://primus-3.myshopify.com/pages/fuel-consumption
I had a Brunton stove that was really good: lghtweight, small, powerful, and sturdy. Somehow lost the stove but not the bottle. I bought this guy and am blown away. It's smaller and fits into my little kettle perfectly. It weighs nothing, primes quickly and easily, and works flawlessly. I really love it. Boiled 2 liters of water in minutes.

The construction is really good. The legs are a bit flimsy, I bent one but straightened it with no problem. If there isn't something on the stove it is easy for the tension of the fuel line to tip it over.

I can't recomend this stove enough. It's just really really good.
Good lightweight stove
Gender:

Male

Familiarity:

I've put it through the wringer
Bought the Express Lander a month ago and I've since taken it on a 7-day trip in Yellowstone plus used it a few times car camping.



It's performed very well so far. Things I like about the stove: (1) It's easy to light and lights reliably, (2) it burns with a hot flame and uses fuel efficiently, (3) it's light, (4) it's easy to start with cold fingers -- pump/fuel line, folding legs, valve, etc are all easy to use, even with gloves.



I had one problem with the stove early on, but it looks like that was user error. The proper way to shut down the stove is to flip over the bottle to let the fuel in the line burn up and the pressure equalize. Then you can unscrew the pump from the bottle. I made the mistake of turning off the valve and taking off the pump a few times, and the pump wasn't holding pressure well. Fortunately, I had bought the pump repair kit and a little fresh silicone grease on the pump head fixed the problem, which hasn't recurred since. That's all to say, when you're giddy to fire up your first pot of tea with a new stove, read the instructions for shut down, not just start up.



20-some uses in, I'd recommend the stove.
Does anybody know where this stove is...
Does anybody know where this stove is manufactured? Also, what is the weight with and without the pump? This website lists the weight as 6.2 ounces. Does that include the pump? If so, that would make it the lightest liquid-fuel stove out there...
On my digital scale, the stove is 6.25 ounces. Stove and pump are 9.9 ounces.

The packaging says it's "Made in EU" which I would assume to be Sweden since Primus is a Swedish company.
Exceeded Expectations, Highly Recommend
I got this stove to be a lightweight liquid fuel stove and figured it would be average given the focus on weight savings. It has been much better than that.

My experience started off poorly with a defective pump that leaked fuel through the pump housing. Packaging indicates manufacture has not been sent to China however, and Primus was responsive. They got me a new pump which worked fine, and I have used it for five trips since.

The stove design is simple with very few extra parts or things that can go wrong. I was able to dismantle and field clean the jet without a schematic because it was simple and solid with no little bits to lose or part to break. The reliability has been excellent.

It seemed like output might be low with the small burner, but I have melted several liters of water from snow on multiple occasions in the Cascades and done group meals without much problem. There are certainly better snow melters and faster boilers, but this stove surprised me with its competence in this area.

Simmer control is middling, but better than most one valve stoves I have used. It is not a gourmet cooker but I was able to turn it down enough to save fuel while simmering and avoid burning food.

Fuel consumption was another surprise - this stove is more efficient than any of my other white gas stoves (coleman, Optimus, MSR, SVEA) in terms of the fuel used for each liter melted or meal cooked. Not by a huge margin, as they all operate on similar principles, but I noticed that I consistently used less than expected with this stove. There is definitely a power trade off, but its not a weak stove.

Pot stability is good, I have had no problems with it using 1L and 2L pots. In addition, I thought the legs might be flimsy given how insubstantial they look, but they actually seem quite solid and fold up smoothly. I trust the overall stability with this stove more than some stoves with much beefier legs because this one just seems to work without any issues despite the lack of overall contact area. I also find the feet very functional.

The weight is simply great. I love being able to have a liquid fuel stove and yet have it only weight half of what a typical white gas stove does and yet get great functionality. I am a big fan of liquid stoves in general, and this one has already started to earn a place next to my SVEA 123's in terms of my satisfaction with the overall design. It goes on almost every trip where I need a stove now.

* one small issue: stove is so light that the priming and vaporization assembly can make it tip to that side without a pot on it if the feet are not planted. Doesn't bug me, but someone else might find it annoying.