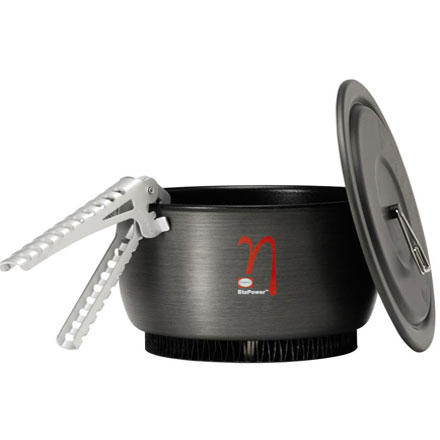 I don't like how the handle comes off. I've seen when backpacking freinds don't grip the handle hard and the contents go to the ground. Luckily it has only happened to me once. When backpacking with friends I always state the point that the handle comes off & we are all good. I got this off for Steep & Cheap for a killer deal so I'm not complaining. Overall it is is a great pot for backpacking, just my rant on the handle.
Pretty Incredible
Familiarity:

I've put it through the wringer
Extremely lightweight and effective. I have the 1.7L version, and I'm highly impressed with the effeciency of the heat transfer. It's not a sales gimmick. It makes a big difference. With both my Primus Express canister stove and my MSR Whisperlite Int'l I am able to bring 1L of water to a rolling boil in around 2 min. 30 seconds. That's pretty dang good!



Super lighweight, but like most UL things you have to treat them gently. The very thin aluminum of this pot will bend fairly easily (not warp from the heat, just bend under too much pressure). Sometimes I take it out of my pack and have to slightly reshape it a bit by hand. Not a big deal. It seems durable enough for the weight.



I have a love/hate relationship with the titanium non-stick coating. It WORKS very well. I've never had to deal with any stuck on food. Even dried on, burnt pasta flakes right off with no hassle. So in regard to effectiveness, Primus nailed it by using titanium instead of teflon. HOWEVER, I don't know anyone who doesn't store their stove, fuel, and cooking utensiles in their pot. Naturally. So if you do, just know that the non-stick coating does scratch off with any friction against metal objects (stove, spork, etc). I have to be very mindful of how I store things in my pot, and I even bend my wind screen into the bottom of the pot to protect the coating. Not a big deal.



Overall, a very effective, lightweight, high tech pot. Two thumbs up!
Unanswered Question
Would BC please confirm that the weight...
Would BC please confirm that the weight is 412 g (14.5 oz) ? I got info from http://www.primus.eu/templates/pages/product.aspx?ItemId=66905
nice to, but wt doesn't include lid
Familiarity:

I've used it several times
Really impressed that this pot speeds cooking. Listed weight only includes pot not lid which gave the impression that this was lighter than it is. The heat exchanger on my pot wasn't centered, but I was still impressed how this pot speeded cooking.
Great Pot- and fits with other components...
I put two thin camp plates in the bottom of this pot, then insert four of the quarter-round GSI mug/cup combos (they nest right in and though they stick up out of the top of the pot by about an inch (without the plates under them, they are a virtual perfect fit)), and it all looks as if it were made to fit together. I sometimes also put my Optima Crux stove into one of the cups and (if i remove two of the cups) have room for a small fuel canister as well. I put all this into a stuff sack I made (my pot didn't come with the one that should have been included, so I just grabbed some fabric, took the pot and cloth to the local shoe repair shop, and 5 minutes later, for $3 had a custom fit stuff sack). All in all, a great pot, and now a part of my little cooking/ camp kitchen "system".
Really like this pot. Comes with the primus grabber which is sturdy and light. Boils in no time. Check out the equivalent 1.7L pot for some reviews and a view of the heat exchanger. I am taking away one star because, like the other reviewer said, the lid is not really useful for anything. You might as well use a sheet of foil or anything flat.

Also, keep in mind that a side effect of the heat exchanger is that, once you turn the stove off, the contents of the pot will cool off fast in wind and cold conditions.
Does this come with a frying pan as a...
Does this come with a frying pan as a lid?
No, it comes with the lid shown in the picture.
And I wouldn't try to use the included lid as a fry pan unless you are pretty brave, though it is fairly sturdy.