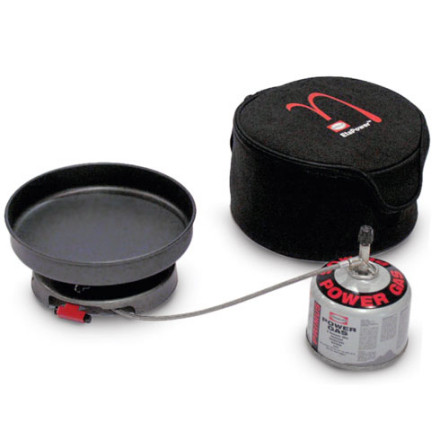 Primus EtaPower EF Trail Stove
I've had this stove for about a year and used it on about 4 backpacking trips. It does boil water quickly and the electric spark is a nice feature. I also like the built in wind guard. I didn't notice this til packing up on my last trip but the pot will hold a can of fuel when in your pack. The included case is nice, but on my next trip I'm going to see if I can use a rubber band or something to hold everything together and save a little weight. Picked mine up on SAC for under $60
Are Primus fuel canisters interchangeable...
Are Primus fuel canisters interchangeable with other brands like MSR, GigaPower, etc? The threaded connection looks like it is the same size.
Best Answer
Yes, they all use a Lindal valve, which has the same threads-fully interchangable.
This is not the correct picture for the eta power ef trail stove go to www.primus.se and see the correct version , it has a 1,7l pot (not 2.1 L) , it has a simple lid ( not a pan ) and it does not have the hard carrying case that keeps food warm a bit instead it has a simple bag , Nonetheless it is lighter and it is has the same amazing features the Eta power version , i tested both versions in frigid winter temperatures and in summer warmth and it works amazing , fast boil times low fuel comsumption .
What is the weight of just the stove,...
What is the weight of just the stove, windscreen and fuel line?(no pot/lid/handle/bag)?
It seems like its gotta be the combined weight. One pound fifteen ounces sounds heavy for just a stove.
I am pretty sure that is the combined weight of the whole cooking system.
Best purchase I have ever made
I just went on a backpacking trip to the summit of San Gorgonio Mountain in Southern California. We camped at 9,200ft elevation and this stove cooked dinner breakfast and about a zillion cups of tea for 8 people on ONE 8 oz can of gas! This stove is unbelievable efficient!Weighing in at just 1 pound, it's worth getting whether you are a party of 8 or on a solo trip. It boils 1 liter of water in 45 seconds at 9,200 altitude.Pros: Light weight, Very Efficient, comes with everything you need (pot, pan, electric starter, etc.)Cons: Just wish there was an easy way to take the lid off once the water is boiling. (I wound up using a handkerchief).Boil away folks... and enjoy
Primus EtaPower EF Trail Stove
Clean and efficient design with everything you need - stove, pot, handle, lid/plate, lighter, windscreen - all in a convenient case. The piezo lighter keeps you from singing your fingertips or eating crunchy pasta when you forget a lighter. Wide and stable base with built in windscreen is much easier than the MSR rolls of foil. My only complaint is the zipper on the case can be a bit fiddly.
It is actually a jet engine...
Not really, but it sure sounds like it when you turn it on. This thing is amazing, it boils water in no time at all. It is pretty light (but I'm no ultralight backpacker) and the included bag for the whole thing makes for easy storage and organization. The fuel for it is relatively cheap and also easy to carry, and the potholders and the included pot are also well designed and work well. I like this stove a lot better than the MSR Wisperlite that I used for a month on a trip. Definitely recommend this Primus stove.
This stove performed great. Loved the case it came with. Not the lightest out there but if weight isn't an issue, this is a great stove. Boiled water extremely fast and the case made it easy to keep everything together.
Picked this up on the cheap. Great for group trips. it is light, versatile, and of course efficient. Before getting this I mainly used MSR whisperlight international. This stove is much easier and safer to light than that. no crazy fireballs just click that little spark thing and you are cooking.
This lightweight stove is perfect for backpacking trips, it boils very quickly with regular fuel even above 11.000 ft. And you can fit a gas canister as well as some utensils in the bag that comes with it.
A fantastic product with quality workmanship and solid designed. I like using the canisters over the fuel bottles, so it was an easy choice. Everything fits nicely into the nylon bag.
Are primus and msr fuel canisters refillable?...
Are primus and msr fuel canisters refillable? if yes, can i refill them or do I take them somewhere? I don't want to use a stove that will constantly be creating unneccesary trash. I just got the Primus EtaPower EF stove. I thought I could use refillable bottles and multifuel, but after buying realized that is only the EtaPower MF. Can anyone offer any insight? Thanks!
The Isobutane / propane mix canisters that all canister stoves use are non-refillable. Once empty, however, they can smashed almost flat like a soda can (just make sure it's empty first). In this way, it's fairly easy to pack out empties. Also, I believe that most brands are made of steel, and are recyclable. Hope this helps.
Old question, but no, they aren't refillable, and to be recycled, the canisters have to be punctured first- you can throw it into the recycle bin, but if there's no hole, the sorters will consider it pressurized and trash it.
i know the pot has a titanium coating....
i know the pot has a titanium coating. would a titanium utensil produce any scratches on that? probably not?
I have never scratched mine with a titanium utensil, but that doesn't mean it hasn't happened to some people, all depends on how you treat it.
Just to be sure, it's better to use plastic or utensils designed for non-stick surfaces. You don't want to scratch the coating.
My girlfriend got this for me about a year ago and it has been amazing. Used it everywhere from backpacking the Olympic Peninsula to Climbing Mt. Rainer and had no problems whatsoever. Does everything from boiling water faster then anything I have ever used to simmering stew. Definitely prefer this to any of the jetboil systems.
This thing BOILS...just took it winter camping for the first time and even with just standard fuel (i had to keep holding the canister to keep it warm enough to run) it boiled my 2L of H2o pretty darn quick....much faster than my buddy who had a msr something something...primus did a great job!
So let me get this straight. The only fuel...
So let me get this straight. The only fuel canister i can use is the Primus brand and no other branded bottles will work with this thing??
Best Answer
Often a manufacturer will put into their literature to use their fuel. However this is not necessary. The Primus EtaPower will work with any canister that has a Lindal Valve. This valve is standard now on most canisters and allows the user to remove the stove from the canister if needed. The most common being MSR IsoPro (isobutane), Primus (Isobutane), SnowPeak (Isobutane), JetBoil (Isobutane), Coleman Canister (Butane/Propane), Markhill (butane/propane), as well as others. Gaz fuel, which is far more prevalent in Europe, does not have a Lindal Valve and therefore won't work with this stove.
In the description of this stove (above),...
In the description of this stove (above), it says it comes with the 2.1L pot. In the picture the pan is shown... So what's the deal here?
The Primus EtaPower EF Trail Stove comes with a burner stand, windscreen, & a 2.1L EtaPower pot with heat exchanger. Other accessories that come with the stove include a frying pan, a handle, and a bag that can even be used to insulate the pot.
I heard that his stove runs on several...
I heard that his stove runs on several different types of fuel. Is that correct
No it won't. The Primus EtaPower MF Stove will only work with screw-on (Lindal valve), compressed gas fuel canisters like in the photo above.