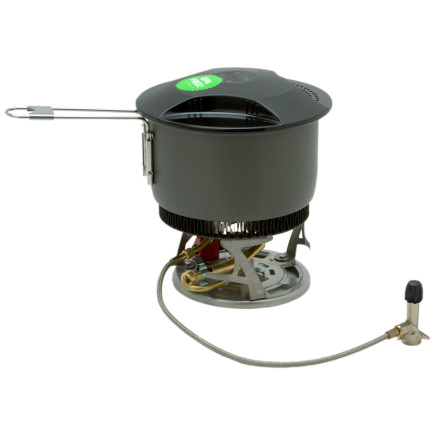 Detail Images

Community Images
The Primus Eta PackLite Stove gives you the freedom to get in the backcountry and cook haggis—dried of course—where no one else can smell it. Lightweight and intelligently designed, this Primus stove comes equipped with a Piezo igniter for quick use in virtually any conditions the Highlands reap upon ye.
Primus' fuel-efficient burner and the EtaPower pot is designed to be 50% more efficient than other stoves so you can save weight in your pack by cutting down on fuel
Three-layer titanium non-stick surface makes cleanup a breeze
All components including igniter, stove, windscreen, serving bowl/colander fit into the pot to save space in your pack
Great for shared meals
Fuel canister not included
It looks like the fuel line overlaps the...
It looks like the fuel line overlaps the burner. Is this actually correct and doesn't it cause problems or risk?
Best Answer
Hi Shawn,

That's normal and completely safe. Nothing to worry about at all. It's called a generator tube. What it does is allow the fuel to be preheated and vaporized prior to being expelled from the jet. When a liquid fuel is vaporized, it burns more cleanly and efficiently. Primus has been making stoves since the 1800s...longer than anybody.
shawn,its supposed to be like that.all fuels have a gaseous threshold for a given pressure relative to temperature.the distance between molecules determines the physical state of the substance ie solid,liquid,gas.they are all different.most people dont realize there are different formulations of canister gasses available for your stove.i ndont want to get into it here but i can tell you.the proportions of the gasses and the operating temperatures determine how long you can operate for a given ambient temperature whatever
shawn i forgot to tell you,the component fuels with the lowest boiling points tend to burn off first in lower ambients so if youre operating in low temps the percentage of your lowest temp fuel will gas off first then sequentially each remainding fuel with increasing boiling points.out
How soon will this be back in stock?
How soon will this be back in stock?
Please contact a gear rep via the "Chat Now" or call the toll free number and they can usually give you a rough idea when more stock is arriving.
Need a stove for alpine climbing?
Wow excellent stove! As fuel efficient as they come. Bought it primarily as a snow melter for bigger alpine climbs but i have also used it for cooking lunch between laps at the local crag and laps in some local back country powder. A complete package plus the pot can be used with any other stove upping the efficiency of that stove. I have also paired it with MSR's simmer light (which fits inside). That is also a great combo. When cooking soup I have to be right there just because it cooks so quickly. I was doubt full of the of canister stoves use in the winter to melt snow because of disasters in the past. I have melted probably a 100 gallons of water using a Jetboil in the past for winter training and alpine climbing but it has been tedious and quite painful. A waste of time really. Don't get me wrong the jet boil is a great system and has its place but its place is not as a snow melter. PRO's: light, legit non stick, aluminum (more heat efficient), works flawless in cold weather, it is a system not just a stove, fuel efficient, pot fits everything including small fuel can, small size, aren't limited to only use that stove with the pot, pot handle great addition, can buy a super light hanging kit only like 1.5 oz, ability to "strip it down" when going fast and light . CON's: handle gets tweaked when crammed in those tight alpine packs, fitting the fuel can inside with the stove is awkward, push button igniter is worthless (typical of any stove not specific to this one). This is one of the best "all around" stoves I have ever used and I would highly recommend it. Its fuel efficiency, compact light weight completeness, and efficiency in the cold blow 99% of the stoves on the market out of the water. Plus the whole kit can easily be bought on sale for $100!!!
ok guys i put this through the 8 person cooking for 5 nights test and this set up rocks. so first i read the handle lock should be held foward while picking up the pot and thats probally sound advice i did it and had no problems with the set up. so the pot is a 4 cup unit so you can cook a 4 person meal but you will spill the pot is just a tad too small, maybe if it was a 5 cup pot this would be unstoppable set up but thats all i have bad to say. the igniter rocked and i used one can of gass for all 5 days cooking 3 times a day. i had a system going i would heat up the water to a boil then transfer it to the bowl that comes with it and mix in food and let it sit in that and used it for a serving bowl also. that worked wonderful as soon as the food was ready i had water heated up for round two and so on. it really takes 2-3 min for water to boil and that is wonderful for the morning coffee rush before breakfast. anyway the complete set would rock for one to two persons but i thought it rock for what i tried to do with it. i am very pleased but will look for a 5 - 6 cup pot for those large groups. i would gladly put my primus up agienst any other cook systems on the market, now if i added my primus yellowstone stove to the mix bamb can touch this....i loved it
This stove is awesome. Sounds like a jet taking off when you light it and boils water in no time. Bomb proof construction, easy to clean, draining lid, lightweight... well done Primus!
I took this along on an S24O bike camping trip. I was great at heating water for coffee and a dehydrated meal, but then I blew everyone away with making ham and eggs for breakfast. It can cook fast, slow, and in between. Cleans up easily and packs away small.
Much lighter than the original, but the trade is a smaller pot. The design is well thought out and it packs nicely. The construction is bomber and the stove should last years of use. The drain lid is great for trail pasta and it makes we want a pot like this for my kitchen. I haven't used it in cold weather yet, but I think it should be OK. The remote canister lets you warm it and the burner preheat tube allows the can to be inverted to burn liquid first in low temps. I love buying from Backcountry with their 100% return policy, great selection, and free shipping. You can be confident that the PackLite will fit your backpacking and general climbing needs. The JetBoil is now my emergency stove for the winter day climbing or hiking pack.
This is my second Eta type stove from Primus and both the EtaPower and, now, the EtaPackLite are excellent stoves! The EtaPackLite gives me a two-cup boil time of around 1 minute 20 seconds. This is more than twice as fast as my JetBoil. If you omit ALL the plastic bowls (that includes the liner bowl) that come with this unit the weight is, then, true at just shy of 21oz. I measured a usage of 4.1 grams of fuel per 2-cup boil. In comparison, my JetBoil used 4.32 grams of fuel for a 2-cup boil. On my last trip into the Gila Wilderness, I really impressed my friends with this stove; I ended up giving them a lead time of 20 minutes and I still ate before them while they dinked around with there upright MSR stove! Way to go Primus..... Now, how about a Titanium option?