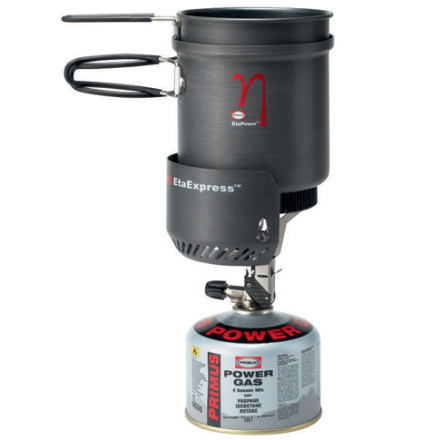 For soloists and fast-packers, the Primus EtaExpress Stove features lightweight and fuel-efficient cooking and mounts directly onto a fuel canister. An integrated wind screen maximizes efficiency, and the one-liter pot cooks enough for one or two hungry backpackers. The pot's lid doubles as a plate or frying pan, and Primus coated the lid and pot with a three-layer titanium non-stick.
Built-in windscreen saves fuel
Auto-light feature means you don't need matches or a lighter to get it rolling
Included one-liter titanium pot features a heat exchanger for improved energy efficiency and even heat distribution
Included pot lid also doubles as a frying pan
Pot and lid feature a BPA-free non-stick coating for ease of cleanup
All kit components and a 230g fuel canister (not included) are designed to nest inside of the pot
Stuff sack included
I bought this as my first camping stove. Glad I did! First night it rained so starting a fire to cook was difficult with no dry kindling around. Took out the stove and had a meal in 10 minutes! Later on, made hot cocoa in the pot. Love the lid/pan/pot combination. Breakfast in the morning was a breeze. The only issue I had was with the slight inconsistency of the Auto-light feature. A couple of times it wouldn't spark but I had a lighter on me so it wasn't a big deal.

Note: Make sure to use the stove on a flat surface.
I love this stove and pot combination. Super fast boiling time. The frying pan also doubles as a lid. Although the frying pan is a little small it still works. The wind shield it comes with is universal and it attaches to the canister not the stove, which I like. I would recommend this.
Great stove, used it on a couple trips already... Boils water super fast, great for using with various pots.. unlike jetboil... Packs small and light. A+ Product from Primus!
Is there a stabilizing leg kit for this...
Is there a stabilizing leg kit for this or is one included and just not shown? I personally do not like having the fuel resting directly on any surface. I don't want to piece out my Jetboil's leg attachment for this one.
Yes, Primus makes a folding canister footrest. Look up item# PMS 0006. Definitely adds stability to the system.
Primus Eta Express is Awesome!
I bought this stove for motorcycle camping, and it performed outstandingly! Mainly, I use it for boiling water for coffee in the morning; it boiled water so quickly that it was difficult to get the cups and Starbucks instant coffee set up without having to shut the stove off first.

The piezo starter worked flawlessly, and my friends commented on the great design and function. This became the only stove we used on our last trip.

To conclude, this stove is perfect for my needs during motorcycle camping, and I cannot yet think of anything to add to make it any better.
Does the wind screen pack inside the pot...
Does the wind screen pack inside the pot with the canister and stove?
What hanging kit does this stove need (3 or 4 legs)?
Best Answer
Yes, it does. Here's a gear review you might find helpful in your decision. Don't know about the hanging kit though.

http://www.backpackgeartest.org/reviews/Cook%20Gear/Stoves/Primus%20EtaExpress/Test%20Report%20by%20Rick%20Dreher/
Simply put this thing is bad to the bone. Crank this thing up and it sounds like a rocket motor on steriods! Boils water FAST!! I wanted a lighterwieght stove with better efficiency and a wind screen. This met all the criteria i was looking for and after reading the "guru" reviews it was a no brainer, plus backcountry had it on sale. Works 3 times as fast as my coleman max. I would highly recommend this to anyone that is serious about spending time on the trail. Also my GSI infinity coffee cup fits right inside this neat little package. See you out there!
The best compact stove ever. Perfect for two people, Make soup, falafel, and rice in the same sitting. I think it just makes since to purchase a Primus EtaExpress stove.
how big is the pot? 1l????
how big is the pot? 1l????
4.5" diameter x 5.9" tall.
Hasn't had TOO much usage yet, but so far it seems great! I think it's pretty similar to the Jetboil but it can fit any size of cookware you wanna use and the lid can be used as a frypan too. Haven't gotten to use it in extreme cold or windy conditions yet.
compared this with the jetboil, and went with the primus because I liked the fry-pan lid, and for the included windscreen. Boiled 1 cup of cold water in the morning (reached 36 at night) in a few seconds. I lit the stove on low, put the pot with water on it and turned it to high, and instantly saw little bubbles forming on the bottom of the pot! was at a raging boil 15 or 20 seconds later. I had cooked chili the night before, tried cooking the chilie in the can it came in at first, not wanting to use the included pot which I would have to clean later. It was difficult trying to warm the chili in the can without burning it, so I gave in after remember the pot was non-stick, and poured the chili in and finished warming it that way-- worked great and sped up the process unbelievably. Easy to clean, the titanium non-stick is better than my non-stick fry pan at home!
The stove is great on its own. fully adjustable flame, on high its kind of intimidating. The true genius is the complete system, the coiled metal heat dispersment system on the pot bottom combined with the burner is the best system there is.
Perfect stove for 2 to 3 people!
This stove is great... just used it on a several day backpacking trip at 12k feet and above and it worked flawlessly!! Temps were lower upper teens to upper 20's and still no problem. Also, very fuel effecient. My buddy had a jetboil and had to use his second canister and he hardly had any control over the flame... my primus could turn way down to a simmer or all the way up to boil water in minutes! Very packable as well! I know some people thought it was loud... but that's only if you turn it on full blast and noise really isn't an issue for as little time as you need to run it.
Great little stove for backpacking trips. It's lightweight and boils water very fast. The skillet is just about the right size for a couple eggs and it also works well to flip over and use as a lid. Everything fits right back into the pot which goes into a small mesh sack that holds everything very neatly.
I thought I had finished searching the market for lightweight stoves after I tried the jetboil, but Primus has stood up to the challenge and created an ultra lightweight stove system. I finally got sick of eating dehydrated meals- so I brought the Primus along on my three day trip into the Wind River Range of Wyoming and found that it worked brilliantly. I can go light and eat my pancakes too! The lid doubles as a frying pan. Both the lid and pot are coated with a triple layer non-stick surface that works great and cleans easily. The Primus ETA Express Stove burns at 80% efficiency as opposed to the usual 40-50% which allows me to save weight on fuel which is important when my pack is already full of climbing gear. The other benefit of this stove is that you can put any pot on it- not just the small one that comes with it.
While the ETA Express is a bit lighter than the jetboil, it does not pack as small. Also it does not hang without purchasing a separate hanging kit. It is always nice to be able to keep the stove off the fuel off the snow on those cold nights.
I have used this stove in the field and it has performed well. Lightweight, easy to pack, set-up, and use. No messes, no fuel spills. Boils quickly. Flame control adjusts from blow torch to slow simmer. Various sized canisters allows scalability to type of activity. Stove is not limited to one type of pot. Skillet/lid is an efficient and functional attribute.

The only downside is the effect cold has on the gas cannisters resulting in slower boil times.