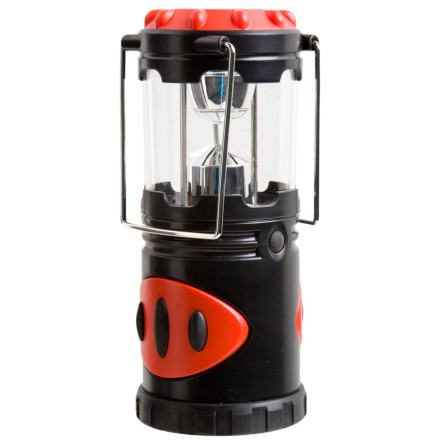 Detail Images
When the sun goes down, rely on the Primus Camping Lantern's nine LED's to pump out plenty of light for cooking, reading, or playing cards in camp. A built in reflector evenly spreads the light, and three different brightness settings let you adjust to conditions. A rubber-coated base holds up to drops and dings, and the top ring let you carry the lantern to the bathroom or clip it inside your tent.
what supplies the power for this lantern?...
what supplies the power for this lantern? batteries? solar?

kmeltonlnc@yahoo.com
Per the Primus website:

The LEDs run on 3 AAA-size batteries (372000), 4 AA-size batteries (372010) or 3 D-size batteries (372020). A built-in reflector helps to spread the light and makes it easy on the eyes. Each lantern comes equipped with a rubber-coated base for extra impact resistance. The large lantern (372020) has a flashing light setting
Has anyone used it for a night bouldering...
Has anyone used it for a night bouldering session?
No, but you might want to consider getting a Goal Zero Sherpa 50 or 120 along with a few lights. That's what I used for climbing at night.
not much to say except that it works. with 3 light level settings and a flash setting, it works well to preserve battery life. looks pretty cool too
So bought this for my grand father-in-law for his birthday. It was the brightest lantern that he got that day, and this is being compared against a top of the line Coleman Rechargable lantern with 6 LEDS as well. This little lantern packs a great big punch when it comes to light especially since it is light, small in size vs. the coleman lantern, and great since it can is also Solar powered...just wish I knew how that worked. :)
Overall a great little lantern, (I chose the standard for the extra brightness) that packs in nicely. This unit uses 3 D cell batteries that are included with the lantern. Biggest plus is you don't have to pack in fuel and for most trips up to a week long you won't need extra batteries either.
The only Con I would say on this is it isn't quite as bright as I had hoped but it does the job for working around camp and cooking in the dark!
Ours lasted about 10 minutes before it started just going out on it's own. We turned it back on three or four times and then nothing. No light when you hit the switch. Batteries were new and still test fine.
It's not worth much if it doesn't work.
Wht's it use for fuel? Batteries, or...
Wht's it use for fuel? Batteries, or liquid, or propane/butane?
It's an LED lantern, so batteries. It doesn't specify, but probably 3-4 AAs.
Write your answer here... Pocket lantern uses 4 AA, but on another site, it might be AAA, the regular lantern supposedly uses 3 D batteries, but it lasts up to 180 hours vs. up to 50 with the pocket.
It was so easy to find the answer on the manufacturers site, 3D's

http://store.primuscamping.com/lanterns/led/camping-lantern/