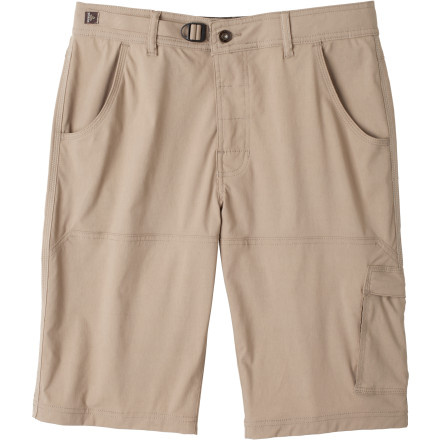 Detail Images

Community Images
Description
Sunny sandstone splitters.
Zion National Park is host to various climbs ranging from single-pitch sport to multi pitch spliters, and the Prana Men's Stretch Zion Short is ready for all of them. Its Stretch Zion fabric feels light and right in warmer weather, with stretchy mobility and rugged abrasion-resistance for sending sandstone. Prana cut this short just below the knee in case you come across an offwidth (highly probable if you're climbing in Zion). There's also a ventilated gusset for high-stepping mobility. The adjustable waist accommodates your harness comfortably.
Stretch Zion fabric
Ventilated gusset
Adjustable waist
Mesh pocketing
Best shorts ever
Familiarity:

I've put it through the wringer

Fit:

True to size
I think I have a pair in every color at this point. Comfortable, lightweight, and durable. These are my go-to shorts for pretty much everything.
Bought 2 more pair - great product
Gender:

Male

Familiarity:

I've put it through the wringer

Fit:

True to size
These shorts are the best I have ever purchased. I just bought 2 more pair and can't say enough about comfort, durability and function. Length is great, use the cinch belt or add one, stretchy, lightweight, etc. Great product.
Prana
Familiarity:

I gave it as a gift but have feedback to share
I bought these for my brother, and he loves them. He is looking to buy another pair in a different color. He loves to lounge around in them. Great pair of shorts.
Second pair - Love em
Familiarity:

I've put it through the wringer

Fit:

True to size
It's all been said. Add another 5 star review to the list. This is the only pair of shorts that I wear routinely when on outdoor adventures. Because of that, I had to buy another pair so I could mix it up with color at least.

Super comfortable. Stretchy is good for climbing and hiking etc. Zippered leg pocket is nice. Length is a nice knee length . . . longish; but, not too long for my taste. Light and breathe well.
Comfy comfy comfy.
Familiarity:

I've put it through the wringer

Fit:

True to size
If you hate comfort, these shorts are not for you. They are the most comfortable shorts I have ever owned. They're light, they fit well, they're great for climbing, and they weigh next to nothing. You basically feel like you're walking around naked, they're so light.
Best Short
Familiarity:

I've put it through the wringer

Fit:

True to size
Small was a perfect fit. Excellent comfort and durability. Highly recommend this short. I use it as an all purpose short.
Solid climbing & hiking short
Familiarity:

I've used it once or twice and have initial impressions

Fit:

Runs large
I prefer a pant when I'm out in the backcountry, but when it's hot, it's hot: free your calves, bro! I have the zion strech pant, and these are a pretty good smaller cousin. They don't fit quite as well as the pant. I prefer a short short (just above the knee, not the ball huggers that the preps and bros find fashionable these days), and these suckers just cover my knees. They are versatile, breath well, have plenty of pockets (but not too many), and have a built in cinch to dial in the waist fit. Overall I'm happy with 'em, but I'd probably size down if I need to replace them in the future.
My new favorite shorts
Familiarity:

I've used it once or twice and have initial impressions
Stretchy and comfortable with slightly longer legs than the shorts I usually wear. Deep pockets keep loose change and other stuff from spilling out when sitting. Cinch on the waist accommodates a fluctuating waistband. Love them.
Go to EVERYTHING shorts
Familiarity:

I've put it through the wringer

Fit:

True to size
After wearing these shorts for a good year now, I can easily say that these are my hands down favorite and I will probably never buy a different pair of shorts. They can really do pretty much anything! I wear them for climbing, hiking, working out, around town, even the occasional swimming hole! I take them everywhere! The lamest day of the week is when they are in the wash.

Ok so the specifics. The cut of these fits perfect and gives a ton of mobility and the stretch in the fabric really lets you do whatever in these shorts. I don't get all caught up when doing a really high step while climbing or hiking. The integrated belt is so nice to get the fit around your waist just right. The pockets are great and the side pocket is perfect for my phone. It even has 2 zippers to get at your stuff from the top or the side of the pocket. Really handy when you are in an awkward position climbing and trying to get your stuff out. As far as durability goes, I have worn these just about every day for a year now from the gym to long hiking trips to climbing some rough granite and they are holding up great! Look brand new out of the wash.

Overall I love these shorts (the pants are equally amazing!) You really should get yourself a pair!
Am I wearing bottoms?
Familiarity:

I've put it through the wringer

Fit:

True to size
What makes a great pair of shorts? Ask the folks at prAna.



After flipping and flopping between various bottoms to take on a month-long geological survey of the Argentinian Andes, I decided I deserved a new pair of shorts...or two. I'm here to confirm the great ratings that convinced me to INVEST in these kick-ass shorts.



There are four redeeming qualities about these shorts that I will go into detail describing:

1. DURABILITY: I slid down brutal slabs of all sorts of rocks and cobbles, wedged myself between cracks and crags, and tripped along boulderfields; hiking along scree slopes and talus without trails and not one tear.



2. FLEXIBILITY: I'm no rock climber, but the range of motion allowed is incredible. Thrusting your knee to your chest in order to climb over a ledge without having to worry about a split seam is wonderful consolation when your pack is too loaded with gear to make space for another pair of bottoms.



3. BREATHABILITY: Sometimes I would wake up in my sleeping bag convinced I was only wearing my underwear. Not finding the shorts in my bag or tent, I'd stumble through camp in the morning dim trying to figure out where my shorts were...I never took them off. They are so comfortable and breathable.



4. BELT-CINCH: The belt-cinch tab built into the shorts is a godsend. When you're hoofing it up and down peaks with a tool-belt, the last thing you want is another strap of leather jamming into your hips. Great job prAna.



P.S. Backcountry, the great guys and gals that they are, occasionally put these shorts on sale for $45! Keep your eyes open for that and lockdown yourself a pair...or two.
Best shorts ever!
Gender:

Male

Familiarity:

I've used it several times

Fit:

True to size
I bought these shorts for a three day hike up to Mt. Whitney. These shorts held up with keeping me cool along tbe hike and they were able to dry off quickly after going in for a swim with them. Another great feature of these shorts is the stretch material which adds flexibility while wearing these shorts. They also look very stylish for a walk down to the park. These are my go too shorts for any outing where I would wear shorts. Must buy shorts for the outdoors person. Get these you will not be dissapointed. Ive only used them for hiking and swimming.
Through "Hail" and Back
Familiarity:

I've put it through the wringer

Fit:

True to size
Took these out for Labor day weekend to really put these through the wringer. I went up day one and we got two cars stuck in the mud due to monsoon rains and some flash flooding. After that we went to the grand canyon in which we got caught in a hail storm and a heavy rain storm. These paints dried very quick, much faster than anything else I was wearing and they still looked as if they were as clean as can be. I wore these for three days straight and by the time I got home I felt I did not need to wash them. These fit extremely well; however, the length is a tad long. I am 6'2" and 31 inch waist line and the small fits me like a champ. These are very comfortable and light weight.
Nice shorts
Familiarity:

I've used it once or twice and have initial impressions

Fit:

True to size
Run slightly smaller than I like, but overall I think they are true to size. Stretchy, comfortable, nice looking shorts.
Great for skinny young men and teens!
Gender:

Male

Familiarity:

I've used it several times

Fit:

True to size
I purchased these shorts for my 18 year old son, because they have
Tabs to adjust the waist size. He has outgrown boys size shorts, in length, but his waist size is about 27". He climbs , bikes, and is very active, and loves the thin slightly stretchy fabric of these shorts! He was thrilled to have some new shorts that fit correctly. The slightly thinner legs of these shorts look great on his skinny legs. I usually don't spend this much on shorts for my kids, but with the adjustable waist he won't outgrow them for a long time. The fabric is also tough enough to last . He had several pair of REI brand boys shorts that are similar, and they lasted great.
thigh zip pocket finicky
Familiarity:

I've put it through the wringer

Fit:

True to size
The stretch material is great for climbing and hiking. I'm mainly climbing sports routes at the moment (top rope and lead) and can heel hook without issues. It's reasonably streamline to sit under a harness, without too much excess material (FYI I bought a size small, and I'm 5'7", ~145lbs, size 30" waist, w/broad shoulders and thighs). Waist is a touch loose.

The thigh zip pocket is a bit finicky though. Concept is good enough, i.e. having a zip at the top to access it when you are standing, and a zip at the side (inside facing) when you are seated and need to access it that way. However, the pocket itself is barely big enough for my wallet (and my wallet isn't that big!), so having 2 zips, with all the extra material, doesn't lend itself to being very useful in the end (i.e. I would have been happy with 1 zip, and 2 thigh pockets instead of 1, as with the older zion pants I have)
Big scratch on my butt, but . . .
Familiarity:

I've put it through the wringer

Fit:

True to size

Size Purchased:

large ( 34's)
I barely work. I barely have any money. I have been paying attention to the Prana Stretch Zion shorts since someone mentioned them on a JMT page a while ago, but have been laughing at the price.

And then one day, at my local Goodwill I found a pair, Khaki, barely touched, still smelling of the box they came in. I thought about the few things I have bought, new, that still smell and look, new. I could only think of a pair of shoes, which ended up in the goodwill after spending months in my closet. This had to be karma, or a rich guy that got a little too hefty.

Instead of paying over seventy-dollars, I got them for a mere five bucks, if that, but having worn them now for a few months, not to mention fourteen days on the very rugged, unforgiving granite of the Sierra HIgh Route, I would gladly plastic these and drive myself into further debt.

Yes, the Sierra High Route, which is full of granite, big happy slabs and boulders, all dying to send you tumbling, unless you chicken out and do a lot of butt sliding from one scary precipice to another, which I ended up doing more than a few times, all the while thinking, 'poor shorts gonna eat it on this one,' but no. Amazingly not.

While my other less than nimble partner succeeded in shredding his pants within the first day, the Prana Zions barely, in fact, not at all showed any wear and tear.

The only blemish I've managed is probably a bit of sap that's decided to stay around, but otherwise, these shorts, which I was sure I'd demolish, have survived like no other short I've had--and I am always in shorts.

Before I forget, the reason I first considered these shorts is the belt/cinching system, which someone noted doesn't interefer with your backpack, like a regular belt might---and they were/are very right. I've owned about four pairs of Prana shorts, all very durable and comfortable and these have not disappointed.

p.s. about that butt scratch. who knows where I got it, but aside from whatever giving me a nice scratch, the pants show no sign of anything.


Great adventure shorts
Familiarity:

I've used it once or twice and have initial impressions

Fit:

Runs large
These are great shorts. Well made, nice material, solid features and function. I haven't traveled in them yet, but I can tell these are the types of shorts I could wear for a week and not completely disgust my wife w/ the smell/look! Size "L" was way too big and long, but the "M" fits almost just right. My thighs are bigger than the average Joe, but the "M" is comfortable.
nice
Familiarity:

I've used it several times

Fit:

True to size
I never thought I'd wear stretchy clothes. These rock.
Are any of the pockets zippered and if so, which ones? Is the belt removable?
The left side pocket is zippered (twice, actually, one facing up and one facing front - which is handy depending on if you are sitting or standing). The belt is not removable but it's very small and only shows in the front. Completely unobtrusive.