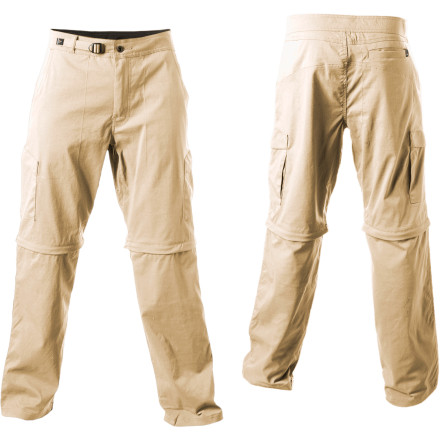 Detail Images

Community Images
Description
Designed for movement in the x and y axises.
Whether you're traveling up a sheer rock face, through a desert gulch, or between Delhi and Kathmandu, wear the prAna Men's Stretch Zion Convertible Pants for lightweight, non-restrictive comfort. The flexible nylon fabric moves with you pitch after pitch, and it dries quickly after a stream-bed slog. prAna designed these pants with a ventilated, gusseted inseam for A/C in balmy weather and zip-off legs for shorts without the striptease.
Share your thoughts
What do you think of the
prAna
Stretch Zion Convertible Pant - Men's
? Share a...
best I've found since the old TNF paramount peak
ever since purchasing 2 pairs of TNF paramount peak convertible pants about 10 years ago(the old style with deep functional pockets & a belt clasp that actually functions) I've been looking for replacements since I've worn the TNF about 2000 times each(no joke, 2000 plus times from everything from climbing, hiking, bush whacking, construction, yardwork, spring skiing. just recently ripped one pair on a screw while crawling in the attic & the other pair got a rip on a sharp stick on a steep snow covered hill at moderate high speed with no stab gouge into my thigh. I've seen them both & bet they'll last 1000 more uses. the new TNF are worthless, clasp comes undone, the belt twists into a rope & the pockets are shallow. the stretch Zion are lighter & the front pockets could be a couple inches deeper & the range of motion is a bit restricted but not too much that I wouldn't mind getting another pair. I am 6'2" 190lbs with 24 inch thighs & a 34 inch waist & the XL fits about perfect.
Love thes pants! They fit true to size and are so comfy
excellent pants for tall people
I am 6'3" and got the medium, perfect lenght in both the shorts mode and pants mode. I love these pants, I put them on Friday after work and they keep me going all weekend.
These are very comfortable and offer great pocket features. The zip-offs work well and even comes with a great belt built right in there.
The downside is that I prefer slim fitting clothing and these are pretty darn baggy. Be warned.
I got these after being frustrated over wearing pants to a climb and finding that it's too hot for pants, wishing I'd worn shorts. Not a problem anymore!

I'm 6'2" and have really long legs, usually with zip off pants, the zipper is right on my knee, causing discomfort over long hikes in. These fall just below my knee and the zipper is super slim and comfortable, I don't even notice it.
Great Pants- just get 'em
purchased these here and they are true to the reviews- comfortable, just the right amount of stretch, and the water repellent fabric is really nice. They are a little heavy, but perfect if temps outside are not too hot. belt/drawstring seemed like it was a bit weak but didn't break and they didn't fall down...a good buy.
I spent ages going through reviews of different convertible pants and finally settled on these. I am usually a size 34 waist so i bought a medium and it fits perfectly without the need for a belt. The built in belt works fine if you don't need to tighten TOO much, a little cinch and she holds beaut. The shorts are the perfect length at just past the knee. They stretch well and move well with me. They are not too heavy, nor too light. I got the green ones and they're RAD!! I was lucky enough to score the last size medium.....stoked, but now I want more and there aren't any left! Thanks Backcountry for putting these on sale. Awesome.
These pants are VERY comfortable with their stretchiness and the shorts are actually long enough to wear in town. My only complaint is that they are a bit heavy.
Baggier than the non-convertible
I love my Prana Stretch Zion pants, I have two pairs and decided to try out this convertible version as well. As usual, the pants are super comfortable and stretchy and great for active sports. An understated feature about the Zion pants is the 3M coating that is applied to the fabric that really keeps stains off. I've spilled soup and other stuff on myself and it just beads off, pretty amazing.

A few differences between the convertible pants and regular stretch Zion Pants:

The convertible pants have two zip cargo pockets, while the regular pants only have one. Also, the convertible pants are much baggier than the regular version, I'm not sure why this is, I kind of like the fit of the regular pants better. The convertible also does not have the snaps to keep them rolled up.

The final thing is that I noticed a few comments about the inseam being pretty long. This is true, but an easy fix since there is no zipper at the ankle, you can just bring them to a place to have them hemmed to the correct length. You can't do that if there is a zipper at the bottom of the pant leg.
waist is good, but way baggy and too long. shorts go below my knees. should have expected, usually wear a 38X30
I need to return these pants... please...
I need to return these pants... please advise
Go to https://www.backcountry.com/store/order_history.html and select this item, then hit "Return." Print out a UPS label and slap it on a box with clear packaging tape and send it off from any UPS store. More info: https://sales.liveperson.net/hc/s-9551721/cmd/kbresource/kb-2322149034348546865/view_question!PAGETYPE?sp=94&sf=101133&documentid=239621&action=view&VisitorProfile=BCS&MESSAGEVAR!home=no&MESSAGEVAR!cookie=no
Best Convertibles Out There
The only pair I could find that don't look like boyscout shorts when unzipped. Super comfortable semi strectch fabric and feel very well made. The only thing is these are not super light nylon like hiking pants and may get warm, so perfect for cold early morning starts and warm days. For hot weather you may want to go lighter.
Almost feels like your naked.
These are great pants. The stretch is super comfortable. I would call the fabric "mid-weight", perfect for early spring/fall weather, they might be a bit heavy for a really hot day (but you can make them shorts so not a big deal). when zipped off the shorts have a nice longer length. The integrated "belt" helps a bit but the belt loops fit a regular belt. All around great all-purpose pants
Best convertible pants I have
I should say, "Best pants...period!...that I have."

These are great pants. I usually wear a 34x34 or 36x34 in pants, and I ordered the XL x 32 in these pants and they fit well. A little baggy, but still comfortable to hike in. I have a pair of L x 34 pants on the way and I'll review those when they get here.

(I'm not sure why you can order different inseams at the Prana website and only 32 inch inseam at Backcountry???)

The material, the feel, the fit...everything about these pants works for me. I also like that when I remove the legs the shorts are long enough to cover my knees. I like the look and feel of shorts that extend just past my knee, which these do.

The ventilation is great. And the stretch is awesome. I've run, hiked, played ultimate frisbee, even played basketball in these pants. I would wear them all day if my job would let me!
Comfy, Stretchy. Zip em' off.
I bought these because I was tired of my friends calling me names in the climbing gym for always wearing my Nemesis Knickers. They still call me names. Pants are Prana, so they're bomber, what would you expect? Zipper doesn't get in the way of movement climbing unless you're Chris Sharma, which you're not, and if you get too hot you won't have to impress the ladies with some white upper-thigh because the shorts are a bit longer than the other North Face / Patagonia variety. I wear these for pretty much every activity I do that falls in line with being outdoors in mild temps, and I even can pull them off in the cubicle at work (though this is not recommended if your boss is a douche). I'm 5'11, 160, and I went with a medium. They fit fine.
The zipper to remove the leg sits right at my knee and doesn't stretch like the rest of the pant. I find this constricts my movement a bit when climbing. Its also a bit scratchy around the seam where that zipper is as well. Other than that they look good, breath well, and fit pretty true to size. I usually buy pants with a 32" inseam and didn't find these too long like other reviewers.
My first time bouldering at Triassic UT using my 3 year old prana zion pants, hopefully you can't see my butt cheeks from the rip in them. These are still my favorite climbing pants!
These pants rock
Familiarity:

I've put it through the wringer
These are one step up from the non-convertible pair I already own. They have plenty of mobility and are my go to climbing and travel pants. The non abrading material and general ability to stay clean continues to impress. To top it off, the zip off legs don't leave you baring some awkward upper thigh...nice.
One of the non-essential thread lines along the crotch is getting loose. This generation's construction seems a little less exact then the previous.
Comfortable, versatile, recommended
I use these for hiking. They are very comfortable. I got the medium and they fit me perfect except that the waist is just a touch large (I have a 31" waist and a 34" inseam).