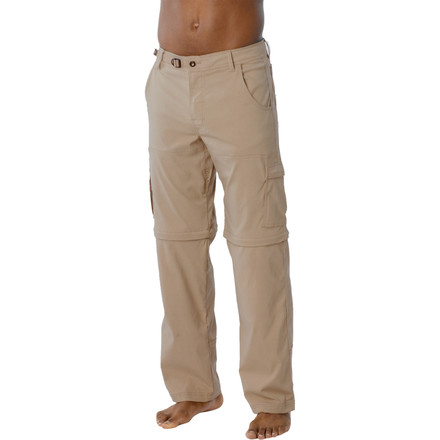 Detail Images

Videos
Whether you're traveling up a sheer rock face, through a desert gulch, or between Delhi and Kathmandu, wear the prAna Men's Stretch Zion Convertible Pants for lightweight, non-restrictive comfort and versatile pants-to-shorts style.

Durable nylon fabric dries fast if you get soaked in a cloud burst
Ventilated, gusseted inseam gives you A/C comfort in balmy weather
Zip-off legs let you change to shorts without having to strip
Love em
Gender:

Male

Familiarity:

I've put it through the wringer

Fit:

True to size
I own North Face convertibles & wasn't happy with hearing them tear a seam while up in the Uintahs. They didn't tear open but the noise indicated the start of the inner stitch tear. I bought them mainly cause sports authority only carried them & not PrAna which were what I wanted. The reviews on the Northface said they were 3rd best a little more durable yes very baggy which I didn't like. Got thePrAna much better pant. So much more comfortable that I wear them everywhere plus they look good & not overly baggy like the Northface. Then the real test I went hiking. They past with flying colors & no tearing. So comfortable. I never wear Northface pants anymore cause let's face it,why should I. These are my go to everything pants.
Unanswered Question
Do these pants offer UPF protection? It's a deal-breaker!
Office pants now
Familiarity:

I've put it through the wringer

Fit:

True to size

Size Purchased:

Medium 32
I bought these for a back packing trip they are so comfortable I bought another pair and use them at work all the time now and even just sitting around the house I haven't needed to use the shorts option I live in Florida but they breath so well no one has to see my legs 😱 Love the double access zip pockets and the mesh live pockets so light too compared to my jeans I weighed mine on a scale at 16.24 ounces they also seem to be water repellent water bead off. My pants have a soft break at the hem meaning when you have shoes on pants sit lightly and create just a small fold which is perfect or the zipper at the knees may be annoying but not for me. I don't know what my favorite feature is but I love how they stretch and love how I can save weight and not use a belt with the waist cincher thing. Comes in handy for thanksgiving. lol. If your wondering to get these just look and see if you can find a bad review!
Great Climbing Pants
Familiarity:

I've put it through the wringer

Fit:

True to size
They aren't just climbing pants, but that's how I primarily use them. Seem to be holding up to the abuse well. Semi-water repellent pants keep you dry when bushwhacking through dewy trees or from a passing shower, but don't expect them to stay dry in a torrent. They do dry faster than most pants. Button snap bottoms roll up easy while climbing. Mine haven't come unsnapped all that often, but does happen in chimneys / wide cracks. Great casual fit and strechy which is very helpful when climbing. I found the vent holes to be an added bonus since it dumps just the right amount of heat when you're hoofing it on long approaches. I wear these climbing, hiking, or for casual use and couldnt be happier.

I really like the two zipper pocket on the left leg of the pants. A zippered upper pocket might be a handy addition in the future.
Great travel pants!
Familiarity:

I've put it through the wringer

Fit:

True to size
These pants are amazing! They have now replaced my TNF and MH for both travel and everyday pants. Very soft yet strong material that will keep the wind off of you but are still able to breath well. If you get a little too warm you can always roll them up and snap them in place with the buttons built into the legs. Nice pockets and an actual button (hate snap buttons). I have worn the zion shorts so much that the threads in the pocket have started coming out but that is just normal wear and tear. I just ordered a second pair of these in dark khaki to add to the collection. The only drawback there is it is more of a gray and than what the picture showed but if that is the only that I can think of I'll survive.
Love These!!!
Familiarity:

I've used it several times

Fit:

True to size
I wore holes in my last convertible pants a few years back and I've been looking for another good pair ever since. Alas, I found what I was looking for. Initially I had my doubts as I intended to purchase convertibles with cargo pockets. However, I was pleasantly surprised when I learned the zippered thigh pockets can carry a lot while maintaining a low profile. The side zips did what they were intended for and easily allowed me to convert into shorts without removing my hiking shoes.

These pants are both light and comfortable and I can't say enough about them. After a few extended backpacking trips it looks like they can withstand some abuse and will last quite a while. During one of my trips, I was caught in a storm and drenched to the bone. I noticed within the hour (probably more like 40 minutes), my pants were completely dry. The material is very breathable and feels nice. My only caution is that the material is rather thin and you may want to consider something warmer if you will be in colder environments. I've already ordered a second pair in another color.

How much do these typically weigh?
Mine weigh 16.24 ounces and I am a size medium 32"
GOAT IS GOOD
Familiarity:

I've put it through the wringer

Fit:

Runs large
These are a must have if you live anywhere in hot, dry, humid or cold climates. These are lightweight really breathable and durable. The zip on/off shorts are awesome and are really easy to do. The fit of these is a little more baggy/loose than I typically like but looks aren't everything as they function as they should.
These pants are awesome! I am wanting to buy a couple more pair because they have been that great! They are super easy to convert into shorts and super comfy and durable. I hike and climb in these regularly and rubbing them against rocks, bushes and branches and there is no sign of wear or abrasion :) I would recommend these to anyone!
Great Climbing Pants! Sizing is Way Off!
Familiarity:

I've used it several times

Fit:

Runs large
First, if you want a medium, buy a small. I usually buy 32" pants, and those usually run a little large on me (but only a little). In these I was swimming in the medium, I'd say the medium are around 34"-36". The small feels true to a 32", I cinch down the waistbelt just a little (which is all you can really do without it looking and feeling silly).

Second, The quality control is seriously lacking on these. My first pair seemed to be well-made, but I had to return it for a smaller size. The second pair fit well, but had loose threads and stitching imperfections all over the place. Not only was the stitching poor, but it just seemed in poor condition in general- it looked like it was made in a sweatshop, then tossed around a warehouse for a couple years.. The third pair still had a few loose threads, but it was better. [I should note that I ordered all 3 pairs at REI, since backcountry doesn't sell the 30" inseam version.]

That said, these really are great pants, once you get a good pair that's the right size. The stretchy fabric is wonderful, and feels good against the skin. I was concerned that the multiple openings on the cargo pockets would make items more vulnerable to falling out, but the zippers seem secure. The top zippers are protected by a tight fitting overlap, which makes them harder to open, but it's nice because even with the zippers open, items are fairly secure. Overall I'd prefer no side zippers, but the pocket setup works well.

My only complaint is the mesh hand pockets- sure the ventilation is nice, but it's not worth putting such a fragile and snag-prone material in a place meant to hold potentially important objects.. Still the mesh is quality, and not as loose or thin as some mesh material, so I'm hoping it will hold up for a while- I think with care I'll get at least a full climbing season before that happens. I expect the mesh pockets to be the first critical failure on these pants, but if that happens in an unreasonable amount of time, I'll bring it back to REI (or Prana) and get a new pair.

I'm taking off a point for the mesh pockets, poor quality control, and ridiculous sizing, but these really are great pants, and probably the best climbing pants out there. I like them enough that I'll probably buy a pants only version, for wearing around town when I want to look slightly less dorky..
Why just one when you can have TWO!
Familiarity:

I've put it through the wringer

Fit:

True to size
These pants are perfect....I took my first pair around the globe from Switzerland to Bali and they covered me in every climate! The fit is perfect and the fabric wears well. I have enjoyed them so much that I bought another color.....and now my wife swears that they are all that I wear.
Great pair of Shants (SHorts-pANTS)
Familiarity:

I've put it through the wringer

Fit:

True to size
I have been looking for a replacement for my old convertible pants, or as I like to call them Shants. The prana convertible pants were great. When I first put them on, they fit great, I almost couldn't feel them. They are very light and don't pinch around the waist or in the crotch area. I brought two pairs on an eight day canoe trip and that was all I used the whole time. On hot days I took the pant legs off and at night or on a cool day I put the legs back on. They shed water in light rain and when I got submerged in the water when are canoe got swamped my pants were the first thing to dry out.

Two minor things that would make these pants even better would be 1. slightly larger zipper handles for those cold days when your fingers aren't working as good and 2. marking the left and right pant legs so you don't have to think when you put them on, just look at the label.

Originally I bought two pairs. After trying them on, I order a third pair and now have three colors to choose from.
Great Quality, a bit too baggy
Familiarity:

I've used it several times

Fit:

True to size
The pants were great and held up well during my recent hike. They kept me warm when needed and the convertible feature worked flawlessly. My only complaint is that they are a bit too baggy for my personal taste.
Great Pants-Bought 2 additional pair
Familiarity:

I've put it through the wringer

Fit:

True to size
Have had my original pair for 3 years. My go to for the approach, Have used on (4) alpine trips, including a decent amount of rock climbing mixed in, and most recent a 2 week outing in Ecuador where these were the only pants I took. Climbed Chimborazo using these as my soft shells (and thermals underneath). As others have noted a little heavy, but the durability is phenomenal. Highly recommend.
Great hiking pant!
Familiarity:

I've used it once or twice and have initial impressions

Fit:

True to size
I love the stretch fabric and soft feeling of an obviously tough fabric. I am a 38 waist and the XL fit perfectly. I prefer my hikin pants to be a little shorter that normal, so I like the length. The pant legs zip off and each leg is clearly marked. I will be using these a lot this year.
Very comfortable but cargo pockets...
Familiarity:

I've put it through the wringer

Fit:

True to size
Cargo pockets were too narrow for my liking. I had a hard time fitting a standard travel wallet due to the narrow opening. the pocket itself is okay, though, slightly wider and deeper would have been my preference, similar to the TNF Paramount pants. Compared to the TNF's, nicer styling (less tapered at the bottom, no elastic on the back waist) and feel lighter (less thick). If not for the cargo pocket, 5 stars.
Tough pants!
Familiarity:

I've used it several times

Fit:

Runs large
These pants are awesome! I bought them mainly for rock climbing, and hiking. The pants that these replaced were developing holes in multiple areas from scraping on rock. I decided to try them ice climbing the other day, my crampons accidentally caught the material in the leg but no holes! I love them so much I'm buying another pair. The only minor criticism I have is the legs run slightly long, but they still earn a 5 star rating!
So Perfect
Familiarity:

I've put it through the wringer

Fit:

True to size
I bought these upon the recommendation of a friend who raved about them. I'm really glad I did it. These are amazing! Unbelievably comfortable. I took the kids down to Goblin Valley (Utah) and hiked around the hoodoos, hiked Little Wild Horse & Bell Canyons and ended with Ding and Dang Canyons. The weather was cooler (November) and I was worried about getting cold – I did not. There were occasions where I had to hike through standing water in the slot canyons and these handle and shed the water so well. Even in the cooler temperatures these dried off very quickly. Also impressed with the durability after scraping against rocks and canyon walls, not a sign of wear. As others have noted, the belt does loosen after a while but nothing that was impeding or annoying.
too thick for convertible
Familiarity:

I've used it several times

Fit:

True to size
Fabric is little bit thick.

The fabric is suitable for original Stretch Zion, but it is not for convertible pants.

I think convertible pant should be made of more slim fabric.



Anyway I can say it is more comfortable than any other convertible pants I have ever put on.
prAna Stretch Zion Convertible Pant