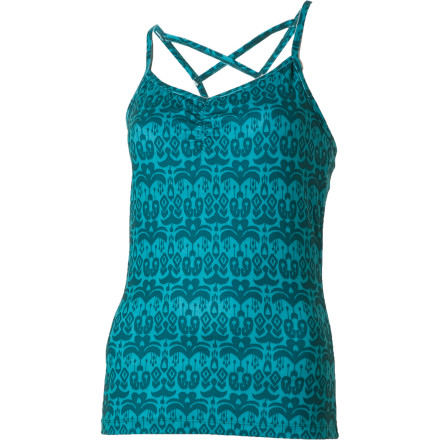 Detail Images
Yoga tops come and go, but the prAna Sonja Tank Top offers a memorable and stretch-worthy design. The racerback straps have a slim, fun criss-cross pattern while an internal shelf bra helps you truly relax. Recycled polyester helps make this piece eco-friendly as well as quick-drying.
this top is ok. just ok. it's a little on the short side, not quite short enough to show any butt crack but not long enough to not worry about it. i'm 5'6'' 120 lbs and i wish i would have gotten a medium instead of a small, even then i don't think i would like the fit much. too tight and too short. the fabric is nice though.
I teach yoga and own 3 of these tops (plus many other prana items). They fit great, are very comfortable, and I agree with all other 5star reviewers about the details (length, style, fabric etc). I'm yet another A chest and the Sonja top and Amaya tops are all I wear. All my tops are size small in Prana and fit is perfect (5'5", 125 lbs, 36A). It is an 'athletic fit' as another reviewer mentioned....definitely form fitting but not uncomfortable.
I bought an XS and it was way too big. Otherwise, it is a nice tank top.
This shirt is beautiful and fits true to Prana sizing--that is, snug and supportive. Great for day hikes, yoga, and any activities that might end with lunch in town. You'll look adorable. Be aware though that it is VERY revealing, so I would go for a more modest top if you are self-conscious about showing cleavage.
Great comfortable top I use for yoga. The print is fun and super cute. I do think it runs a little big though. I generally wear a Medium in that type of top but I found the small felt better....a little more snug in the bust.
I've tried on other Prana tops before in stores, and never found one that really looked good on me and was comfortable. Like another reviewer, I have pretty much a AA chest. But this top is a winner.I wasn't sure what size to get--5'9" about 125 lbs--but the small worked out perfectly.I love the ruching in the front and the cool straps in the back. The only thing that's a little weird about it is when I really roll my shoulders back, the straps in the back kind of bunch out from my back. But it doesn't really look too weird, just wasn't expecting it.Overall, completely pleased with this top.
I have at least half a dozen Prana tanks. I got this one in the mail today and tried it on and it fits perfectly. I'm 5'8", 125 lbs. My chest so small that I probably don't even register on the cup sizes, but the front detailing makes it flattering no matter what. I bought a Small (which is what I usually get) and it's not too tight, not too lose, just right! The style is great, the cut is nice, and it's the perfect length, nice and long-- finally someone figured it out! It's slightly longer than most of their other tanks, which is nice for going under my climbing harness. Backcountry.com service was excellent and their customer service is great!
I like this top a lot. Fabric is very nice. I like the gathering design in front and web in the back. The length is also good for me. I am 5'-9", 145#, 34C with skinny waist and usually wear medium. I bought this tank in Small and it fits well. Although, I wish there was more support.
Kind of Like Your Skinny Jeans
This is a great top, and I love the fabric, as usual (prAna does a great job with fabrics, always!). I bought a size large, being a tall glass of water, and it's skin tight. I swear that's not because I drink a sixer a day.... It's likely a performance design, and I do like it, I just need to put on my confident demeanor when I wear it...