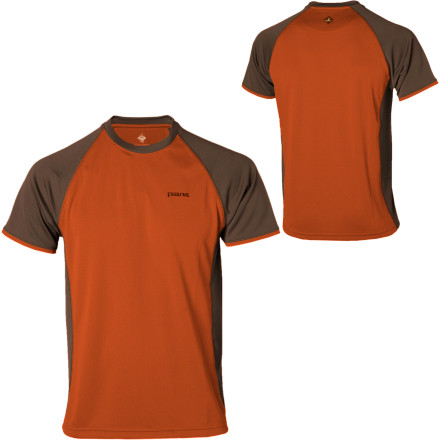 Detail Images

Community Images
This shirt is great for climbing. When the sweat begins to run this shirt absorbs it and drys it fast keeping you relaxed and comfortable on those big walls!
I usually love prana but this shirt was itchy and felt funny against my skin, It also fits kind of weird. It cost way too much to feel this crappy.
Very light fabric and looks great as you expect from prAna, but it fits loose compared to my other prAna organic cotton shirts and the polyester is itchy. (That might just be me; I've never liked 100% polyester...) Plus I'm a little scared it will end up like all my other polyester shirts before I know it, you know staticy as hell and develops those little lint like balls all over...
Does anyone know how the sizing of this...
Does anyone know how the sizing of this shirt is? I normally wear a large but lately have been needing an XL and I don't really think that I have gained any weight.
I am a solid medium in just about everything, including several other prAna shirts and this shirt fits loose on me.
Ya man , it fits big. Sized down for sure
Shirt has a great feel to it. 6' 1" 190lbs and the medium fits great. Not too tight, not baggy. Use the shirt primarily for working out in. Doesnt chaffe, doesnt stink after a few sessions and breathes quite nicely. All in all a good choice!
This shirt looks and feels terrific, just like I would expect from prAna. The fabric is soft, well fitted and the seams are extra durable -- if only the wear was as good. Within minutes of wearing this shirt, some of the fabric began to pull around some light friction areas caused by my backpack holding my gear for the day. It's very noticeable, to the point that the shirt probably won't be worn again. This could have become my favorite shirt in the rotation, but instead it has become one of the biggest disappointments. If you are going to just wear this shirt in a frictionless environment, you can't get any better; however, in the real world, it's sadly just so-so.
This has to be one of my favorites (if not my favorite) technical tee. It is thicker than most other wicking baselayers (such as Mountain Hardwear), but breathes and wicks well. It is extremely soft and comfortable, and seems very well-made. Like most Prana shirts it is somewhat on the fitted side, but seems looser than many other fitted shirts (such as Solomon or Sugoi). As a bonus, it looks sharp, and is UPF 30.
Surprisingly (for Prana) it is not all that slim-fitted. It is definitely not baggy, but neither is it skin-tight. I'd say that it fits pretty much true-to-size (but just a little on the fitted side).
Mine fit looser then any of my other prAna shirts by a bit. I almost might size down.
Just clarifying on my last review... I am 6ft, 175 lbs and the size Medium fits perfect.
Great shirt! Breathes very well, fits nicely (athletic but not too tight). I'm '6, 175 lbs and the size Medium fits perfect. Looks killer and all the stitching seems to be solid. Definitely recommended!