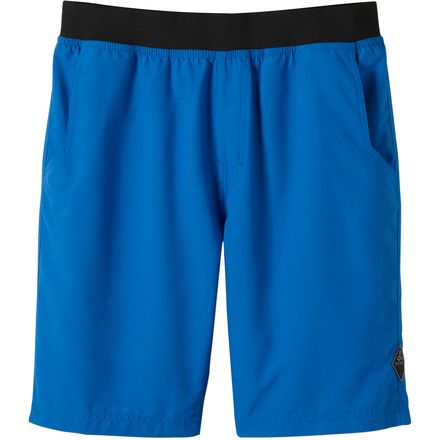 Detail Images

Videos

Community Images
Description
Stay cool, literally.
A favorite among climbers and yogis alike, the prAna Men's Mojo Short brings big-time comfort to complement your balanced chi. The lightweight polyester fabric wicks moisture when you break a sweat, and it dries quickly after a quick dip in a cool mountain stream. Mesh-lined pockets reduce weight and increase ventilation, while the soft-brushed waistband offers all-day comfort.
Share your thoughts
What do you think of the
prAna
Mojo Short - Men's
? Share a...
Great all around short
Familiarity:

I've put it through the wringer

Fit:

True to size
I got these on a whim when I noticed some very old shorts of mine had a rip about 5" long on the backside. And on day one, these were already more comfortable than those old things. Lightweight, great pockets, very breathable, and it's Prana so you know it's comfortable. My abs don't look quite as good as the photo, but I feel great taking these out for a hike.
Utility short
Familiarity:

I've put it through the wringer

Fit:

Runs small
When Prana changed from cotton to polyester for this short I was pretty bent at first. But once you try these on you'll never want to take them off. They're great for pretty much anything including hiking, climbing, working out and just chilling around the house. The packability is superb so they are excellent for backpacking as well.
my go to short
Familiarity:

I've put it through the wringer

Fit:

True to size
These are fantastic, i use these when im outside on the lake, or im inside working out at the gym. They dry quick, do not smell, and can be worn multiple times without a wash. The fit is a little oversized but also its kind of perfect. Would buy a 2nd pair.
2nd pair!
Familiarity:

I've put it through the wringer

Fit:

True to size
I won a pair of these in a contest about a year ago and they have been through hell and back. After countless scrambles, scrapes, crashes, camp fires, and more these things are still in one piece. They look a little more rugged but I have yet to split the crotch like I do on most of my shorts while biking. I am 6' - 190 LBS and the Large fit well.
Best Short Ever
Familiarity:

I've put it through the wringer

Fit:

True to size
I have purchased these for my husband in every color they make. He loves them. Great for walking, swimming, fishing, and he even dresses them up with a nice polo shirt. I think the oldest pair he has is 4 years old now and the elastic is still going strong. He says they are super comfortable and we now get them as birthday and Christmas gifts for family. The color doesn't fade and they have been really tested.
I have a pair of these that are probably 10 years old and still going strong. So i ordered a second. They arrived from Backcountry balled up, dirty and stretched out - the mediums are bigger than larges i already own - so my only guess is that they were used, returned and not checked before being put back into stock. Or the quality of these shorts has gone way down since they first came out.
Decent
Familiarity:

I've put it through the wringer

Fit:

True to size
Two pairs, lasted for a couple years with minimal incident (besides fraying waistband) before they really started to fall apart (multiple tears, ripped stitching in multiple places). I would give them a 5 star review if they were a third the price. Also a little stretch never hurt anyone, especially in a short marketed to climbers and yogis.
Looks like a cool concept, but...any reports on that waistband? Looks like what I'd use for underwear. With no apparent belt provision, that better be one heavy duty elastic there.
Best Answer
The waistband is nice and rather wide so if will hold your shorts up if that is what you are concerned with. Due to it being elastic if you fill the pockets with rocks you may be sporting some crack or lose them completely.... I have bought several of these for the guys in my life and they are all really stoked on them.
Heard great things about these. Sad to find out that the smallest size, XS, is made for a 30 in. waist. Wish I could buy a pair for a 28 in. waist.
I wear a medium and I have a 30" waist. I would think that a 28" waist could wear a small.
Idk... The reviews are nearly unanimous that they fit true to size... A small on the size chart says a 32" waist which is 4" larger than my waist size in jeans. I really don't want to spend $50 on a pair of shorts that may or may not fit.
Hey guys!

I did take a look around and saw that these do fit pretty true to size- so the Small would be ideal for a 30 inch waist.
If you were wanting to just try them and push your luck a little we can create an order for you, ship them for free and offer a free return label if they didn't fit.

Favorite!
Familiarity:

I've put it through the wringer

Fit:

True to size
Comfortable, lightweight, great for everyday and active wear. I literally wear them everyday. I'm getting another pair or two.
Weak Elastic Waist Band
Familiarity:

I returned this product before using it

Fit:

Runs large
I've been wearing these for about 8 years now. My mediums I purchased several years ago fit me perfectly! The waist was sung but not too tight. I had plenty of room in the legs to move. However the new version is way too loose in the waist. They are actually ok until I loaded my keys, wallet, and cellphone into the pockets. The extra weight literally made the pants fall off. I went to the Prana Store in San Francisco and the manager told me that since Columbia acquired Prana a year ago the fit and materials have changed on numerous staple items like the Mojo Shorts. This is unfortunate. The material quality appears to be similar but I won't know how long they'll last because I'm returning them.
Perfect Lounge Short
Familiarity:

I've used it once or twice and have initial impressions

Fit:

True to size
Bought two pairs of these shorts and from the short time I've worn them I love them, from the looks to the colors to the fit. I'm 6 ft 174 lbs and medium fits just fine. The band is wide enough so it doesn't bite and its snug enough the shorts stay where they're supposed to. I'm not sure if I'll wear them hiking but definitely will be my favorite camp short and water short.
Sizing has gone nuts, sadly
Familiarity:

I've put it through the wringer

Fit:

Runs large
I've had a bunch of Mojos throughout the years, and they're my go-to short of climbing/bouldering or chilling. However, the pair I just bought were almost a full size too large, despite still being labeled a Medium. I tried on a Small at a local store, and they fit just like my older Mediums. I need to return these Mediums, as they're no way I could wear them. See my attached pic of my older used Mediums versus the new way-too-big (Green) Mediums. What happened, Prana?
No belt or drawstring, so be sure of fit
Familiarity:

I returned this product before using it
These seem like they would have been very comfortable, but based on a couple of the reviews here it sounded like a large would fit my 33" waist, but they were definitely falling off. I would say the large might fit a 34" waist somewhat loosely just to help people find their size. I returned mine and of course had to eat the original shipping cost plus my return cost, so hope this helps you avoid that.
a bit disappointed in size fluctuation
Familiarity:

I've put it through the wringer

Fit:

Runs large
I own 4 pairs of these Mojo shorts and LOVE them. However, this last purchase of a size Large didn't fit as well as all of my other Larges. It was about an inch too loose.
Backcountry exchanged them for another pair at no cost (thanks guys!), but the replacement pair is also too loose. I don't know if the seamstress at prAna lost the recipe, or what!
Go too summer shorts
Familiarity:

I've put it through the wringer

Fit:

True to size
I wear these shorts all the time. They are light, stretch a bit, have decent pockets, pack up nicely to keep in the truck, are great to work out in, lougne in and even swim in. I am really impressed that they have not faded at all after swimming in them all summer. Easy to take care of and easy to wear. I picked up a few pair to have a nice rotation. They won't let you down. I am size 33" waist and the Large fit great. Medium fit ok, but I have big legs and butt. If you have no junk in the truck then it might work out for you .
I live in these
Familiarity:

I've put it through the wringer

Fit:

True to size
These are always my goto shorts when I am being active. The waist band makes them comfortable under a harness or the waist belt of a pack.
Perfection
Familiarity:

I've put it through the wringer

Fit:

True to size
They work well commando...
New Prana sized for bigger people
Familiarity:

I've put it through the wringer

Fit:

Runs large
I have worn Prana mojos from day one and the size change they implemented five years ago? has made the mojos fit too big or too small. I used to wear size large and they fit perfectly. I am 5'10'' x 30'' waist. Post sizing change, they have added a good two inches to the elastic so the large is falling off my waist, so I went to medium. Now while the waist band fits right, they are so short the pocket mesh hangs out from under the bottom of the legs while I climb. Not to mention it shows a little bit more man thigh than people want to see including myself.

Here is how to tell which sizing scale the mojos are. I cannot speak for other Prana models.
The old sizing scale is evident if the sewn on tag on the left side of the short is with the old logo, with three tongues of fire over the Prana text going horizontally across the diamond tag.
The new sizing scale will have the emblem drawn with one continuous line in the center of the diamond tag with the 'Prana' text going diagonally along the edge of the tag.

Aside from my one major sizing gripe, these shorts are the only shorts you need, they are swim trunks, climbing, hiking, sleeping, lounging, yoga, running shorts and I have used them for all the above.
Great all around shorts!
Familiarity:

I've put it through the wringer

Fit:

True to size
I only own one pair of shorts and you guessed it, these are them!

The elastic band is snug but not uncomfortable. The are light enough to swim and hike in (See Pic), while also being sturdy enough to sport climb and boulder with ease. They breath well and their style is top notch.

I love these shorts and will definitely be getting another pair soon!

Try them out and see for yourself!

Thanks backcountry.com and pRana-awesome products as usual!

(Pic-hiking today in Acadia National Park-Bee Hive)