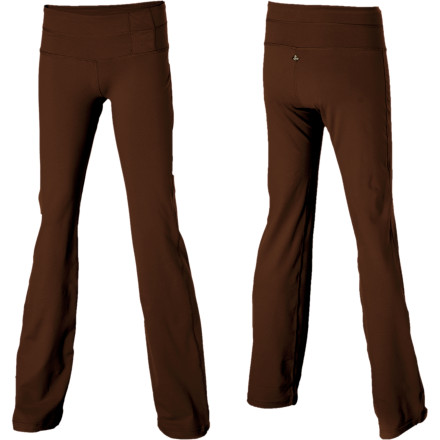 Detail Images
prAna gave the Women's Lolita Pant a straight-leg cut and an offset waistband for a pretty silhouette. Recycled Chakra performance fabric wicks and dries easily as you cool down from your final bridge pose, so you'll look just as pulled-together as when you started your workout.
I have a shorter torso, so when I wear these they have a higher rise on me. It's great for down dog or layering under my harness.
prAna Lolita Pant - love the length
I am 5'9, 130 lb so I purchased the black size small and I was thrilled with the long length! These pants are comfortable, easy to move in and flattering. Definitely a great buy for tall girls!
I'm 5'8", 125lb and wear a 33" inseam. These fit so perfectly. It is so hard to find pants that are long enough. I wish these were available in black.
Yes, too long, but very comfy
As other reviewers have stated, these pants have a very long inseam. I am 5'6" and ended up just cutting 2 inches off the bottom. This kind of fabric does not fray, but the end may curl a little. I don't care because these are super comfy, and of a hefty enough material that I feel confident wearing the without being too exposed.
I'm 5'9 and usually have problems with pants being too short for me. I generally wear a 33-34 inseam and and thought these would be perfect. Unfortunately they were way too long! Otherwise they are very flattering, slimming pants. Sadly sending them back though
These pants were sort of cute, but the fabric was very thin and length way too long for me (I am 5'4" and ordered XS). The quality was just lacking.
I love, love, love these pants! They are the right color of black, nice and long and have a slimming effect as well as a nice wasteband. The fabric is high quality and fits snuggly on the thights to keep "stuff" from jiggling - very well worth the price. I am 5'8 at 160 pounds (losing weight as I type) and bought a medium. I hope this helps everyone.
These were a little snugger than I like. I returned them and bought same size in a different Prana pant that was slightly looser. I liked material and a good length.
Finally a pair of pants that are long enough. The length in the L and XL is long enough for someone who is 5 foot 11. Also they are very comfortable and have a slimming appearance.
The Lolita (available in both pant and Capri versions) features a flat, high waistband with an offset stitching detail that stays put during downward dogs and flatters the stomach line. Its long straight cut provides a sleek, lean look that makes the wearer seem a bit taller. Both the top and pant are made from a durable, moisture-wicking blend of spandex and recycled polyester prAna calls "Chakara fabric."

http://www.womensadventuremagazine.com/your-sport/lifestyle/winter-2011-editors-choice-awards-yoga/