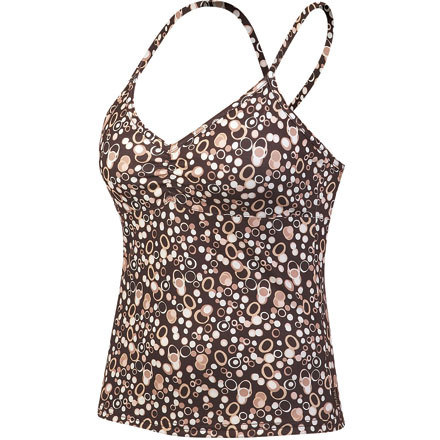 Community Images
Definitely not for those of us with larger chests, or those of us that want to hold on to our modesty. It is extremely low cut and the shelf bra is a little useless with the too-loose shoulder straps. In down dog I find myself looking at more than my yoga mat and have had to buy sports bras to make it work. However, they are very cute and a nice under layer can make it work.
I liked the print, but fabric is kinda silky.. sorta not what you want when climbing.
Also disappointed with the fit
This is a really cute top and a beautiful print, but it is flimsy and best for a very slight build as the shelf bra did not nearly have enoug support and the top overall is a bit skimpy. If you have a very slight dancer build, this top would be beautiful, otherwise, skip and get something with more support.
I usually wear a size S or M (bust is 34AA) and the size M fit horribly. It was too tight through the ribcage and waist and looked very strange in the bust--flattened me out and overall looked awful. Too bad, as I liked the fabric and print.
best for the tall and the busty
While the fabric is lovely, the cut wasn't for me. I'm average height and 34 b/c, and the size small was long long long long, while giving absolutely no support in the built in bra. I loved the design (plum venetian) but I wasn't at all interested in such a loose top. The cross back straps are very comfortable, however. For someone more than average height and with some decent bust, this shirt might be just perfect.
Love the fabric and prints!
I have gotten the Lola top in several prints and love them all. Nice coverage and no show through. Brushed fabric feels warm when you need to be warm and sweat evaporates and leaves you feeling less ooky. Nice length to NOT ride up your back in down dog and I don't feel like I'm a free peep show in other poses. Favorite styles are still Sabin Racerback and the Katie top (tank with 2 straps) but Lola is great too.
Sizing is off this season
Each season I purchase a few Prana tops because I climb and I find that Prana's patterned fabrics offer a nice change from all the solids out there.

This season, I ordered the Lola in the Capri Pop pattern in size S. The top was two inches narrower than my Lola tops from prior seasons. I also ordered the Sabin Racer in Capri Blue Flower in S and it too, is two inches narrower than my other Sabin Racers! I am returning both and wondering if this change in Prana sizing is a permanent one and whether I should be ordering Mediums in the future.
Love all the Prana wear. Great fitting top for pretty much any sport. Washes well and is true to size.
I ordered this top because I have 2 others from previous seasons in a different fabric that I really like, but the fabric of this top wasn't great. The fit of the size medium was what I would expect, but the fabric felt thin and didn't offer much support for an athletic top. I returned the top and purchased 2 other styles in solid colors where the fabric was much nicer (less recycled content, I believe). I am often willing to pay for prAna quality when it comes to climbing, yoga, and workout clothing, but this top didn't seem to be worth the prAna price tag. Too bad, because the style is cute, and prAna usually gets it right when it comes to style, function, and quality.
perfect fit. Soft, comfy. Very stylish. Holds me up nicely. Would recommend to anyone
I absolutely love this top!
This is a great top for just about anything you enjoy. Yoga, rock climbing, run, bike, or just wear out casually. It is feminine and for a smaller frame like me doesn't require a bra underneath. I highly recommend!
prAna LoLa Sport Tank and Katie Tank
I bought two of the LoLa tops and one of the Katie tops for climbing and general summertime wear. Even though I am considered "petite" size (5' 4" and 125 lbs), I ordered M sizes in them all because my trunk measurement around at the bust is 36". I rated these tops as adequate for the job because although the prints are beautiful, the sizing was VERY inconsistent. One of the LoLa tops fit me tightly while the other two fit around the bust but were looser around the waist. I do consider the breathable material the redeeming factor for these tops, just do not plan on much support for a high-intensity activity.
So, I would say order this shirt based on your boob size. I ordered a little too big and- well, for some yoga poses I get a little nervous about hanging out.
Pluses: the straps have full clearance of my shoulder blades, which I am a huge fan of.
Minuses: maybe I am supposed to hand wash this top but either way the material seems to be pilling more than I would think for something I have owned maybe 4 months tops.
Good for low impact sports but I wouldn't recommend for running in most cases.
I love the style of this shirt... but...
The fit is a bit weird on the lola, I must between a small and medium, because neither size fit properly...

Also, the color photo of the port top is misleading, it's much more maroon than plum.
Picked up one on sale and went back for more!
This has been a great all around top for climbing & aerobics to matching with a skirt for the beach. As from past comments, the torso is nice and long and isn't around my belly button halfway up a rock wall. I'm 5'9" and a 36A and a medium fits great. Only complaint to prana is that the lola dress in medium doesn't have the same fit as the top.
i love the supplex fabric but the polyester (prints) is not as nice.
5 stars for this in supplex, 3 stars for the polyester.

I love this top in the black solid & even the lake pebble print i have, I wear them all the time to the gym, as a base layer when skiing, even as a cute top with a skirt in summer. So I ordered the port & expresso monet versions and while the pattern is cute, the fabric is just lacking, it's not nearly as supportive or nice feeling. it's great that it's recycled material, but this feels like it won't keep it's shape at all. it's MUCH thinner than my black (90% supplex 10% lycra), and I'm wondering about it's sweat wicking capabilities (the tag says breathe like the other, but 92% polyester and 8% spandex)...

i'm a 34D, with a 26" waist and the small fits me perfectly. Smaller chested girls could probably go without a sports bra with the supplex version of these, but i doubt it with the polyester ones.
I like the top, it fits well and I like the pattern as well.

My only complaint is the straps do not stay in place when I am doing yoga poses. They seem to shift out of place and I have to re-adjust them.
Unanswered Question
What is the difference b/t the Lola sport...
What is the difference b/t the Lola sport top and the Bella sport tops? Is either of them longer than the other to offer more tummy coverage?
This top is perfect for teaching yoga, it is comfortable and looks good. It does have loose straps though, so not the best top for upward facing dog!