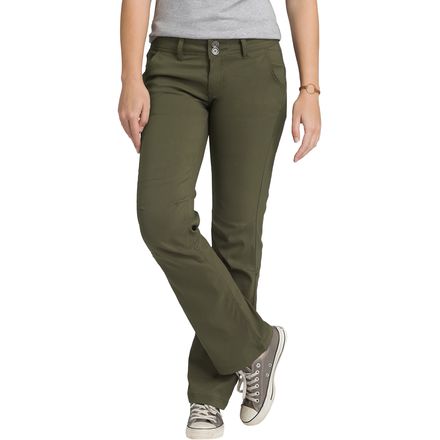 Detail Images

Community Images
Description
Up for any outdoor adventure.
The Prana Women's Halle Pant puts up a versatile performance for climbers, hikers, and travelers. It stretches for unimpeded mobility, sheds water to keep you dry, and resists wrinkling for convenient packing. A relaxed fit readies the Halle for uninhibited movements, and articulated knees help you step over boulders with ease. Prana reinforced the knees to keep them strong in chimney climbs, and roll-up legs accommodate warmer days.

Stretch performance woven fabric
DWR finish
Relaxed fit, articulated knees
Roll-up legs
Reinforced knees
Hidden stash zip pocket
I love these pants! Wore them on a 3 day backpacking trip in CO, they still looked clean after 3 days of wear! I also wear these climbing and they're pretty comfy. I'm 5'9", 145lbs, I got the 6 reg. I usually buy long sizes for all my pants, but the reg is long enough for me. The hem touches the ground, no excess. The only thing I would say is that others have complained about is the buttons. I had one pop off in the wash, but I sewed it back on, no prob! You could just add your own reinforcement thread to prevent the button from coming off. I like these pants so much I got a different color, now in grey and black!
Great pants
Familiarity:

I've used it once or twice and have initial impressions

Fit:

Runs small
I bought these and the Lined Halle Pant at the same time. I own another pair of Prana pants which are more casual. I love all of the pants but tend to go back and forth on sizing with Prana. I ordered a 2 in both the Lined Halle and Halle pants. The lined pants fit perfect and the regular are a touch tight in the waist. WARNING: It was just Thanksgiving - maybe that's why. I am keeping the pants as I think they'll stretch a bit. They weren't too bad when I took them to the climbing gym, but had that extra pinch to encourage me to, perhaps, do some extra crunches while I'm there. ;) Also, the buttons (there are 2) on these pants are a bit stiff and hopefully will loosen up over time.

Overall the quality is great and the fit in the rest of them is perfect. A great amount of stretch for a climbing workout. I really appreciate the snap that allows for a capri cut. If you love these pants, grab the Lined Halle. They are so comfortable and fit/look good too!
I want another!!
Gender:

Female

Familiarity:

I've used it several times

Fit:

True to size
Looked at these pants for weeks, finally bought them. They are amazing. I'm around 5'2 and about 125lbs (I think) and I got a size 2 short. It fits perfectly, they're definitely fitted so if you like baggier pants then get a size larger. So far I've warn them for climbing, hiking, playing soccer and other mini adventures. They stretch great, and they're super breathable, but a really nice pant for the cool fall weather and I'm sure I'll wear them all winter. They stay nice even after wearing for a long while and not washing. I definitely want another pair, and I have already recommended them to friends.

Happy Adventuring.
Great for the gym AND outdoors!
Familiarity:

I've used it several times

Fit:

Runs large

Size Purchased:

2 Regular
These are my go to pants for any sort of climbing. I'll probably end up buying a second pair to rotate out. They're a little long in the leg, but that's probably because I got the regular length. These pants are so comfortable, and I can layer thermal leggings underneath for climbing in colder weather without restricting my movement. I could have gone down a size, but it's not the end of the world as they have a tie on the inside.
My Favorite Pants
Familiarity:

I've put it through the wringer

Fit:

Runs large
These guys have spent a couple hundred miles on the AT, down handfuls of technical sandstone canyons and up crags, and outlasted field work from low desert to high alpine in every type of weather you could imagine.
I'm usually pretty rough on my stuff and expect gear and clothing to hold up to it, and these pants have managed it. Honestly, due to reviews at the time, I was not incredibly hopeful. Toward the end of my AT trek, one of the buttons did come off, but it was where the top of hip belt closure rubbed and it was simple enough to sew back on. They definitely have some small tears and battle wounds, but I play and work hard in some tough terrains. I expect these pants to last awhile, and when they are inevitably out for the count I will absolutely buy another pair. I LOVE these pants.
I'm 5'4". Is short ideal or reg length?
It depends on your inseam! Short inseam 30", Regular inseam 32"
Large for a smaller woman
Familiarity:

I've used it once or twice and have initial impressions

Fit:

Runs large
I am an athletic build and weigh around 112 lbs. In REI brand zip off pants I wear a size 2 short and they fit pretty perfect. I ordered the smallest size Prana has for women, a size 2 short, and it wasn't small enough around the waist nor short enough. A 29/29.5 would have been a better length since the pants are meant to be worn around your hips. Who knows what the actual waist measurement for the garment is because of the ineffective way women's clothing is sized. These pants sit on my hip (actually worried they may just fall right off), which measures about 31". The cinch method they have used for these pants doesn't work. Instead of using the exterior pull like they do for the men's pant or like they do for kids with interior elastic thru the waistband and a button; they use this ridiculous string that you have to tie on either side into a slip knot. Even then they don't stay cinched, as the slip knot will slide into the hole. The fabric is great and the waist band is wide (no muffin tops), and I like the way you can roll up the pant and how it can be dressed up or down. But I don't like the fit, AT ALL. Still undecided as to whether I will keep or return.
Pretty Cool
Familiarity:

I returned this product before using it
I actually haven't worn these at all but you can tell they are very high quality, fashionable and comfortable. I have long legs and a rather shapely badonk. These would have been great except I like my pants to be rather high waisted (mom jeans from the early '90's high). If I just wanted loungers these would be great but they hit on my hip bones and I would have needed a belt so my crack didn't peak out when I bent over. Other than that the length was AMAZING! I'm 5'10'' and ordered the 12 Talls and had an extra 5 inches of material on the feet. No issue for a taller girl. I probably would have been fine with a regular or just to have them hemmed up a bit.

Backcountry has been extremely great about the return process too. Definitely going to buy from here again!

Terah Van.
Like Backcountry, Halle Pants Rock!
Familiarity:

I've put it through the wringer

Fit:

True to size
Prana pants fit my hiker/cycler body like no other brand. The Halle pants are flattering, comfy, cute and practical. They are tough and let me do the things I love and don't make me look like my name should be Helga. I like the drawstring waistband, the ability to wear them as capris or pants, the water resistant & stretchy material, and the flexible sizing. I love these pants, I love Prana, and I love lightening fast Backcountry (had them at my door in 24 hours with 2 day shipping)! I'm ready to put a goat on everything!
just as awesome as you are thinking.
Familiarity:

I've put it through the wringer

Fit:

True to size
What everyone else has had to say is dead on. These pants rock.
They were my only pair on pants for four months of trekking across South America. They held up amazingly. and i still wear them and they look great even after such harsh wear (daily with infrequent washings).

Holds up in hurricane
Familiarity:

I've put it through the wringer

Fit:

Runs large
I've had these pants for almost a year. They are my go to pants for hiking and when I'm not feeling denim, but if I go anywhere for a trip, these are in my bag. I work Triathlon events outdoors for at least 4 days... I only bring these pants for the entire weekend.



Material:

In the middle of Hurricane Joaquin, my rain jacket and these pants killed it. I thought I would be out of luck since they aren't rain pants, but the water beaded up and rolled off. And I've washed these pants a ton already! I was pleasantly surprised. I probably wouldn't submerge, but they were great for standing outside in the rain in.



Fit:

FINALLY! A pant for short girls! I am 5'2" 130 lbs with a bigger butt and thighs... Size 8 (SHORT) is fine but I also own a 6 (SHORT) and that fits the best... They do stretch a bit. I find that with the 8, I tie the waist tighter to hold them up... The give a little after washing. But I like to layer under them when I'm outside all day so I like some extra room. I can fit running shorts or tights under them comfortably. Favorite feature is that they don't drag on the ground (when you wear the right size)... If I don't tie the 8 tight enough, they start to sag a little. This happened to me the last two days (SEE PHOTO) and they dragged a little. No real wear and tear after hours of this. Tough pants.



Style:

I have these pants in 3 colors and I wear them all the time. They are super flattering and make everyone's butt look amazing. That's the important part.



They're not your typical hiking pant with no give and ripstop nylon. They repel water, don't rip or tear, and stretch with your movements. And they're so comfy!



Get 'em. And size down.




Where have these been all my life?
Familiarity:

I've used it several times

Fit:

True to size
I usually hike in yoga pants. Several big scratches and rainy afternoons made me decide to try the Prana Halle Pant. Kind of life changing. The fit is really flattering - almost like a pair of your favorite jeans - but the fabric is AMAZING. Resists water, wrinkles, stains, lightweight....what's not to like? I liked them so much I got the lined pair too for colder days.
Gave as a gift
Familiarity:

I gave it as a gift but have feedback to share

Fit:

Runs large
Mom says: "I love these pants! Got them for a hiking trip and wore them everywhere. They are great for hiking, but don't scream "tech" if you wear them everywhere else. As with most things Prana, they run large. I bought size 4, (5'6", 128 lbs.), could probably have gone for a 2. They wash well, but keep their shape through multiple wearings if you're on the trail. "
Because short people are people too!
Familiarity:

I've used it once or twice and have initial impressions

Fit:

Runs large
So I will admit that I haven't worn these pants out in the wild yet. As a Hobbit sized adult finding pants that fit can be difficult . Pants that don't go 4-5inches past my feet and require a number of rolls can be a challenge. I was looking for something for hiking and traveling that wouldn't drag on the ground. Nothing worse on rainy/wet days than pants soaking up to mid calf. Prana clothing typically doesn't fit me, but after trying a multitude of the other top brands I widened my search and found the Halle Pant which comes in multiple leg lengths. The short length fits my 5'2ish (yes that is probably an overestimate) body perfectly. I love the fit so much I am even tempted to get these in multiple colors.
I still think Prana runs fairly big, in some of the other big outdoor brands (Marmot, Patagonia, Black Diamond) I was fitting into a 4 or 6, but in Prana I easily fit into a 2.

For MUSCULAR girls!!!
Familiarity:

I've put it through the wringer

Fit:

True to size
I'm a tall girl. Since I started working out more and hiking more my legs and other parts have gotten a little more girth to them. I usually wear skirts due to this and my friends even joke about how often I split seams in clothes because material won't stretch around my muscle. I've been looking EVERYWHERE for black pants (I waitressed, and doesn't everything require black pants) for YEARS and haven't been able to find any long enough that would accommodate my curvy stature. I found these at another outdoors store originally and the CSR told me that they didn't come in longs. Well lo and behold they DO! I normally wear a 37" inseam, but this works well and looks girly enough without being too rugged. I am definitely going to stock up on these!

Thank you SO MUCH!!!
Oh Heck Yes
Gender:

Female

Familiarity:

I've put it through the wringer

Fit:

Runs large
Love, it's what makes the Halle pants, Halle Pants.

I'm currently rocking my 2nd pair of these bad boys and I can't get enough! I'm pretty tall and get all my height from my legs (yes i have a weirdly small torso) so I often have a hard time finding adventure pants that will fit my waist aaaand are long enough. Prana answered all my prayers with these incredible pants .... that come in long.

I primarily use the pants for hiking and climbing and each pair has lasted well over 2 years and countless cross country adventures. The fabric is light weight and has a small amount of stretch so they keep their shape and fit even after being worn for 4 days straight. Additionally they manage moisture like a champ and are water resistant. Trust, I have spilled many a beer on these pants and I can essentially wick it away and whatever gets absorbed dries super quickly.

The pants run a little big and will stretch a bit so I recommend down sizing if you can manage it. I'm 5"9 ~120lb and I wear the 0 (I started off with a 2 but downsized).

I do have one complain with the pants though ... the buttons. At some point one or both of the waist buttons will pop off. While this is not a total nightmare as the pants do have a drawstring, it's not the greatest. That being said prAna stands by their clothes, so if you're not needle and thread savvy you can send your pants in and they will repair them for you. That warranty extends to other clothing malfunctions as well. I split the butt seam on the these pants during an epic and on a whim I brought them into a prAna store ... the manage gave me a brand new pair of pants no questions asked.

In the end these are a rad pair of pants from an even radder company - I can't recommend them enough!
Best Climbing/Hiking/Lifestyle Pant
Cute hiking pant
Familiarity:

I've put it through the wringer

Fit:

True to size
All around the cutest climbing hiking pant i own. I wear these around town and they don't feel as techy as some of the other DWR coated pants I own but still have that technical story to them. All around I am a size 4 and these pants fit true to size.
Durable, versatile pants
Familiarity:

I gave it as a gift but have feedback to share
My wife wears these pants almost anytime she's working or hiking outdoors in the summer. They're fairly lightweight, but have held up to a summer of heavy use with very little wear.