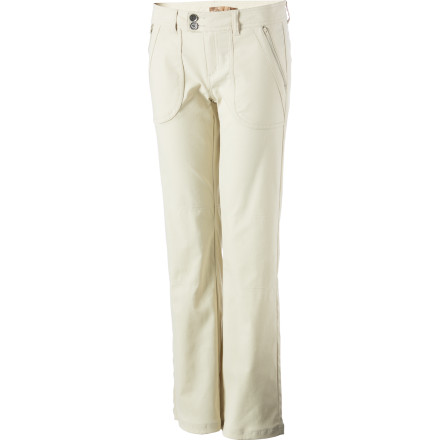 Detail Images
Part casual errand-runner and part weekend day-hiker, the prAna Women's Essex Pant is as functional as it is eye-catching. Designed with quick-dry nylon, a small amount of stretch, and water-resistant treatment, the Essex delivers a airy, flowing feel that pairs well with a casual tank top on warm fall days or with a light sweater when the season is in full swing. Wear it with casual kicks for a stroll downtown or adjust the bottom cuff zips to maneuver this pant over your hiking boots for a quick change on trail.
Great pair of hiking pants
Gender:

Female

Familiarity:

I've put it through the wringer
Great fit, true to the size, very comfy for hiking, the colour is awesome :)
Nice and comfy pants
Gender:

Female

Familiarity:

I've used it several times
I use these pants for travel and hiking. They have just the right amount of stretch without losing their shape and allow a wide range of mobility. I have a 33" inseam and the length fits perfectly (not flood pants). Not only are these pants great for hiking and camping, I also wear these dressed up a little bit with a sweater when I travel as they are light to pack and don't wrinkle. They are a bit big in the waist and require a belt but I don't mind because the fit is perfect everywhere else.
Wonderful pants! Fit weird
These pants are soooo comfy, in terms of both the stretch and the fabric. And they are fantastic for climbing. But the fit is a little odd. I'm 5'7, 140 pounds and got the size 6, which almost always works perfectly for me. These are snug enough in the thighs that I wouldn't want to size down, but suuuuper loose in the waist and about two cuff-widths too long. They're perfect for climbing (they can be rolled up and a harness makes a great belt). And I love wearing them around, except that the waist thing feels sort of awkward. I'm always yanking my pants up and pulling my shirts down. The pants' strong points make them worth getting tailored; it'll be the first time I've had clothing altered in my life. Mostly I'm just confused about the proportions, because I'm a pretty typical athletic build for my size. The hydro color is very cool - a little more blue-gray than the teal shade that showed up on my computer screen.
I just got these pants and I absolutely love them, I was a little bit weary at first because they are my first 'outdoor' pant but after wearing them for a day I'm hooked. They are not too high wasted but they come up enough to cover your rear when bending over... The material is super comfy and stretchy as well. I am about 130 & 5'4", I bought the size 4 & they fit well (not super tight) they are however a bit long- but easily roll-able. I bought the hydro color & it's really nice. Hopefully I will be buying another pair soon!
Just got these and I really think them
I just got these a few days ago, so I can't speak on how things are long term, but in the short term I really like them! I'm 5'6", 145 pounds and I got the size 8 which is a good fit. They are a bit snug in the butt but I think that's what is fashionable at least for young people. They are a little long for me since I have short legs, I think you could roll them easily. They are very flexible and nice material. It poured rain today while I was out with them and they are definitely waterproof. I didn't think to look at them until about an hour of getting out of the rain, and they were dry again. They are higher than I normally buy pants - they come up just below the belly button for me, but I don't think they look like they are meant for older women or anything. I'm 22 and wore them to college today with a black tee-shirt and converse and they looked great! I got the grey-blue by the way. They are a little less bright than the picture, but I think it makes them more neutral. Also I should mention at first I was finding the seam at the waste a little bit itchy, but it's not that bothersome. I plan on wearing them for travel, and when I tried them on with a money belt that was comfy too. I should also mention that if you wear regular underwear these might show some lines because of the material.
Is this a low or mid-rise pant? Also, is...
Is this a low or mid-rise pant? Also, is it likely it would fit a curvier woman with hips and a butt?
I would say it is some where between low rise and mid-rise, I am a person who has a pretty strong preference for low-rise pants and the prana essex fits comfortably for me. I'm not very curvy but I do no have a flat but either, they fit pretty well and for me have a little extra room in the rear, so if you are a bit curvier I think they would be just fine. Super comfortable!!!