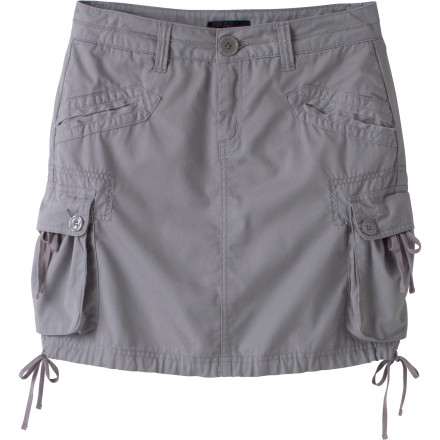 Detail Images

Community Images
The prAna Ellia Cargo Skirt hits you with the sweet trifecta of style, comfort, and earth high-fivin'.
Lightweight organic cotton keeps things earth friendly
Enzyme wash means this skirt feels soft right off the bat
Side cargo pockets and twill pulls at the bottom hemline for a casual, fun look
Just-above-knee length for comfort while you travel
Oh how I wanted to love this skirt! I have a few items from Prana and they all fit small. I guess as a yoga company they forget that some of us have curves. And this skirt is not meant for curves! I find it fits extremely tight around my hips, but then there's all kinds of room in the waist. And it's a high waist, so it's really obvious under a shirt that there's all this extra material popping out. The fabric is nice, durable without being heavy. The hip pockets are totally useless as the skirt is so tight in that area, but the cargoes are nifty. If you have a straighter figure, I can see this being a totally cute skirt, but it may take a trip to the tailor's to make this useable for me.
don't know what size to get-----I fit...
don't know what size to get-----I fit perfectly into size 6 Athleta and size 6 Horny Toad skirts, but both of them had some stretch.
Hey! I wear an 8 in most Prana fitted pants and Athleta skirts/pants. I have this skirt from last season in several colors and find the 8 a little big and can slid it right over my hips without unzipping. Its perfect for a day, but on a trip where I need several uses out of it I definitely prefer the size 6.
This skirt was the first item I have ever purchased from Prana. Its been my favorite item all summer. I have a large backside and it fits great.
I love this skirt for so many reasons. It goes with anything, t-shirts, tank tops, hoodies....also, I enjoy the pockets. They make it easy to carry money, ID, keys, etc...when you are places you don't want to carry your bag. They will even make a convenient spot to carry a beer of your choosing. A perfect summer skirt.
Casual with character defines this organic cotton skirt. Keep your cell, credit card, & I.D. in the pockets and cruise easily. I like the natural stone and the grey color is close to a muddy grey which I love! Bought two different sizes for weight change purposes. I change up my sandals to hiking shoes when moving onto my next gig. Any long fitted shirt goes well with the comfortable light~weight skirt. It washes well like new again!
Buy it, wear, and get checked out!
I really like this skirt. It fits well and is fun with tights and a flannel. I just wish it was made out of something other than straight cotton because it wrinkles a lot very quickly, and doesn't stretch at all.