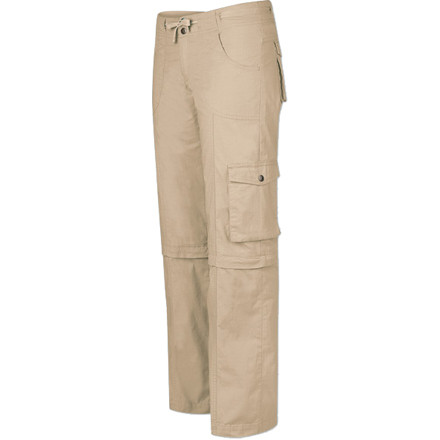 Detail Images

Community Images
They fit perfectly for me (you could say I have well-developed glutes and thighs) and the material is way comfy!! They're a bit tight around the hips down to mid-thigh, but not in an uncomfortable or restricting way, the fabric moves with you and really breathes, but still keeps you warm. The fit is really flattering to your curves but it's still performance wear, so you can look your best in those photos and hike up mountains at the same time ;)
I bought one pair, then another in a different color. I'm back again looking for a third. They're comfortable, stylish and practical. I practically live in mine. I wish the newer model Prana Convertible pants had the same cargo pockets near the knees.
Unanswered Question
Hi guys, May I ask when you expect to be...
Hi guys,
May I ask when you expect to be getting more of these in? Absolutely the best product I've ever ordered from BC. Hopefully we will see more soon.
Perfect convertible pants DO exist!
I love pretty much everything Prana makes and these pants are no exception. They're not just a convertible men's pant sized differently. These are actually shaped to fit a woman's body. I tried on many pairs of convertible pants and these were my favorite, hands down- they're actually cute and flattering! I've worn them hiking and backpacking and have even worn them around town with the legs zipped off. When they're zipped off the short hits the bottom of my knee. They're also really long- I am 5'11" with a 34" inseam and ordered a 12. With hiking shoes on they're just off the ground. They're a heavier material than the Bliss shorts and don't stay as dry or dry as quickly so they're not great as a summer pant, but when it's a bit cooler they're fantastic. I wore them in the Uintahs in July (65-70 degrees during the day) and they were perfect. They have plenty of stretch for off-trail hikes and bouldering. The mosquitos couldn't get through them, either! They do run big so order a size down.
Highly recommended, versatile pant!
I love these pants so much I have them in 2 colours. They do fit big, so I wear a size down (2 in these when I'm usually a 4 at 5'6", 125lbs). I wear them to school/work, climbing, hiking, even summer mountaineering, and they've outlasted just about anything and are surprisingly durable. The zip off to shorts is the best thing ever. And they look great! They actually appear to make me have cheeks when I don't :) I also have a short torso and the rise is just perfect.

The only qualms I have with these pants is the length (to make them longer I undid the hem and attached a reinforcement fabric inside) and the fact that different colours apparently fit differently: the size 2 greys I bought are much tighter and slightly longer than the size 2 blacks. Strange. I also pulled out the drawstring and use a webbing belt.
These pants are really comfy and I like that the fabric is stretchy. They definitely run big so listen to the reviews and go down a size.
You CAN look cute when you hike!
I love these pants! I live in Jackson Hole so I'm out hiking all of the time. I am 5'4", 130 lbs and the size 6 fits perfect. The material has just enough stretch to give you that extra room when hiking or climbing. Super flattering zipped on or off. I definitely recommend these pants.
These pants are super great for hiking and being out doors. I'm 5'4" and 130 pounds and a size 8 fit pretty well right out of the dryer. However they stretched out quick though, got baggy and a little long as I wore them. I think I'm gonna have to hem them and they'll be perfect. Super cute when I zipped them off though. They dry quick which was nice as I went tromping through the snow in the middle of June on my last hike. Thinking I want to buy another color or two.
These pants are the best ones out there for me so far. I am 5'4" and 130 lbs, usually wear size 4. Fit is slightly loose which I like, and the length is just a bit too long. However, they are extremely comfortable! It allows for movement and doesn't pull/rip anywhere, kinda like hiking in your favorite sweats. One think I wish was different- the zipper falls right below my knee, which means every time I lift my leg high it rubs against the knee, which can be annoying. Otherwise just like I said, it is a great pair of pants
I absolutely love these...but I had hoped that they would fit and be perfect. I am 5 feet tall, 126 lbs and ordered a size 6. I had my mother send them to me in korea and they were a little big...after wearing them twice, they are now huge.
So, I am ordering a second pair in size 4 and having her send them to me. They are costing me a fortune to buy two pairs and have them hemmed...but I do love them. Just be sure to buy small!
These pants are really stylish for hiking pants. I love the way they fit, the low rise, etc. I am 5'6" 118 lbs, and the 2 fit perfectly, except they are barely long enough. I am afraid to put in the dryer.
Unanswered Question
Has anyone else found inconsistent sizing...
Has anyone else found inconsistent sizing between different colours? I bought these awesome convertible pants in black in a size 2 (usually I take a 4 but the 2's fit perfectly), loved them so much and bought them in grey in the same size. But the size 2 greys are much tighter fitting than the sz 2 blacks!

Now that I've worn out my black ones I want to order them in olive but I'm not sure order the 2 or the 4...
I bought the green color and now I have the stone color. They were the only pants I used while on a trek in Peru. The stone color can noticeable get dirty scuffs easily but the green pants hides dirt scuffs well.
I bought these in a size 6 in the stone color. They're like a light tan. I wear a size 5/6 normally, and these are true to size. They fit a tiny bit loose, but you want that to move comfortably around in. They're long on me but, I'm 5'1 and 120 lbs, so I expect to have to hem all of my pants. I'm not a high or mid-rise type person, so I got these, and they look awesome. I would definetly recommend these to a friend. Overall I give them 5 stars!!
Bought the olive color and I love it. Not too dark or too light. The fabric is a nice weight (sturdy, but not heavy and not so thin you can see through it). I like that the fabric has some stretch to it. The fit is perfect, true to size. Fit is flattering, but not too tight. Planning on buying a second pair.
I really enjoy wearing these pants. They are super comfortable, a little roomy at the waist, but then again it comes with a waist tie which holds the pants up nicely without bunching up. I'm 5'2'' at 108 pounds and I purchased the extra small/size 2. The sizing chart is pretty accurate but I think I might get away with a possible size 0 if they made it, but unfortunately they don't. I purchased the Olive color and am now considering purchasing the stone color pants. I love the zip off bottoms, which leaves the length of the pants just covering my knees, a look I love. If they were any longer, than the pants would make me appear shorter than I already am! Also a plus is the fact that these pants are made of nylon and spandex, which dry quicker than cotton, perfect for my three week Peru trip coming up soon!
I loved these pants but I normally wear a 10 so that's what I ordered and I can pretty much pull them on and off without using the button and zipper...I will have to try an 8 if I can find them. They are super cute, I love Prana pants and own other cargos and the cammo pants.
Convertible Pants below waist
Well, I like everything about the pants but the waist line. I would like the waist to be higher so as to be more comfortable for hiking, wearing a belt to hang items from, etc., etc. The quality looks good and they are stylish but I can live without stylish if I can have better function.
If they made these pants in seven colors, I would own all of them. Instead, I have to settle for just two. I never want to take them off. They're super flattering on my (5'5", 125, size 6), just the right length, sturdily made and with just enough give. I wear them for hiking, dog training, camping -- just about anything. I can imagine they'll get a little warm in the summer (the fabric is thick), but for Southern California in the spring, they're ideal.
Unanswered Question
thinking about purchasing a size 2, but...
thinking about purchasing a size 2, but would really love a 0. I am about 5'3'' and 110lbs... I am little. Any suggestions? The bliss capris is size XS are a little roomy on me... if that helps with suggestions?