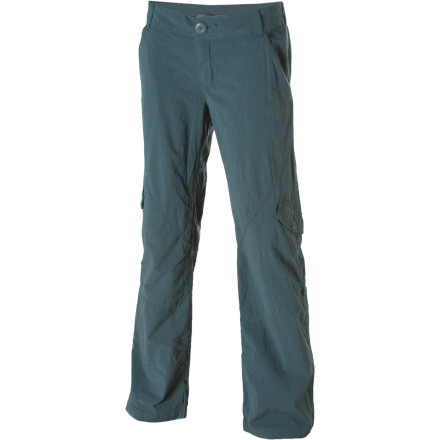 Detail Images
Wearing the same clothes for a week straight is kind of gross when you're in your hometown, but, when traveling, it's the only way to go. prAna made its Women's Cadence Cargo Pant with a blend of fabrics to comfortably escort you through every day of the week.
Soft cotton fibers give a casual appearance and breathes well to keep you cool
Rayon lends the pants a degree of wrinkle-resistance, making them travel-friendly
A small amount of spandex gives the pants a slightly stretchy feel for a comfortable fit all day (or week) long
Legs feature side tab closures so you can roll up the cuffs and wade in a stream or boulder in the local park
Run Huge and Stretch with Wear
These run HUGE...and they stretch out about a full size in waist after a few hours wear
Prana makes great cloths and these are very nice. I got a size 10 (my usually size for prana) and they are a little big in the waist, but a little tight in the thighs. Kinda weird. I'm still keeping them and I like them but they do have a bit of an odd shape.
Very comfy pants. They do stretch out while wearing so a belt is a must. The length is great. I am 5'8" and most pants are a little too short. These are on the long side, but I like that! Will order more.
prAna has grown but with so much love....
prAna used to run a bit small so don't order up like I did. I still love the pants, so airy and roomy for climbing, hiking, or just sitting around.
At 5.6 and 142 I usually fit into 8's for most brands except for prAna, this time the 10's were too big, at least for this specific pant.
These are very comfortable. As others have stated, they do stretch out a lot, so I wish I had bought a size down.
good length and very comfy
I am 5'10" and the length on the size 6 is perfect. They seem to run a little big and since they stretch a belt is going to be necessary. i've yet to hike in them but will be doing so shortly. will come back and comment on my review post-hike/camping trip :)
Great pants, but far too stretchy
The initial fit and comfort of the cargo pants are awesome! Moves freely, not restrictive and has a very nice fit. But after just an hour, the pants really stretch out. It quickly goes from perfect fit to being able to slip down over my hips with the button still in place. Even with a belt, it is far too big. I normally wear a size 4 or 6 depending on the brand. The 4 in these pants was way too big. Maybe I'll try the size 2, but the material is just way too stretchy. Too bad because I really love these pants when I first tried them on...
I love the way these pants fit, and the fabric is so soft and stretchy, but I am concerned about the durability. Anyone have these for a long period of time? How do they hold up?
I had to send these back because they were way smaller than described on the sizing chart. They stopped about two inches above my shoes and were so small in the hips and legs that the pockets stretched out. I bought these for climbing but realized even if they did fit, the thin fabric would probably tear on the rocks.
These pants are fabulous. They're insanely comfortable and all sorts of cute. I'm traveling in Spain and Europe right now and they are so great for traveling. They pack light and dry quickly. The only problem I have with them is that the waist is really loose and they stretch easily. I wear a size four normally but would probably go down a size because they are so loose.
I absolutely loved these pants - if only they didn't fit so tight in the thighs! I'm athletic and have muscular thighs, not heavy, but not little toothpicks either, just definition. (I'm 5-8" 138# and bought a size 8. They fit wonderfully everywhere 'cept the thighs were just too tight for my liking (I don't like skinny jeans either!) Even with the stretch, they could have added 1/2" more fabric to the thighs and I would have kept them. The fabric is DIVINE and drapes well! If you have model-thin legs then you'll love these!
I love the look of these pants, and the cool, breezy fabric. What I"m having a hard time with is the oversize waistband combined with the stretchy fabric. I took the buttons in as far as I could without making the zipper pooch--about an inch. The waistline sits comfortably right out of the washer/dryer. But as soon as I wear them 20 minutes, the fabric gets so loose I can pull them down over my hips without unbuttoning. I have to cinch them up with a belt--and they DO pooch. So let's say the waist fits hugely large--and yet the thighs are nevertheless snug--thighs true size 2 and waist I'd put at size 8.
What is the inseam for the size 8? This...
What is the inseam for the size 8? This info should be provided.
Size 8 is 30.5 - 31" ..

http://www.prana.com/cadence-cargo.html
These pants are versatile, lightweight, stretchy, and comfy - all great things for a climber/traveler! However there were a couple things that made them not quite perfect for me.

I ordered a size 2. I'm about 5' 5" and 100 lbs. My legs are long and skinny yet I have wide hips. These pants were not as long as I'd like them to be, I feel a little uncomfortable wearing them with regular shoes because I'm afraid they look like borderline "floods" but since you can roll 'em up and buttom them as capris I'm willing to ignore the slight lack of length. Also, despite the fact that I have wide hips, the pants are still too wide at the waist... probably due to the stretchiness. This is something I can easily fix with a belt, but I would prefer not to have to wear a belt with my climbing harness on.

Overall, I'm happy I got them! :)