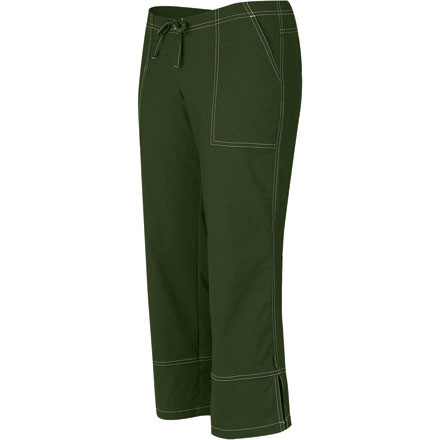 lovely, soft, almost tough enough
I love these capris for climbing. They are soft, stretch, dry quickly. I'm petite (5'4"), and the pants are way too long, but the capri version is perfect for climbing--I never step on my pantleg. Although they don't quite come up to the belly button, they don't feel like low-rise pants at all.

The only negative point is that they pill slightly from friction, in my case from the climbing harness, but it's not so bad that it would stop me from buying another pair.
they are like scrubs pants with style.
true to size. bought them at SAC price but love them so much would pay full price.
These capris are really flattering and very comfortable. Stretchy and quick-drying. I wear them all the time. My only complaint is that mine are starting to pill after only wearing them a few weeks. It's not bad yet, but not what I would expect. Because of that, I would not wear these backpacking.
For me? It is mainly about comfort and these pants? Have that in spades. Add the cute style and nice color (I have the patina) and what more could you ask for? Plus, I can wear them around, look great, and then spontaneously start doing yoga without having to change. ;-)
i love these. my yoga teacher lent me hers for a few days. i've since bought one, and am planning to get more colours.
I have 7 pairs and wear them all summer long every day. They are cool, comfy and great for yoga and doing all the things I do. I never dry them and they look great and last forever.
These are so comfortable I almost feel guilty wearing them in public. They do run a little big compared to some other Prana pants I have. They also stretch out a little after wearing for a few hours. The fabric is a dream to care for. They show almost no wear - amazing for black! My only complaint is the drawstring-tie waist. It shows under T-shirts and I don't need any mysterious bulk in that area.
These capris run big- they are loose and *really* long. They are not so much capris as just highwater pants. I got them as a gift and I wore them once and a while at first, but they are just sort of unflattering. They green ones look cool, but the black ones have funny white seams which I don't really care for.
Really soft and comfortable, lots of room for movement, extremely quick drying and cool.
Fit and look is great, fabric is soft, and they move with you.
I love these so much I ordered another pair in black! They are light and stretchy. Excellent product.
can't take these off! so comfortable and light, great for when ever where ever. perfect fit too!
I have a red pair, that I love, but stick to me in hot yoga classes and i end up having to adjust them. Wash cold inside out and do not dry! they will lose their shape and get PILL-Y!
Unanswered Question
what is the inseam on this capri?
what is the inseam on this capri?
As usual Prana delivers a great fit with comfot and style. It is winter, so I haven't worn these yet, but they fit great. I have a lot of curves and have problems with fit. If it fits the booty, it is too small in the waist. Prana capris always fit. These soft and comfy and look great on!
Great pants, very comfortable!
These pants are great for hiking and backpacking. They are really lightweight, and super comfortable! They were pretty long on me when I bought them. I am about 5'2, and they went down to about my ankles, so they fit kinda like highwaters. They fit great after I got them hemmed though
These light stretchy pants are comfortable and easy to move in. Not too tight and not too loose, the cut is very flattering and the drawstrings are forgiving! :-)
I bought these for my girlfriend (who already owned the same model of shorts) and they have quickly become her favorite pair of pants, or maybe second favorite, but only second to the Prana Paige pant. These are a little more "any occasion" than the paige pants, and great for all day hikes and anything near water because they dry so quickly
These pants are perfect. Stretchy, cool, light, and very cute for climbing and just walking around.
I live in these too as other reviewers have noted. I have four pair now and am thinking about a fifth color. They dry in about two seconds and I haven't gotten a stain yet. They are sooooo stretchy and comfortable. I also love the Bliss shorts and the new Bliss pant is ok with a caveat (see my review on that).