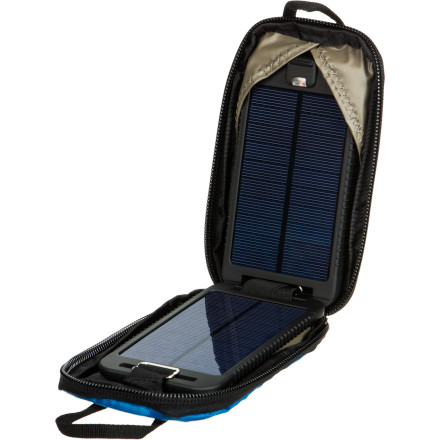 Detail Images
Strap the Powertraveller SolarMonkey Adventurer to the outside of your pack and plug in your dead smartphone before starting up the trail. By the time you get to the top, your phone will be fully charged so you can snap some photos of the summit and send them to your pals back home. The shock- and water-resistant clamshell-style solar panels will fully charge the integrated battery pack in 12 hours of solid sunlight exposure, and the included carry case protects the device when it's packed away. The 5V USB output and a variety of included adapter tips allow you charge all your favorite devices with just the power of the sun.
Clamshell-style solar panels supply a maximum 3 Watt output and will charge the internal battery in 12 hours of good sunlight exposure
Integrated 2500 mAh lithium polymer battery can also be charged via DC 5V socket
USB 5V output allows you to charge iPhones, smartphones, iPads, iPods, GPS systems, e-readers, portable game consoles, and more
LED light indicates when the battery is fully charged
Variety of safety features protect devices from short-circuits and overloads
Water- and shock-resistant construction stands up to the abuse of outdoor travel
Durable Cordura travel case holds the solar panels securely in place and provides additional space for cables and accessories
Kit includes 1 SolarMonkey Adventurer portable charger, 5 Adapter tips for a variety of mobile devices, 1 USB connection cable, and 1 Apple Monkeytail cable for connecting Apple devices
Does this work for an iphone 5?
Does this work for an iphone 5?
Best Answer
Yes it will.

All you have to do is plug your USB iphone 5 charger directly into the USB port on the solar panel. You won't need to use any of the adapters that it comes with for your iphone.
Beware!
Familiarity:

I've used it several times
Great product but not compatible with newer Apple products. Only 4S and Ipad 2. At least the version I have only is. May have been updated since and I somehow bought older model. I use it to charge external battery and then charge devices and it works very well.
has a adaptor for Samsung 4s phone
has a adaptor for Samsung 4s phone
I'm pretty sure. But if your Samsung charging cable has a usb end, you can plug it into the usb slot on the Solar Monkey.
Great small profile solar power.
This product is insane. I do alot of cycling so weight is a massive issue, this product is super light weight so i just strap it onto my pack and i dont even realize its there! In the evening i use it to charge my phone and gopro. I was worried i might have damaged it when i got caught in a massive rain storm but this little guy had no issues and just kept on charging! Massively reccommend to anyone! This monkey is AWSOME!
I used this last summer on several backpacking trip in Colorado. I used it to charge up iPhone up every night after using it all day for GPS, music and camera. I attached it to the outside of my pack while we hiked all day and it charged up over the course of the day. I get about 1.5 charges out of my iPhone 4S on a full charge. I usually charge it up at home before my trip via USB to make sure I have a full charge before I go. The product is rugged with the rubber over molding and the nice case it comes with.
PowerTraveller Squash Falconer Video
PowerTraveller Adventurer athlete video with Mountaineer, Squash Falconer.